Kate and William attended a swanky black tie charity dinner tonight, which was held in honour of St Andrews University's 600th birthday. Here's a picture of Kate on arrival to the event, clutching a bright red bag: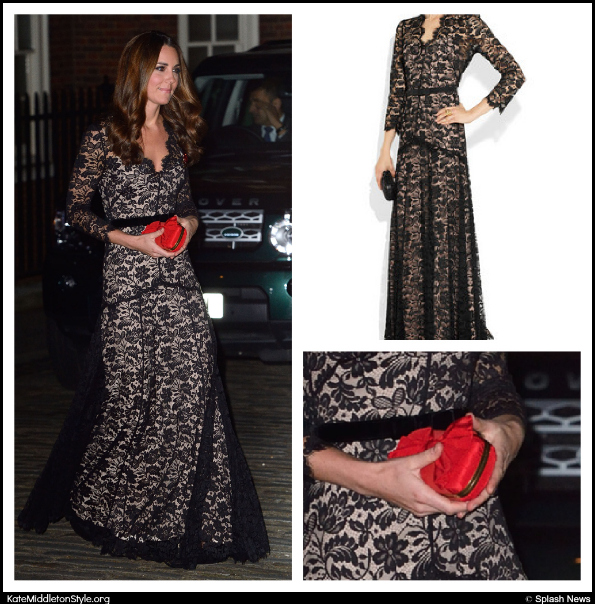 As you can see, Kate recycled her Alice Temperley Amoret dress, which she accessorised fabulously with her jewelled red poppy and a matching red Alexander McQueen clutch bag (which she last wore during the Jubilee pageant.)  Tucked under the dress were a pair  black Jimmy Choo Cosmics.  You can see the shoe popping out under the hemline in the fabulous photographs by Mark Stewart, available here.
The Temperley Amoret dress is a full length gown made from black French lace and it features a removable bow waist belt.  The dress is still available to buy from Harrods and Boutique1:
Kate last wore the Temperley lace dress to the War Horse premiere, earlier this year in January.
The royal couple attended the charity dinner because Prince William is a patron of the University's 600th Anniversary Campaign, a fundraising exercise that has raised in excess of £32.1 million in gifts and pledges since it was launched in 2008.  The money will support a range of the University's projects and new developments, all aimed to consolidate its status as a "world-class centre for teaching and research."
The gala was held specifically to create funding for Scholarships, allowing gifted students of limited finical resources the opportunity to persue a university degree at St. Andrews.
Both William and Kate attended The University of St Andrews and graduated from the establishment in 2005.  William graduated with an honours degree in Geography and Kate graduated with an honours degree in the History of Art.
You might remember that Kate modelled a sheer dress for a charity fashion show during her time at the university, which is also said to be the minute William began to fall for her!  The dress sold at auction last year for $125,000.
Talking about charity…
Tomorrow I'll be writing about the Claudia Bradby Royal British Legion poppy friendship bracelet here on the blog.   Purchase this special bracelet and Claudia Bradby will donate £5 on your behalf to the Royal British Legion.
If you fancy treating yourself to a gorgeous, quaity piece of jewellery that helps out a good cause, check out the bracelet here.