Last week, The Duchess of Cambridge accompanied The Queen and The Duke of Edinburgh on a trip to Leicester as part of the diamond jubilee celebrations.
Kate and The Queen travelled to De Montfort University where they watched a student fashion show. Kate could be seen chatting with Her Majesty, the pair seemed to be getting on well and both looked as if they enjoyed themselves.
At the university, Kate judged a competition run in her honour.  De Montfort University teaches a famous shoe-designing course and students seised the opportunity to design something exclusively for Kate.  Kate selected a gorgeous royal blue shoe to win; the designer was inspired by Kate's engagement ring and love of lace.  You can read more about the winner & see the shoe here.
Later in the afternoon, the royal trio visited Leicester Cathedral to attend a Christian service, with participation from many other faiths in the city: anybody from the UK will tell you that Leicester is famous for its ethnic diversity and many different religions were represented at the service.
Kate's outfit:
Kate wore the teal Davina dress from L.K. Bennett and the "Jude" peplum jacket by the same brand. Here we can see Kate's outfit in its entirety: (I just absolutely love this picture!)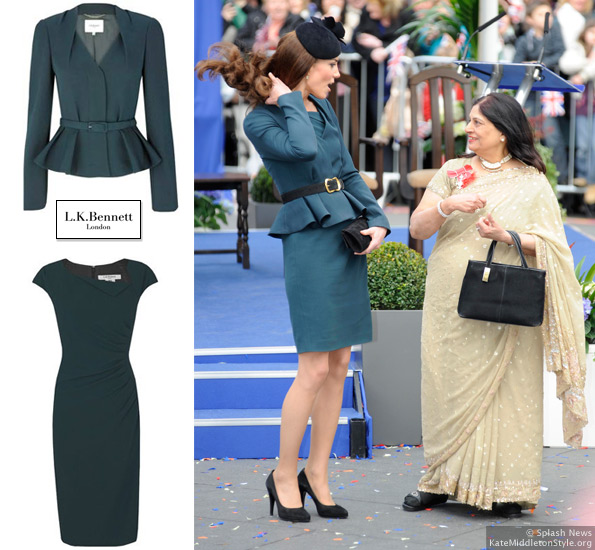 In true Kate style, the belt from the Jude jacket has been replaced with one of Kate's own.  As a side note, I can't recall Kate ever using the original belt that came with any of her jackets!
The Davina dress is now sold out in Kate's teal colour, but it can still be found in a number of sizes, colour and prices online. Tip: If you're thinking of buying the full-price dress in red, Zalando has it in stock in all sizes, and they offer FREE delivery and FREE returns. Nice!
The Jude Jacket appears to be sold out in John Lewis and on L.K. Bennett's site too.
Grazia had information about Kate buying this outfit back in December.  But it gets more interesting! What Kate Wore's author blogged about these items back in November, when looking at L.K. Bennett's collection – she wrote that she believed dress and jacket were very "Kate".  Never mind What Kate Wore – I think "What Kate Will Wear" is more appropriate!
Kate wore a pair of Episode shoes with her dress; the brand is carried only at House of Fraser after the company fell into financial problems.  Sadly, the shoes are no longer available for purchase (but I must admit, I do like some of the wedges on offer in the current collection!)
Kate's gorgeous hat is the 'Fairy Tale' in black from Lock & Co, a milliner we've seen Kate wear before.
The Queen:
Of course, we can't write this post without including a couple of pictures of our Queen!  The following two pictures are by photographer Safwan Ahmedmia who has kindly given me permission to share them with you on our blog: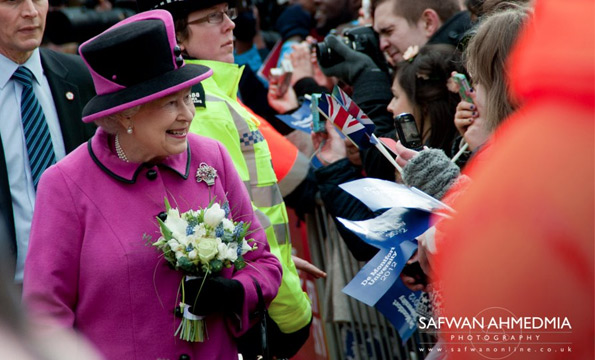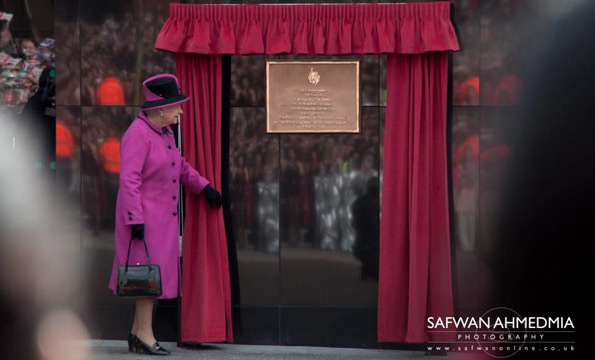 I just adore the Queen in this bright cerise pink and black coat and hat, by Angela Kelly.  I think the two ladies' outfits complimented one another beautifully and it's clear they will have conferred about their choices before the day!
You can see more of Safwan's pictures from the Leicester visit by clicking here.