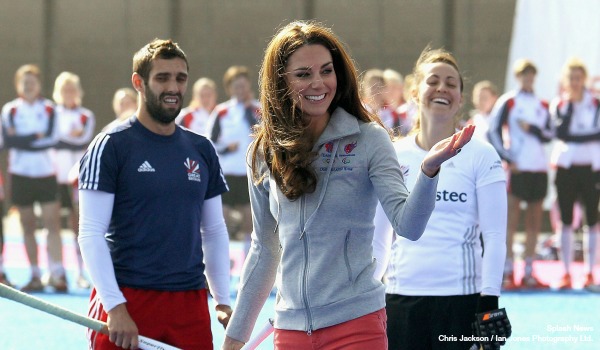 In March 2012, Duchess Kate visited the Olympic Park to visit the British hockey team ahead of the 2012 Olympics and Paralympics, in her capacity as ambassador for Team GB.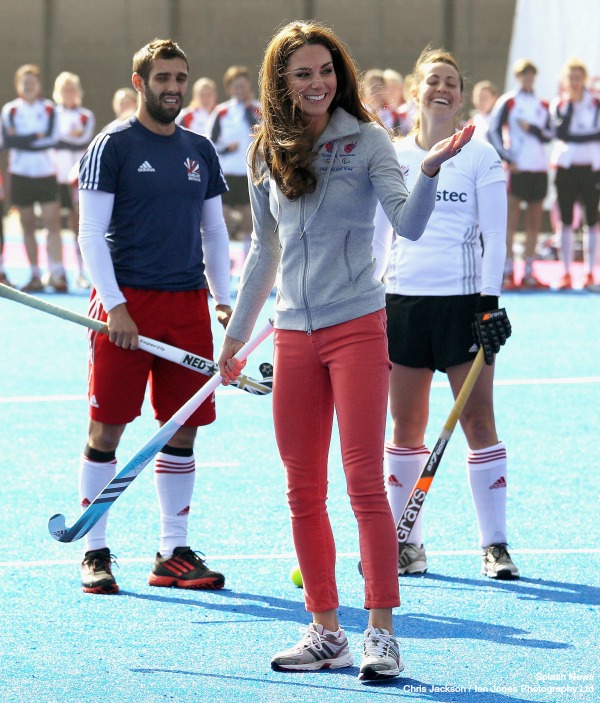 She wore refreshingly bright patriotic colours and a smart-casual outfit during her visit.
Kate got the chance to play a little hockey with the team, a sport we know she used to play competitively back in school – in fact, while at Marlborough Collage, Kate was the team's captain!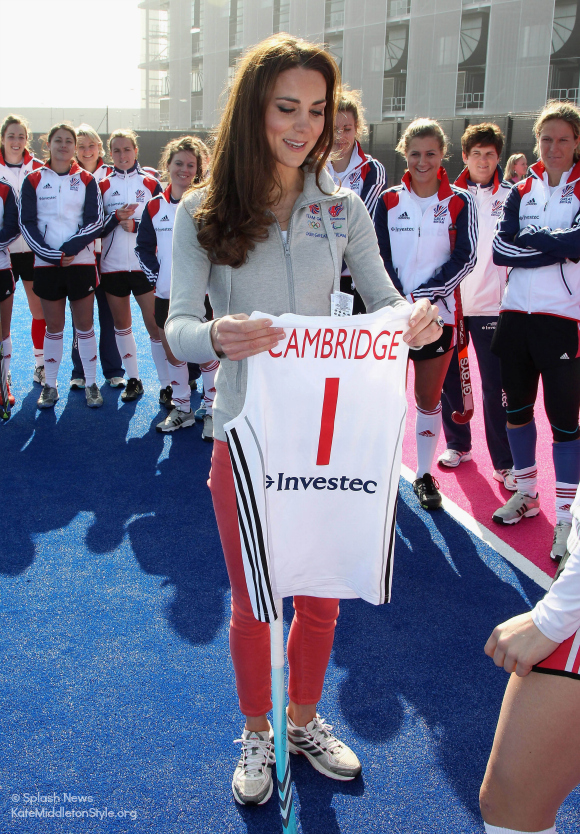 Kate didn't sound very confident in her skills, speaking nervously she said:
I was really looking forward to coming here but now I am here and have discovered I have to play I am not feeling so confident.

The colour of the pitch is, well, eye-catching. My trousers really clash.

Oh please don't tell me I have to do it in front of all these people! I don't want anyone to watch!

The last time I played was 2005, maybe. It feels like I haven't held a stick for ten years.

This is going to be so embarrassing. My brain thinks I can do all these wonderful things but my body just doesn't play ball.

I was striker so you had to get the timing exactly right, well that was the idea. I played on the left wing. I really enjoyed it and it is great to be here.

I haven't played since I stopped so I am really nervous now.
The Duchess needn't have worried though, after missing two goals from the left-hand side, she repositioned and then scored with her first shot from in front of the goal. After, she declared:
Wow, that was no pressure then! I was determined to keep on going until I scored.
After Kate was presented with a personalised hockey vest and she even got to keep the Adidas hockey stick she played with!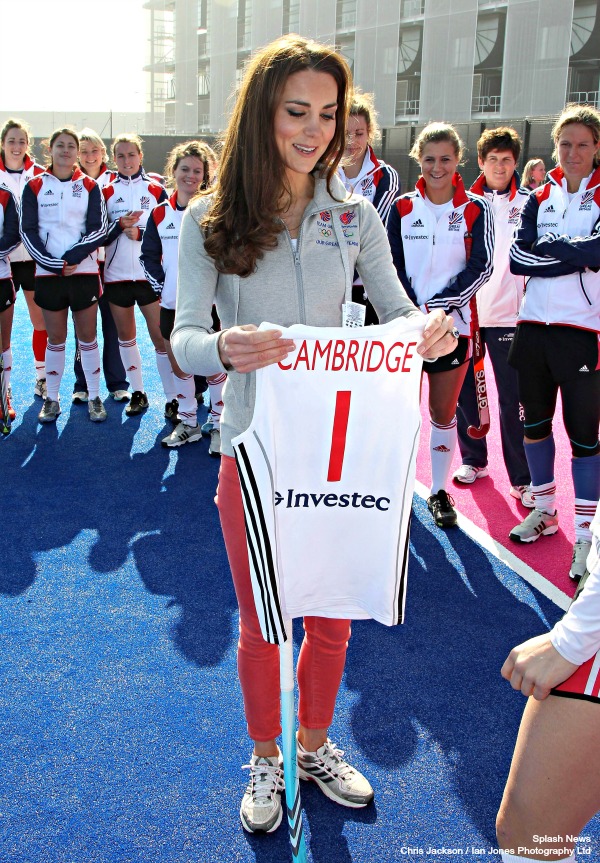 For more details on the sporty visit to Olympic Park today, click here to read the Telegraph's news story.
Kate's outfit:
During both the tour of Olympic Park and the hockey demonstration, Kate wore a pair of coral pink jeans, thought to be the Pop Slim Fit style from high street retailer Zara.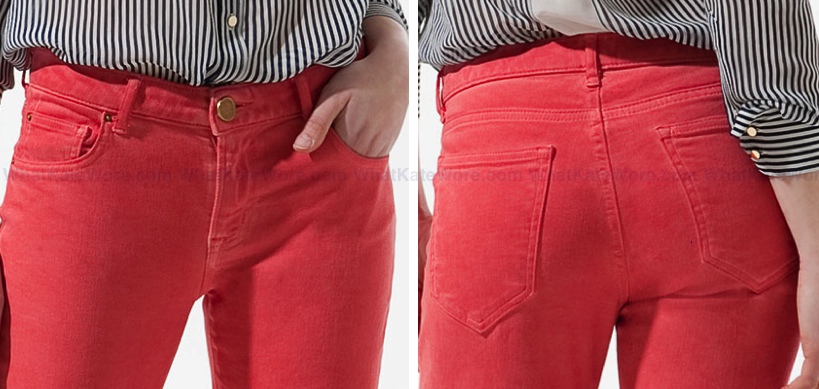 Susan from What Kate Wore describes the process behind the ID:
"Originally we [the Kate community] thought these might be J Brand's 811 style, but that was not the case. Identifying the exact make of jeans was a challenge for the intrepid fashion experts on the WKW Facebook page, they refused to give up until the proper pair was located. Many pair were perused and rejected, photos of details examined, color comparisons made; the conclusion is that Kate was in a pair by Zara."
For the tour of Olympic Park, Kate wore an Emilio Pucci jacket in the 'Punto Milano' style: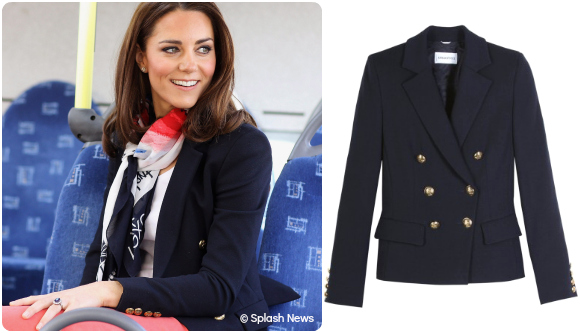 Over a white t-shirt, Kate wore an official Team GB supporter's scarf, specifically, the scarf supporting the Paralympic team. I purchased my own Team GB scarf a couple of days later, and I wore it throughout the 2012 Olympics and Paralympics! (Please don't mind my wet hair!)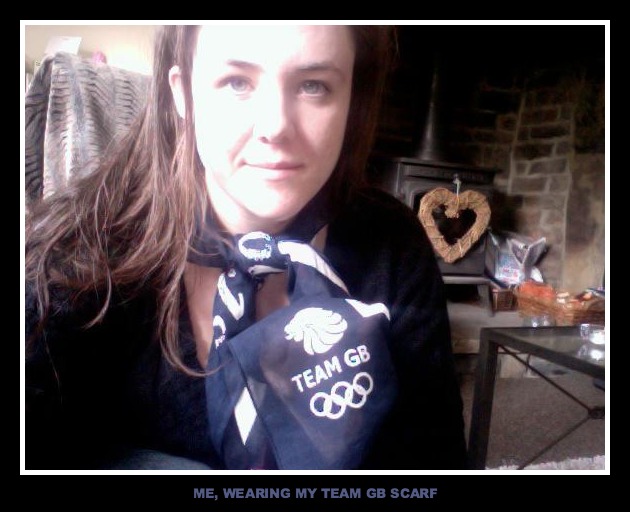 While touring the grounds, Kate wore the L.K. Bennett 'Art' pumps, which she has worn on a number of occasions previously too.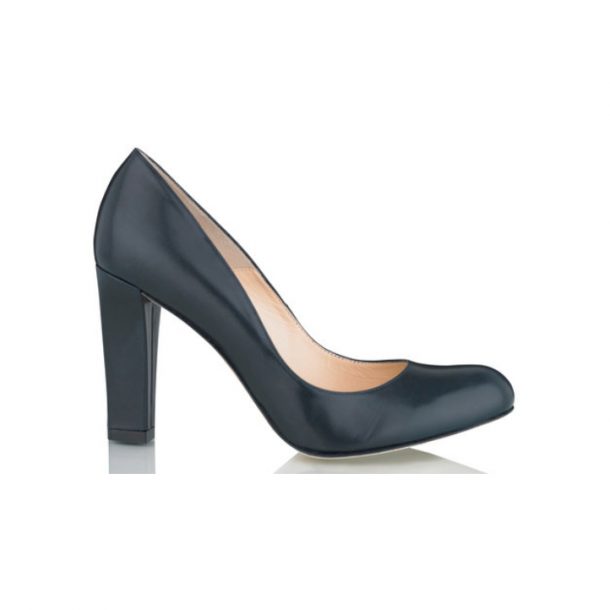 Finally, Kate finished her outfit off with a pair of simple earrings, the white topaz 'Grace' stud by Kiki McDonough. Kate frequently wears these sparkling beauties.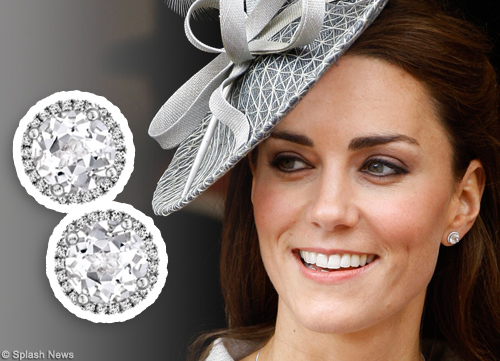 For the hockey demonstration, Kate changed into an official Team GB sweatshirt and a pair of Adidas Ignition 2 running shoes.