On a whistle-stop tour of London in 2011, President Obama and his wife Michelle met with key members of the royal family, including The Duke and Duchess of Cambridge.    For the occasion, Kate wore her Reiss Shola dress.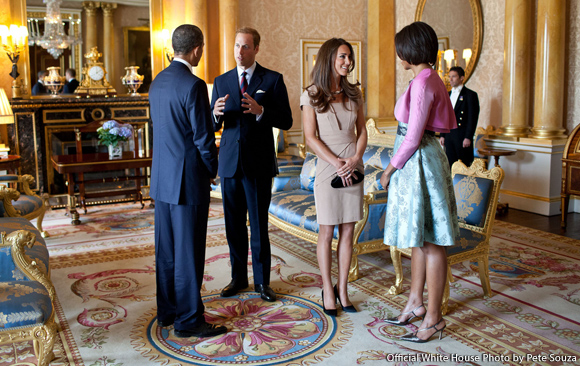 Duchess Kate looked wonderful in the camel coloured bandage dress for the meeting with the Obamas.  Kate was happy, glowing and tanned, fresh back from her Honeymoon.
Today, the Reiss Shola dress is still one of the Duchess' most sought after pieces – but sadly, it can only be purchased second hand from - the brand famously only released a run of 1,000 units of  the dress before it sold out.  They then re-released a limited run of 600 units as a one-off due to its popularity, but those quickly sold out too.  Here's a graphic that was on Reiss' website in 2011: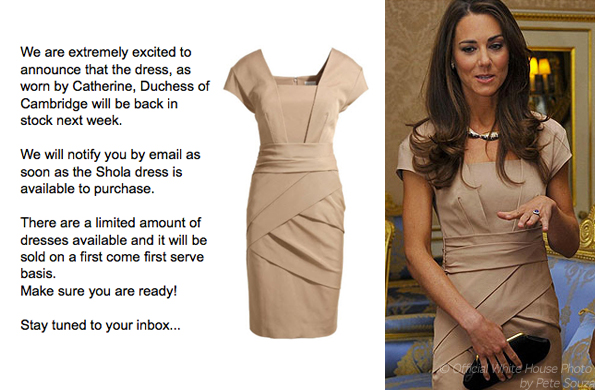 According to a spokesperson for Reiss back in May 2011, 20 units of the Shola dress sold online within the first two minutes of Kate's appearance with the Obamas.  They called the situation "Shola-mania!"  The Reiss Shola dress was so popular when Kate wore it in 2011, that the high street chain's website crashed as people logged online to buy it.
When the dress was so popular, many high street brands took it upon themselves to make cheaper, affordable copies.  Most stores sold 'RepliKates' of the bandage dress.  Here's a couple I listed on the site back in 2011/2012 (they're no longer available for sale).
At the time of the Obama meeting, the media noted that while Michelle Obama and Samantha Cameron looked wonderful in their dresses by high end fashion designers, it was Kate's high street dress that stole the show.  The Duchess looked perfect for less than £200, while the President's wife and Prime Minister's wife looked wonderful in dresses worth six times more than Kate's.
About The Reiss Shola Dress:
Reiss describe the Shola dress as:
"A timeless, figure hugging dress that's sure to catch an eye.  It has a box neckline, asymmetric overlays on the skirt and a band around the waist.  Shola fastens with a concealed zip at the back."
Here's a screenshot of the dress on Reiss' website back in 2011: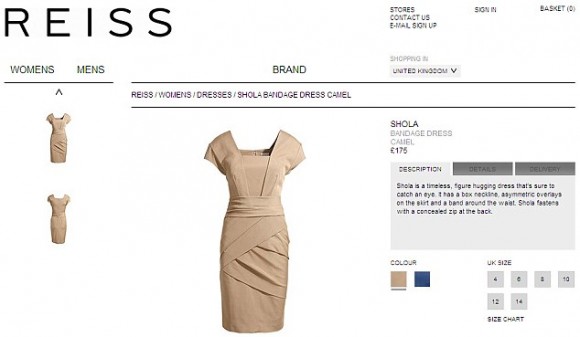 Shop similar styles:
Sadly, the dress is no longer available for sale and nobody really makes copies or "repliKates" of it.  These are the best options I've found on the high street: