Kate changes into casual attire
She wears green Burberry shirt
Dons deck shoes once again
Scroll down for similar shirts
Kate surpassed all of our expectations yesterday in Yellowknife, changing into a casual outdoorsy outfit without losing any fashion points.  Think Girl Guiding meets Gucci.
Kate's outfit:
As the super Melissa (a What Kate Wore facebooker) worked out, Kate wore a green-brown coloured Burberry shirt tucked into a pair of cropped jeans along with the deck shoes she wore on day five.  Kate accessorised her outfit with her Kiki McDonough Citrine Drop earrings and a thick brown leather belt adorned with either shells or buttons (I'm not too sure).
Here's a closer look at Kate's outfit: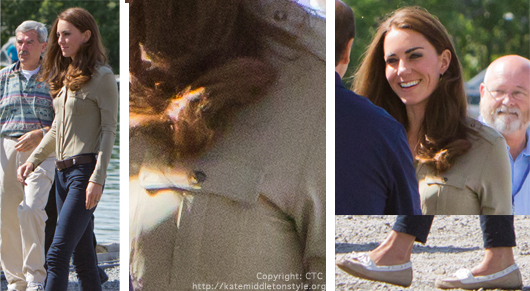 As you can see, Kate's shirt features epaulets and a front pleated pocket.  On the sleeves, other pictures show a row of buttons on the cuff.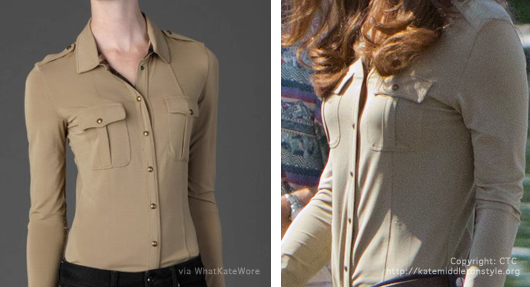 I'm told through Facebook that the shirt is already out of stock (pre-Id).
Kate wore this outfit late afternoon, after departing for Blachford Lake via a 'float plane', where they met Canadian Rangers, Dechinta students and elders, plus toured organic gardens and greenhouses.  Then the couple partook in a medicine walk, a round-fire discussion and a canoe trip.
We're told that Kate and William wanted to explore Canada's great outdoors, so the activities listed above cater to this:


If you'd like to copy Kate's campfire chic we'll be posting a few similar shirts later today.