As some of you may know, I have been away from the blog for several weeks: I moved house, had my graduation, felt ill, took on some extra work and have just generally been far too busy!  But we're here to talk about Kate, not me! So let's begin with a quick catch up of Kate's outfits from November's official events.
St. James's Palace Dinner for NMA:
On the Tenth of November, Kate and William attended a reception and dinner at St. James's Palace for the National Memorial Arboretum (NMA) appeal.  The NMA is a centre of Remembrance and a memorial to commemorate and celebrate those who have given their lives in the service of their country, or have served or suffered because of conflict.  The appeal sought to raise £12 million in funding to ensure facilities can be provides for widows, families, comrades and the public, turning the NMA into a world class Centre for Remembrance.
Kate's outfit: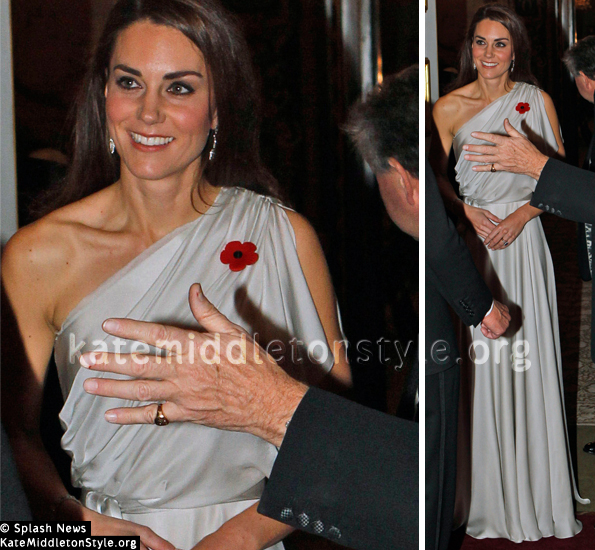 Kate wore a silver asymmetric gown, made exclusively for Kate by designer Jenny Packham.  The dress was made from chiffon satin material.  Kate's earrings were new, causing a stir in the "Kate" follower community.  This post on WhatKateWore.com gives you all the details.
Angelina Jolie wore a very similar Packham dress in red earlier this year.   Click here to see.
Remembrance Sunday:
On Remembrance Sunday (13th November) this year Kate joined the rest of the Royal Family at Whitehall's Cenotaph memorial, where the Queen began proceedings by laying a wreath to commemorate those who have died in conflict since the First World War.
Here, you are able to view some of the service:
httpv://www.youtube.com/watch?v=zJxS0dRdiGI
Kate's outfit: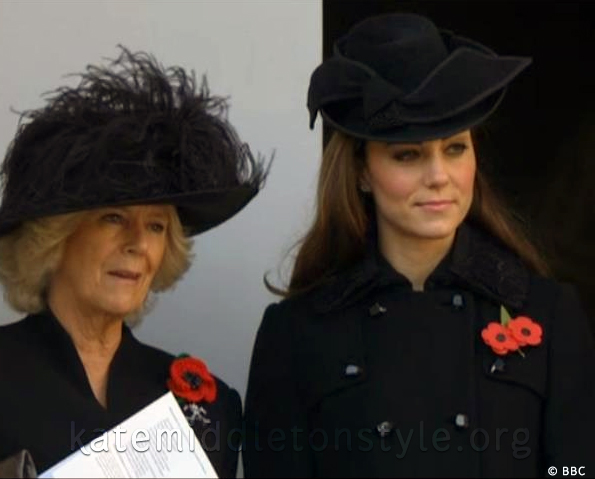 Excuse the poor quality, as this is a screen grab from the BBC, live during the service.
The fantastic community over at WhatKateWore identified Kate's coat as Diane von Furstenberg, noting it formed part of the designer's 2008 collection.  Kate's hat is by Jane Corbett (again, many thanks to WKW for the info!)
Press Reception:
On the 28th of November, members of the Royal Family hosted a reception for 350 members of the media at Buckingham Palace.
The reception was in aid of the Queen's Diamond Jubilee celebrations next year and is the first event of its kind for ten years.
Kate's outfit:
Kate donned a cabbage green pleated dress by Mulberry, which retails at £1,400.  The dress features a Peace and Love motif on the fabric.
At the reception, Catherine confessed to Grazia's editor-in-chief that she had only just realised Mulberry made clothes as well as accessories.  As we know, Kate has a Mulberry handbag.  The week prior to the reception dinner, Kate was also spotted wearing a Mulberry skirt.
Click here to see a picture of Kate at the press reception and read more comments from Grazia's editor-in-chief.
Finally…
If you hadn't already noticed, I owe a big thank you to WhatKateWore.com for helping me compile this post!  Many of the details were found there, from Susan and the hundreds of ladies who participate in the community THANK YOU!  Without you all I'd never have been able to compile this blog post!