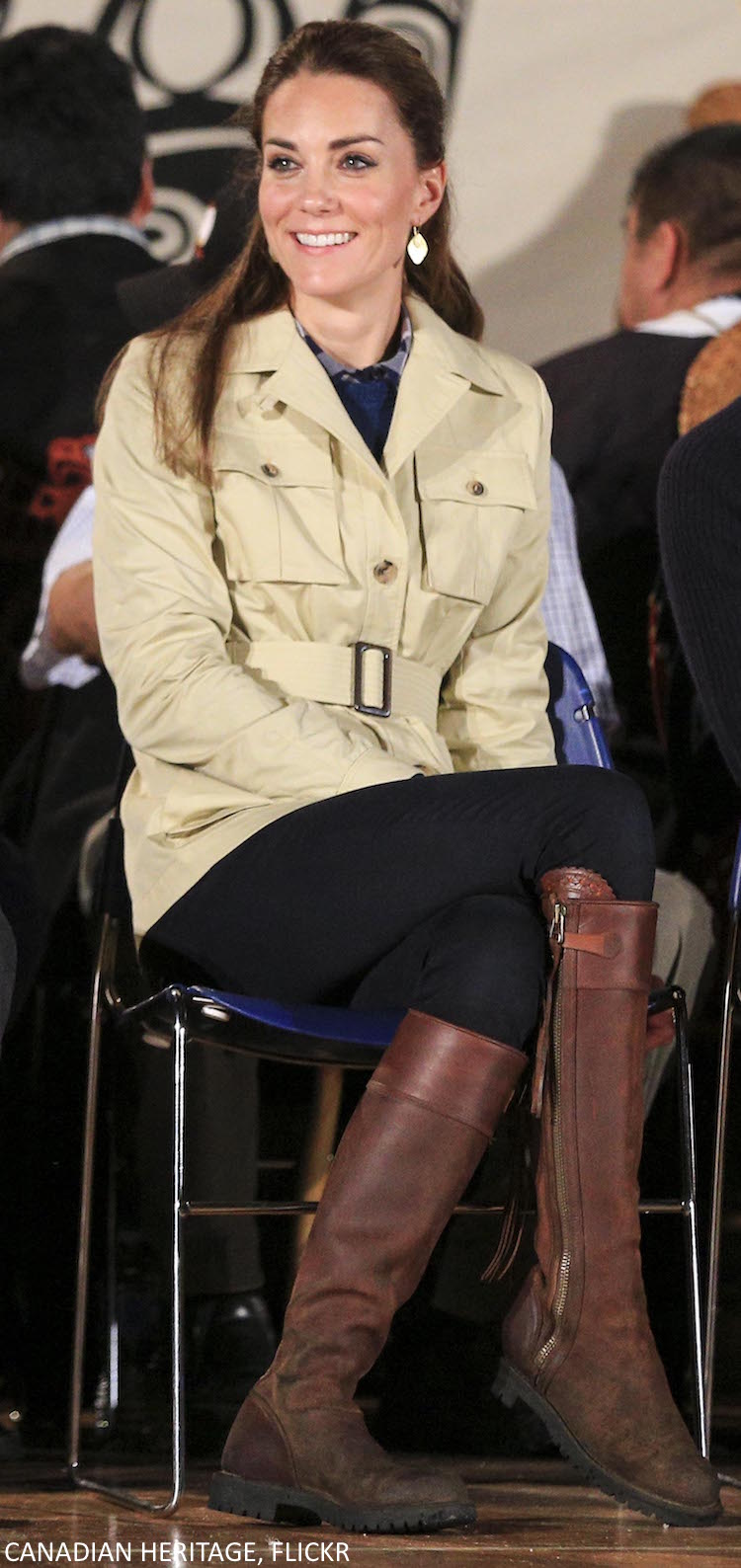 On day three of the 2016 Canada Tour, William and Kate spent several hours on the remote island of Bella Bella.   The royal couple met with members of the indigenous Heiltsuk community and toured the Great Bear Rainforest.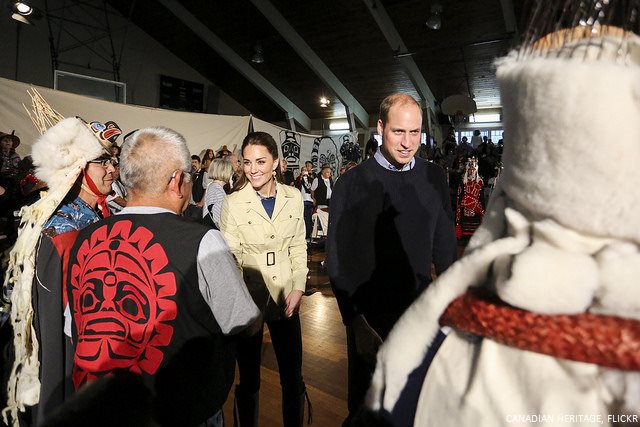 Great Bear is the world's largest temperate rainforest.  Canada has committed the rainforest to The Queen's Commonwealth Canopy, a unique network of forest conservation initiatives across the 53 countries of the Commonwealth.  More about the project:
"The QCC present a rare opportunity to unite the whole Commonwealth family and save one of the world's most important natural habitats, forests.  By creating a pan-Commonwealth network of forest conservation products, the QCC will mark Her Majesty The Queen's service to the Commonwealth while conserving indigenous forests for future generations."  Royal.uk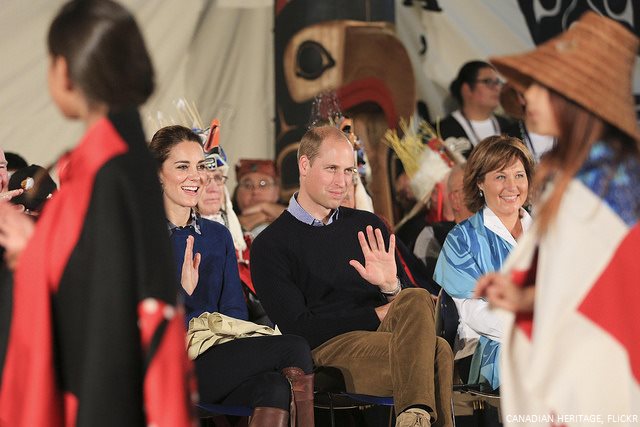 Sadly, the poor weather conditions meant a change to the day's schedule.   The couple were unable to partake in an aerial tour of the Rainforest and some of the day's activities had to be moved inside.  Kate had to rely on her clear Fulton umbrella to keep her dry upon arrival!
The couple were determined not to let the wet weather ruin the day, though.  A spokesperson said:
"It is still a beautiful place in the rain and everyone is prepared to get wet."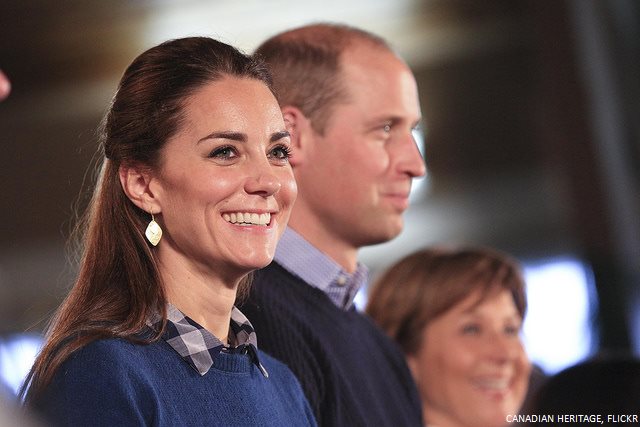 Upon arrival, a number of young people from The Heilsuk First Nation community met William and Kate and guided them to the local community hall.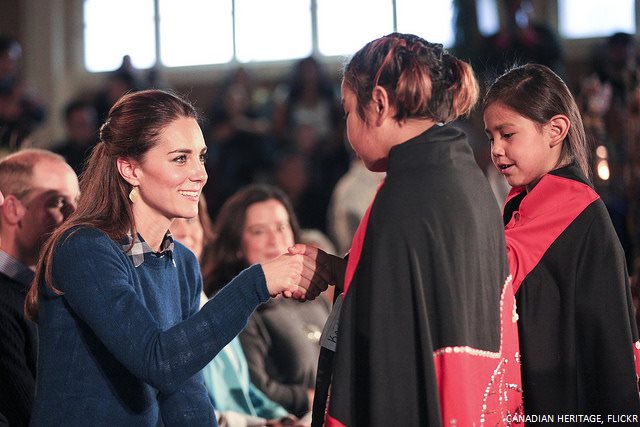 The couple watched as the Heiltsuk shared their culture with Their Royal Highnesses through songs, dance and drumming.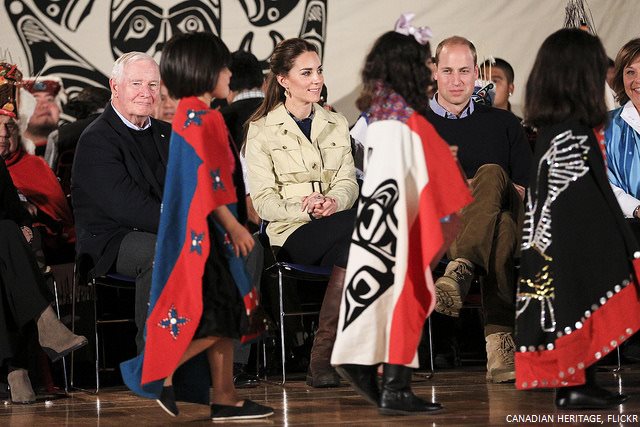 William and Kate received a number of gifts from their First Nation hosts, including traditional 'dancing vests' and blankets.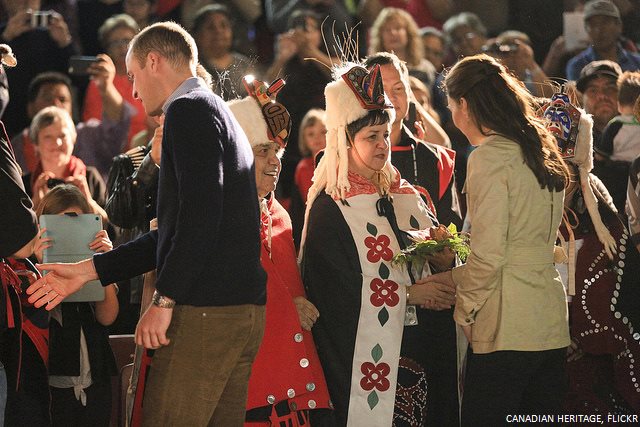 The couple were shown a royal staff with a silver crown head.  Queen Victoria presented this gift to the current Heilsuk chief's great-grandfather.  Here's a little information about the staff from the Daily Mail:
"[The staff] was awarded to the Heiltsuk people as a sign of honour with, as folklore has it, a message saying: 'This is a mark of respect. If your people need anything then you must ask my government."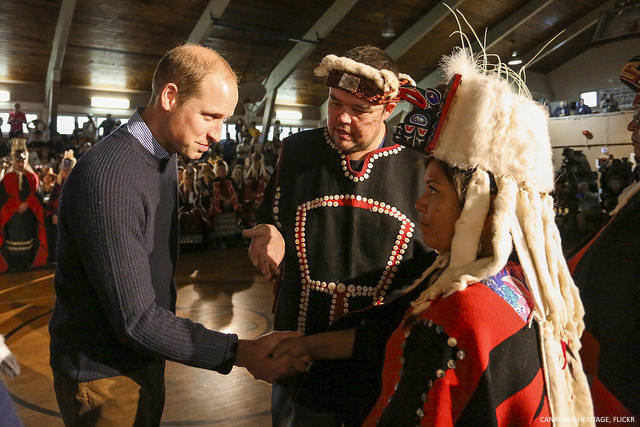 Later, the weather improved and the couple enjoyed walk through the rainforest.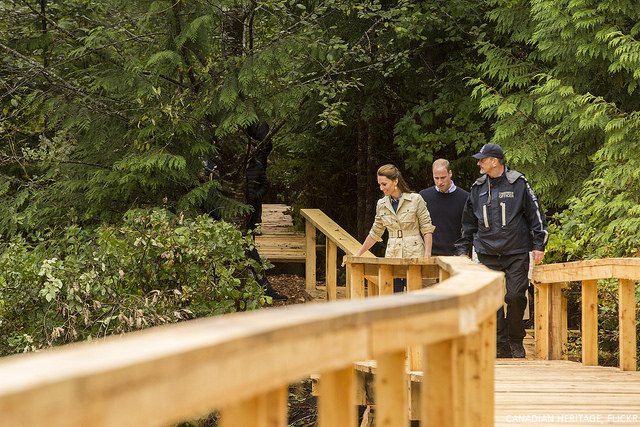 They made their way over to nearby McLoughlin Bay for a short ceremony, marking the commitment of the rainforest to the Queen's Commonwealth Canopy network.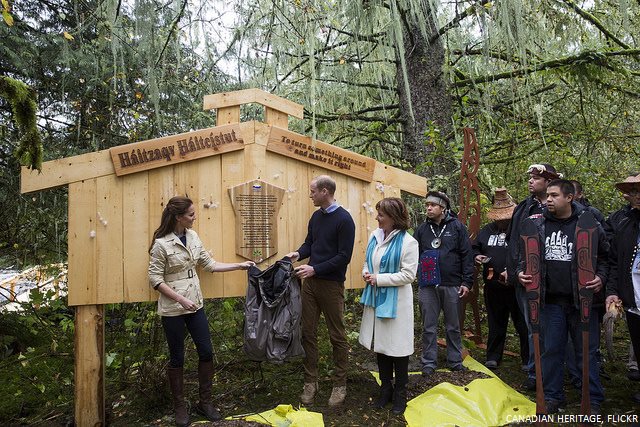 Here's a closer look at the unveiled plaque: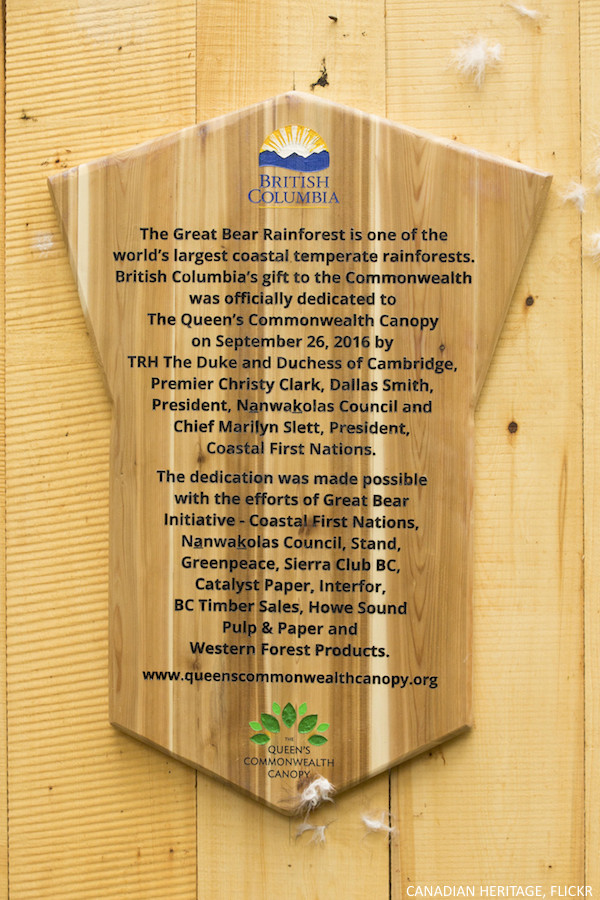 After, William and Kate travelled to Elder's Lodge, where William gave a short speech.  He thanked the Heiltsuk community, thanked the local and federal government for committing the rainforest to the QCC network and spoke of the project's many benefits.
Kate's outfit:
Kate chose casual attire for today's visit to the Great Bear Forest.  She kept warm and dry in a Holland & Holland lightweight safari jacket.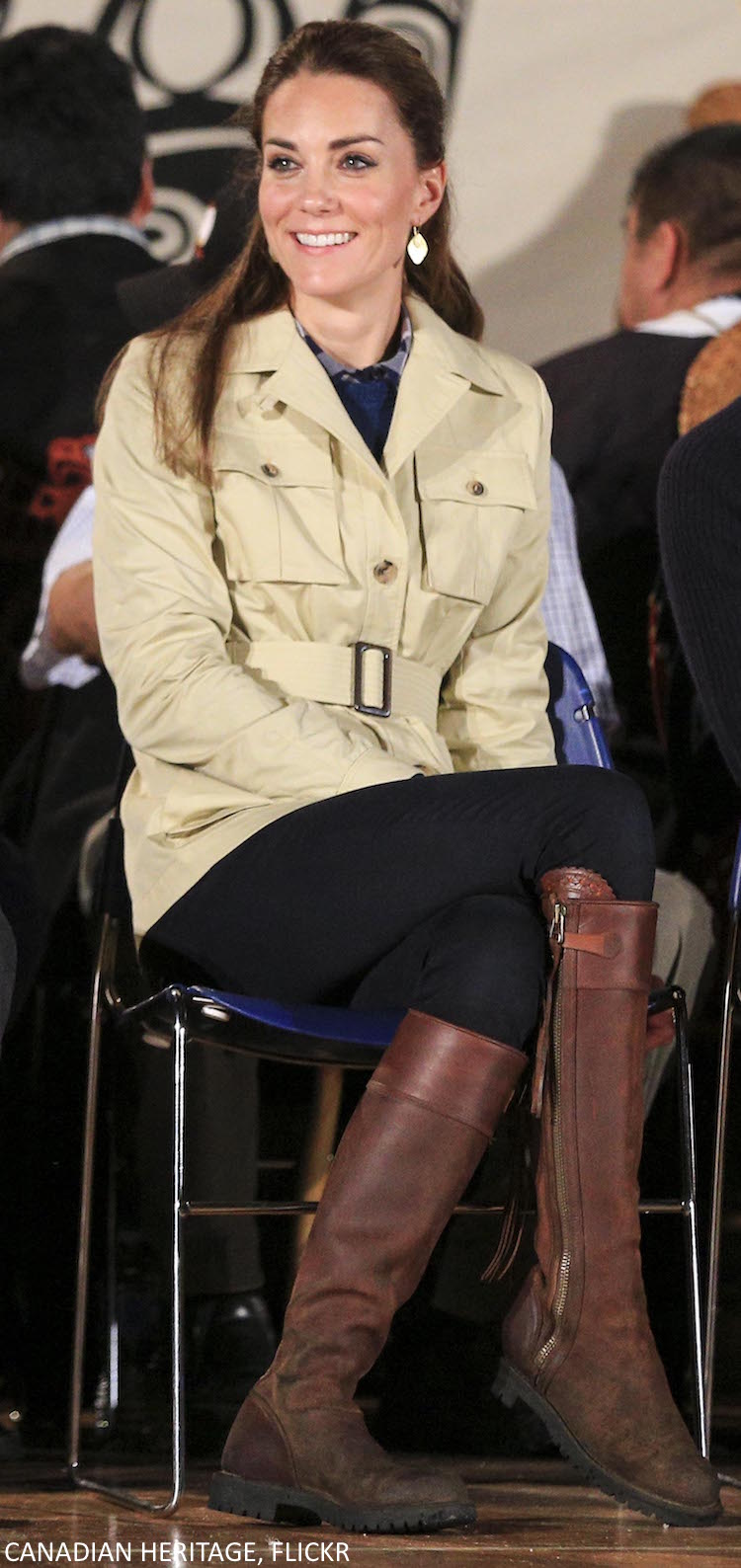 Holland & Holland are a renowned British gun-maker based in London. They hold two Royal Warrants. The company also creates "the finest English countryside clothing."
According to this website, the jacket is made from lightweight Sahara cotton and features four patch pockets on the front.   According to the same website, the jacket dates back to at least 2014.
The jacket retailed for $780 USD (£600 GBP) on kevinscatalog.com before going on sale for $624 (£480).   Sadly, it is sold out and cannot be purchased anywhere else online at the time of writing.  If this changes, I'll amend the article accordingly.
I did spot this great alternative in JC Penny if you're looking for something similar, though (see below) –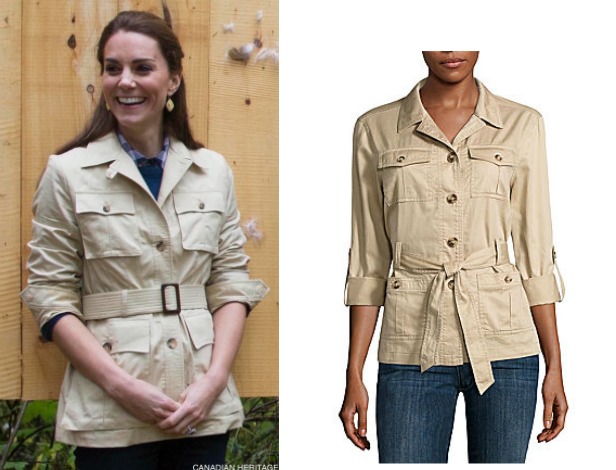 It costs only $41 USD / £40.10.  It comes in regular, tall, petite and plus sizes.  JC Penny delivers internationally.  Click here to shop.
Kate wore her Penelope Chilvers Long Tassel boots in conker brown.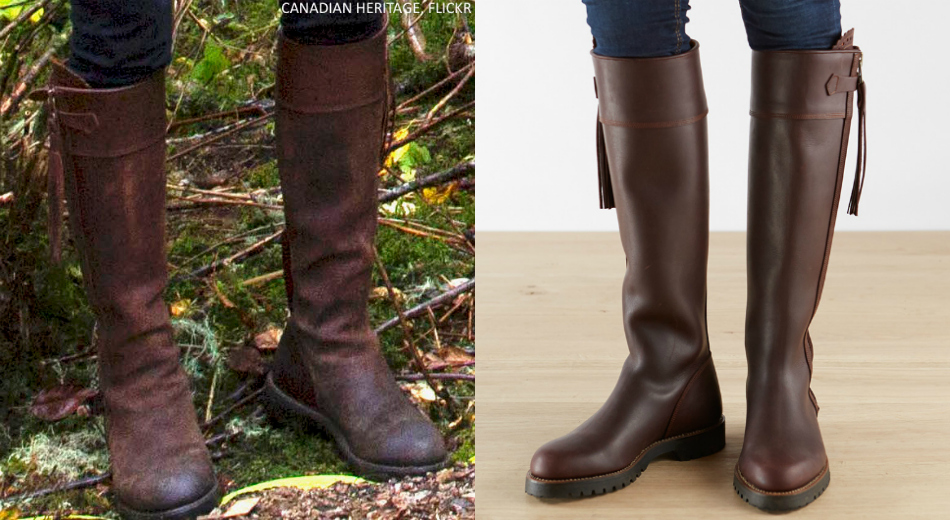 If you followed the Bhutan tour earlier this year, you'll remember Kate wore the boots for a three-hour trek up a mountain.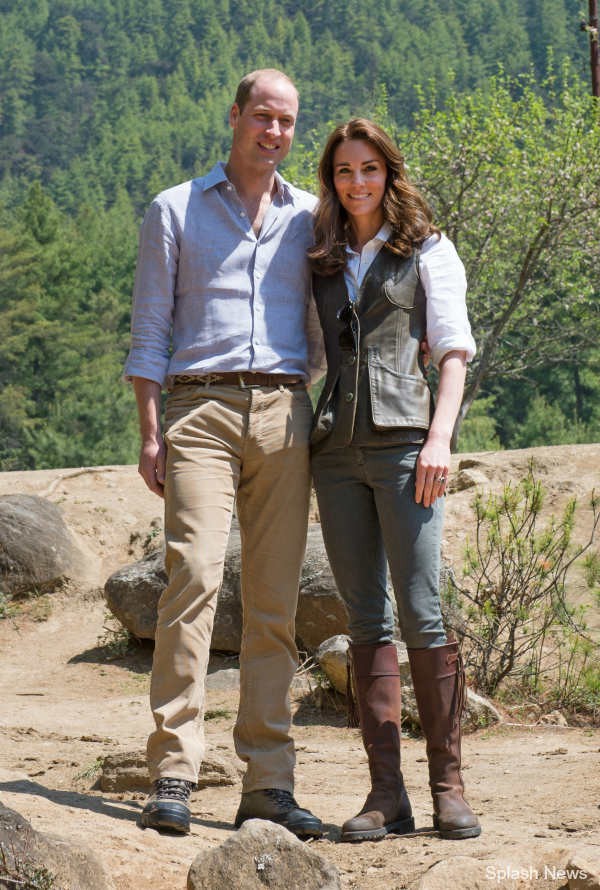 The boots are over 12 years old.  Kate first wore them to a game fair at Blenheim Palace in 2004.
Good news if you want to buy the boots for yourself.  Penelope Chilvers still sells them today.  They cost £495 GBP (around $640 USD) with free returns and exchanges on all UK orders.   The company delivers internationally too.  Click here to shop.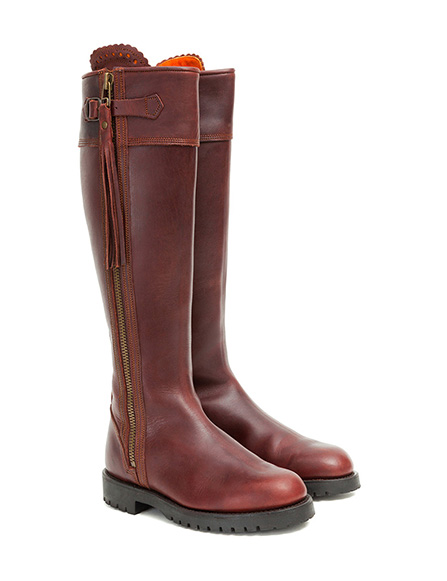 The Duchess wore a pair of earrings by Canadian-born and London-based designer Pippa Small.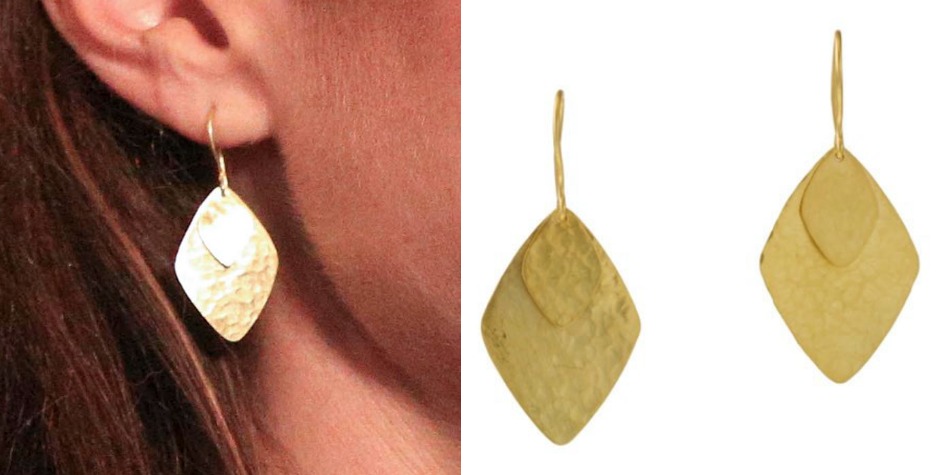 They're the "Large Kite Double Drop Earrings" made from 18ct yellow gold.   The earrings are available to buy for £850 in the UK.  (That's roughly $1,100 USD).  Pippa Small offers free worldwide shipping on orders over £200.
Note:  I spotted these similar earrings on Net-A-Porter, also by Pippa Small.  They're a little more affordable at £340 / $470 USD.


Kate's blue and white gingham shirt is from TopShop.   This photograph shows the checks underneath the fairly sheer jumper:
The check print shirt is made from lightweight chiffon.  It costs £34 GBP / $65 USD.  It is now sold out sadly.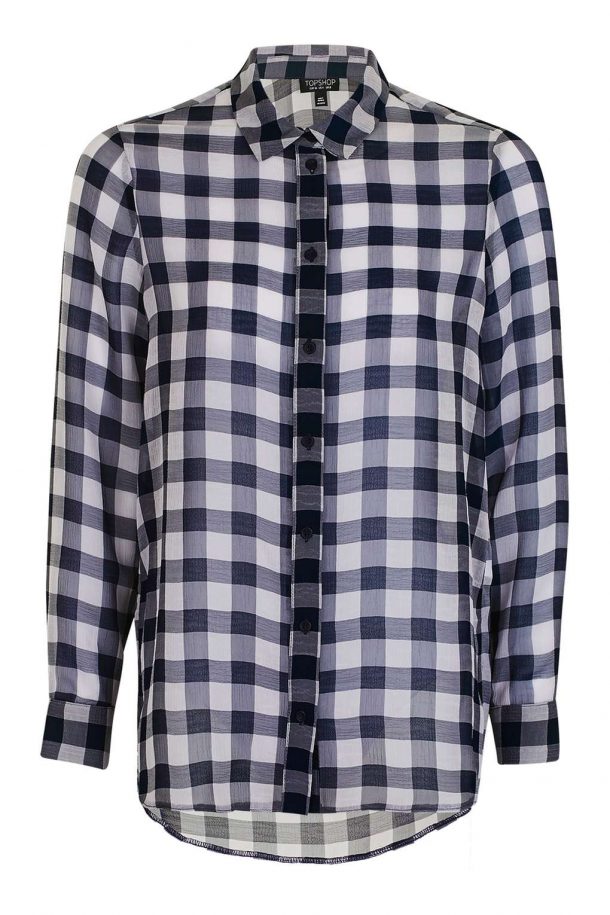 However, TopShop do sell a similar checked shirt in cotton, in red, for £30 / $58 USD.  Shop it here.  It's also available at Nordstrom too.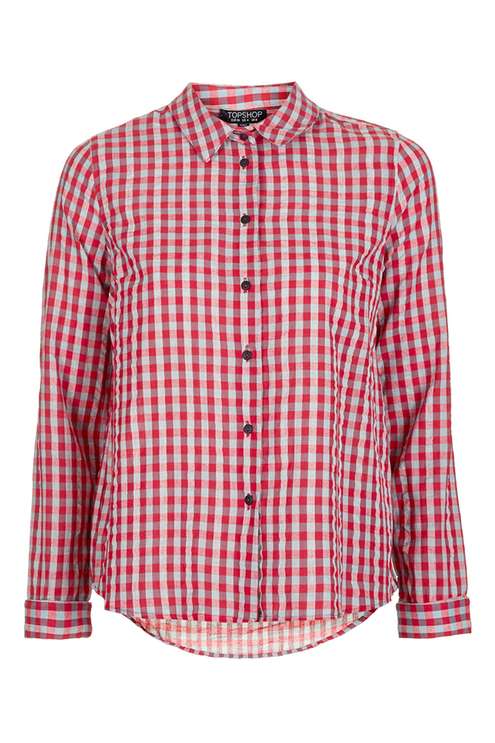 In mid-October, Sue on Twitter managed to identify Kate's sweater.  It is Jigsaw's Cashmere Katharine Cloud Crew Neck Jumper in 'airforce blue.'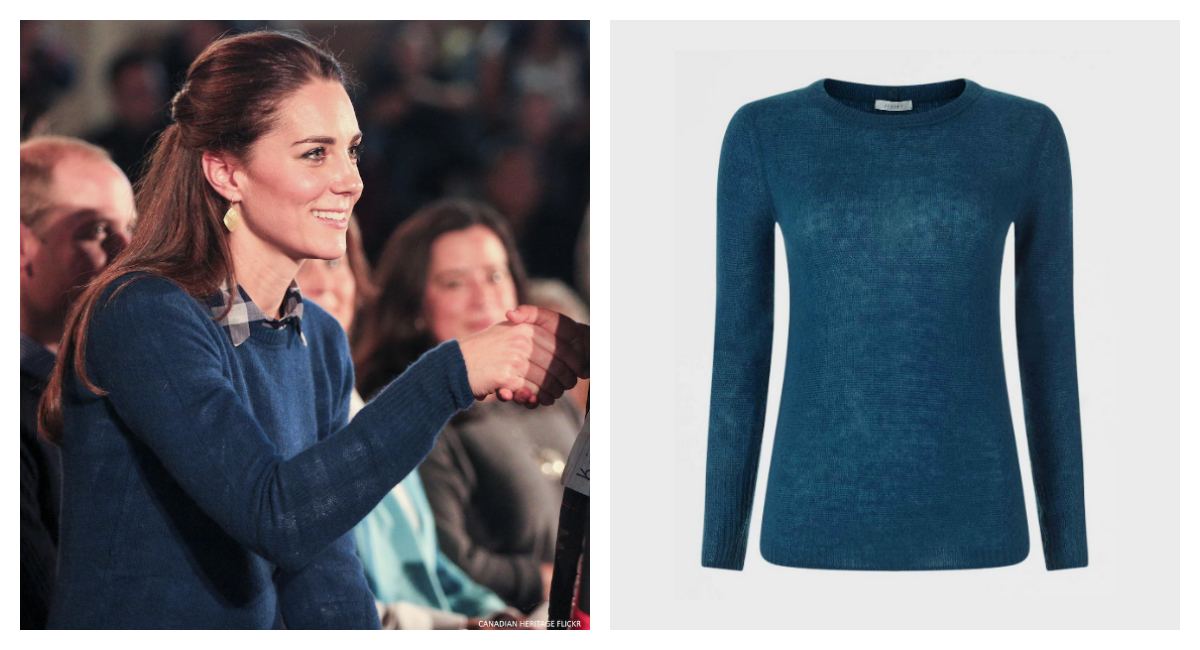 The 100% cashmere wool sweater has a crew neckline, long sleeves with ribbed cuffs, and a ribbed hemline.  It is designed to be semi-sheer.  It originally cost £98 GBP ($119 USD at today's exchange rate) before going on sale at £68 ($83).  It is from Jigsaw's 2015 collection, so sadly, it is no longer available to purchase.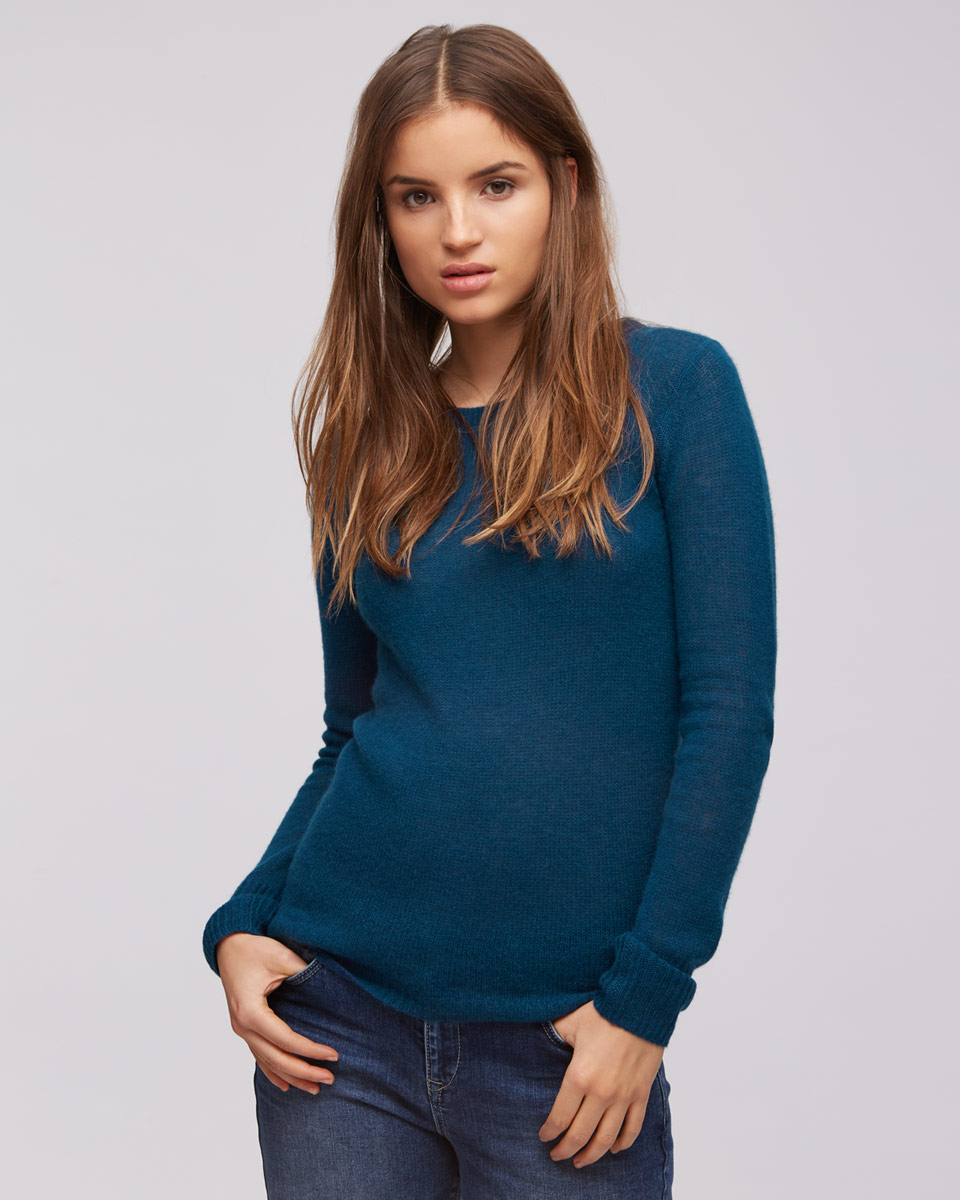 However, the brand have confirmed their "Cloud Cashmere" sweater from their autumn/winter 2016 range is an updated version.  From what I can see, the only difference is the cuffs.  Kate's sweater has horizontally ribbed cuffs, the new version has vertically ribbed cuffs.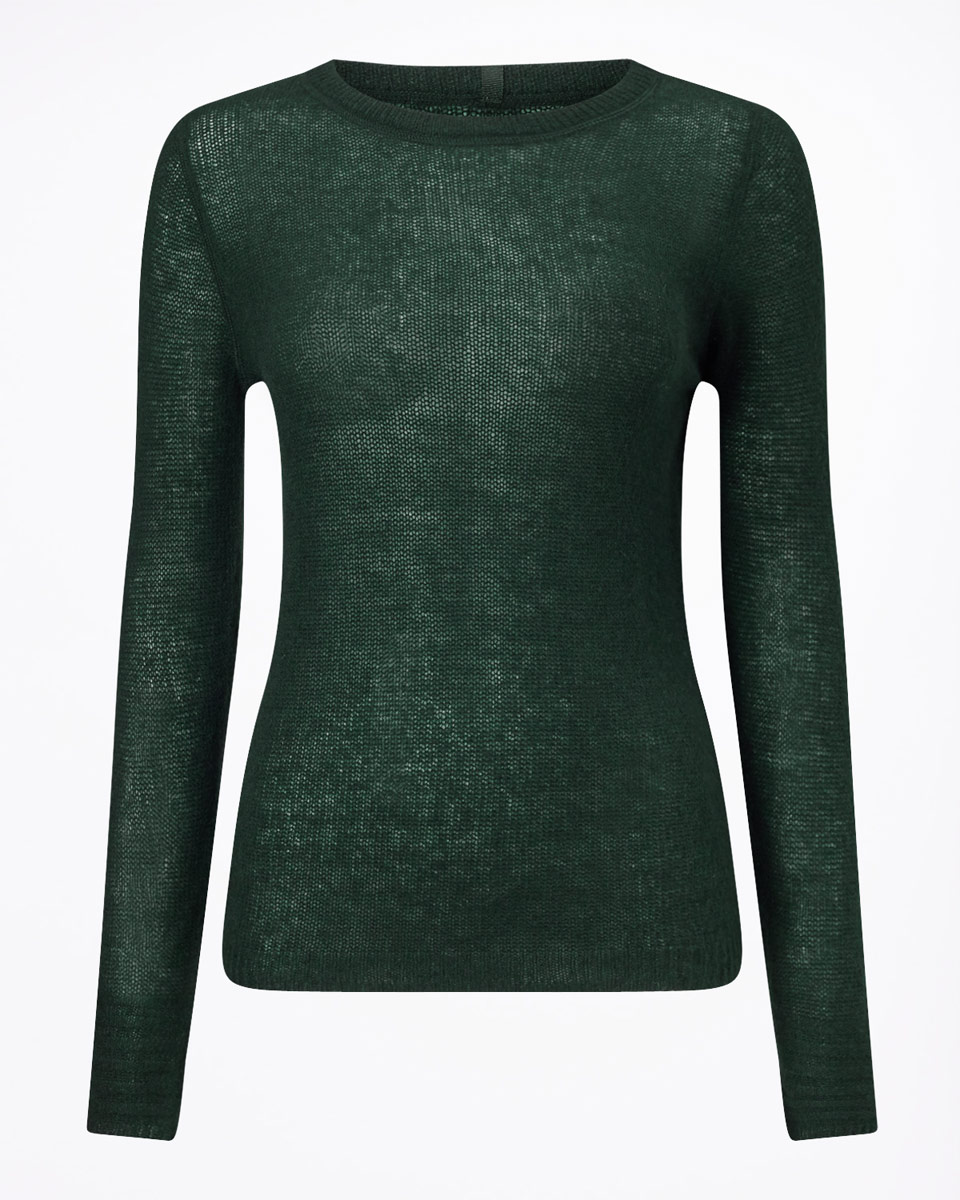 Sadly, it does not come in blue.  You can choose from four other lovely colours: pale taupe, smokey rose pink, bottle green, black and Persian red.  It costs £98 GBP ($119 USD approximately).  Click here to shop.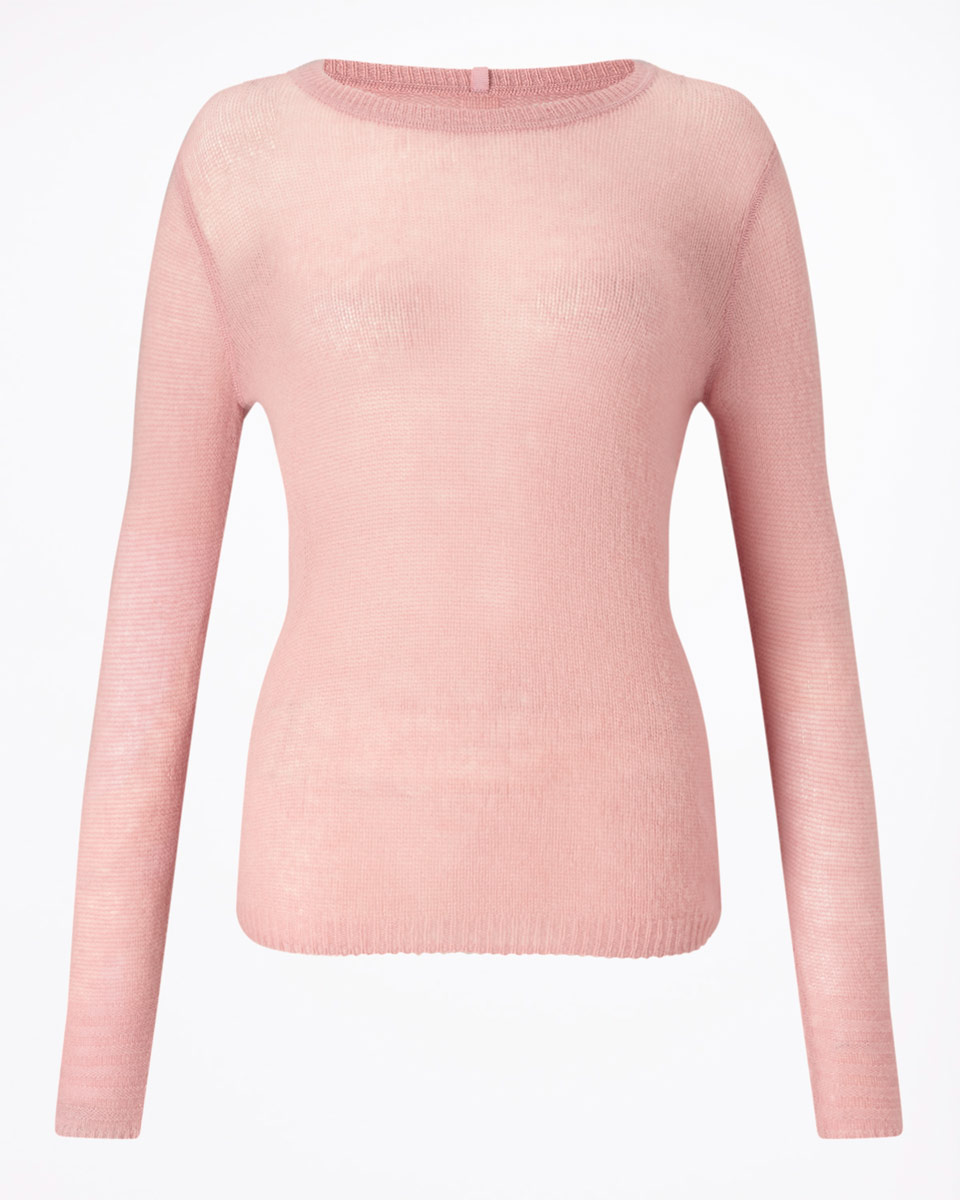 The Palace confirmed to journalists following the tour that Kate wore Zara jeans during the visit to Bella Bella.  I am currently unsure which pair, but will update this page if we find out.