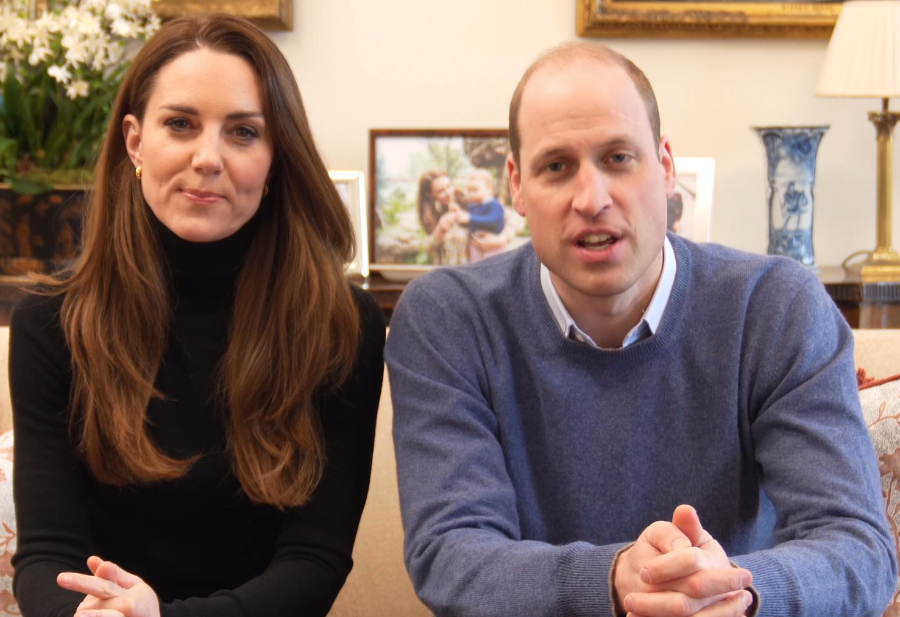 Thursday, 25th March 2021—The Duke and Duchess of Cambridge (William and Kate) starred in a video message that aired during a virtual event for Time To Change, a campaign to end mental health stigma.
Time to Change, led by the Mind and Rethink Mental Illness charities, will close in England next week as its funding draws to an end. The virtual event celebrated the campaign's success.
In the video, the couple said "a big thank you" to everybody who has shared their experiences and taken action through the campaign over the last 15 years.
A transcript of the video:
Wiliam: We wanted to say a big thank you to everyone who has shared their experiences and taken action through Time to Change, helping to challenge the stigma which surrounds mental health.

Kate: Movements like Time to Change have helped to transform attitudes and encouraged more openness about mental health in schools, communities and the workplace.

William: Over the past 15 years, Time to Change Champions have inspired and supported thousands of people across the country. Mental Health has now, at last, moved into the mainstream as part of our daily lives.

Kate: However, the work isn't done yet and we cannot afford to stop here.

William: We need to keep talking, keep taking action and continue to stand up to the stigma.

Kate: It's so important that we value our mental health just as much as we value our physical health.

William: To everyone who has been a part of Time To Change…Both: Thank you.

Kate's outfit:
Kate chose a black roll-neck / turtleneck for the video message. Unfortunately, I have no further details on the piece. It's impossible to tell if it's a sweater or a dress.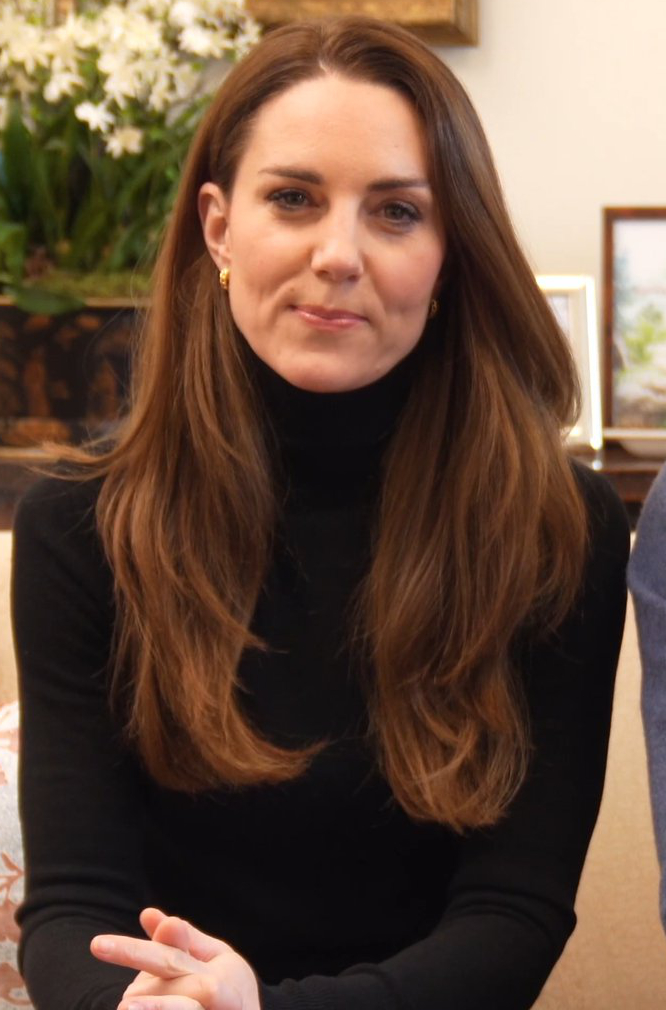 Enhancing the brightness on the photo shows a ribbed cuff, but that is the only discernible detail.
It could be the same piece she's worn over the last few years, or it might be new. Below: Kate in Dundee (Oct 2015), Wales (November 2015), Edinburgh (Feb 2016) and Paris (March 2017).
I can tell you that the Duchess is wearing her Orelia London Chain Huggie Hoop earrings in the video. The gold-plated brass earrings retail for an affordable £15. They can be preordered on Orelia's website with shipping expected in early April.
She first debuted the earrings in February and has worn them a handful of times since.
Orelia London replied to a message on Twitter about Kate's earrings.  They wrote that they received confirmation (presumably from the Palace) that Kate wore the Huggie Hoop style, so we can be pretty confident on this ID.