Prince George attended his first (half) day of school at Thomas's Battersea this morning (7th September 2017).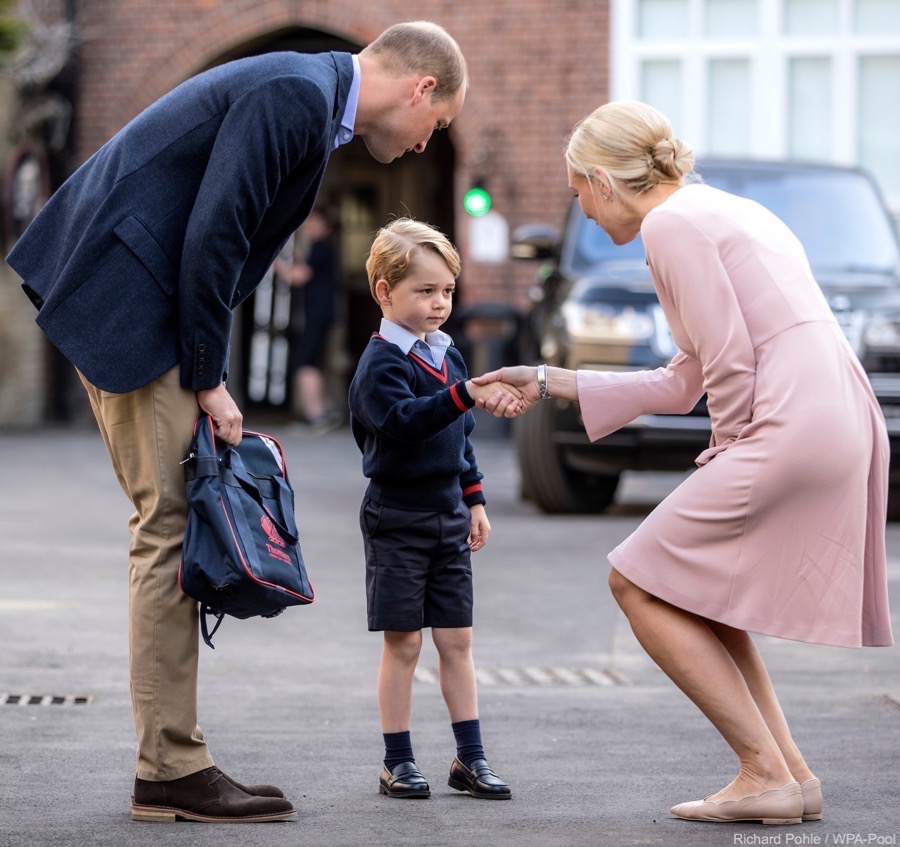 Before the father and son left for school, they had an official photo taken outside of Kensington Palace: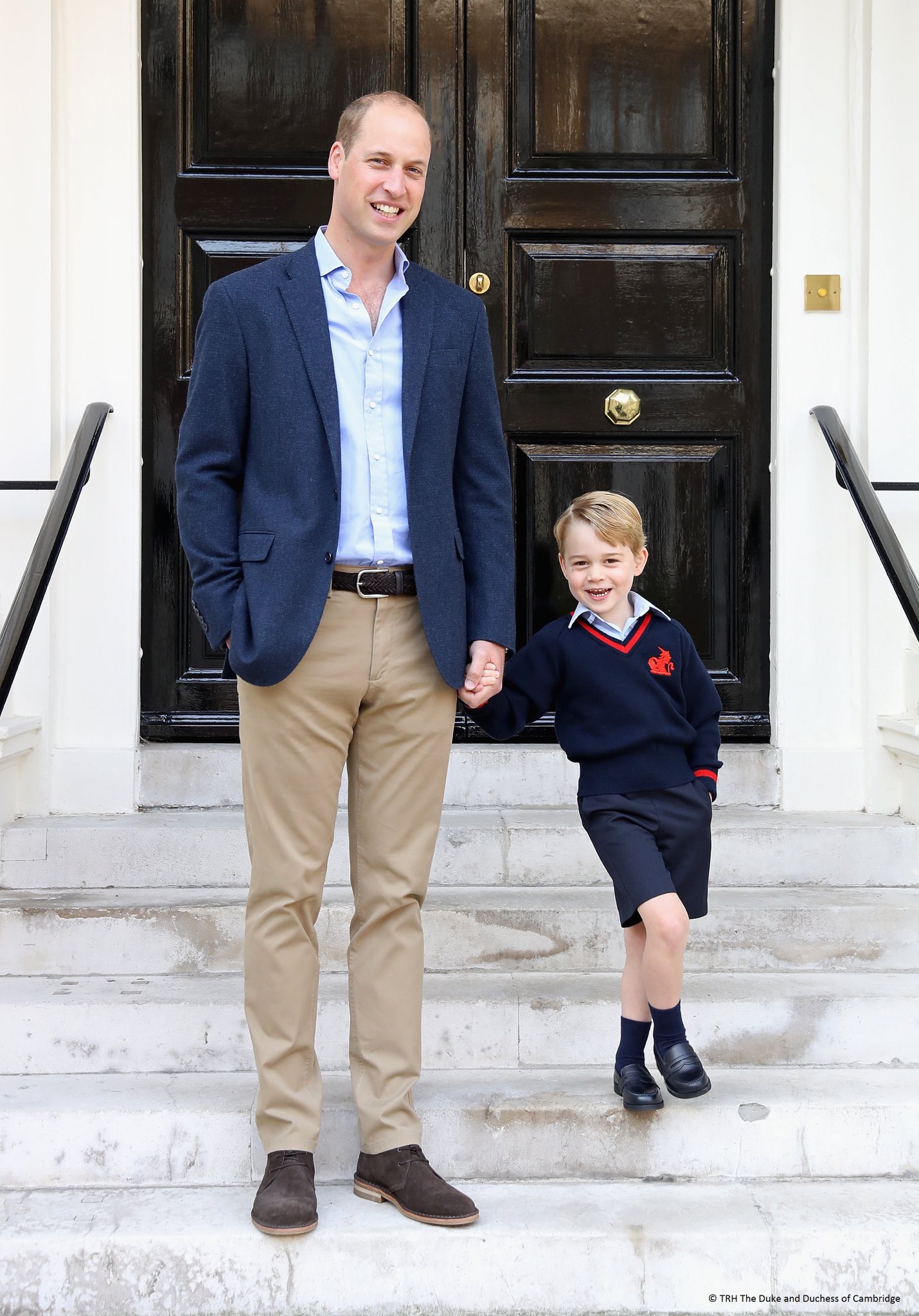 A spokesperson said:
The Duke and Duchess are very pleased to share a photograph of The Duke and Prince George at Kensington Palace this morning.  The image was taken shortly before Prince George left for his first day of school at Thomas's Battersea.  Their Royal Highnesses ould like to thank everyone for all of the kind messages they have received as Prince George starts school.
When William and George arrived at school, they were greeted by Helen Haslam, the Head of Lower School at Thomas's Battersea.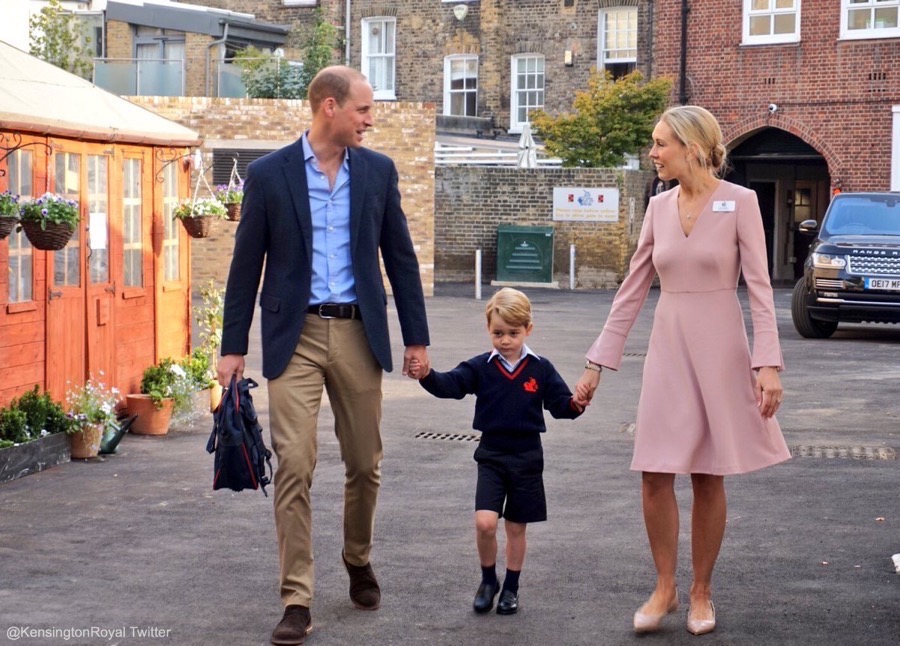 Note: We've had a few people ask about Ms Haslam's dress and shoes on social media. For those wondering, her dress is by L.K. Bennett. It's the Amana style in Rose Pink.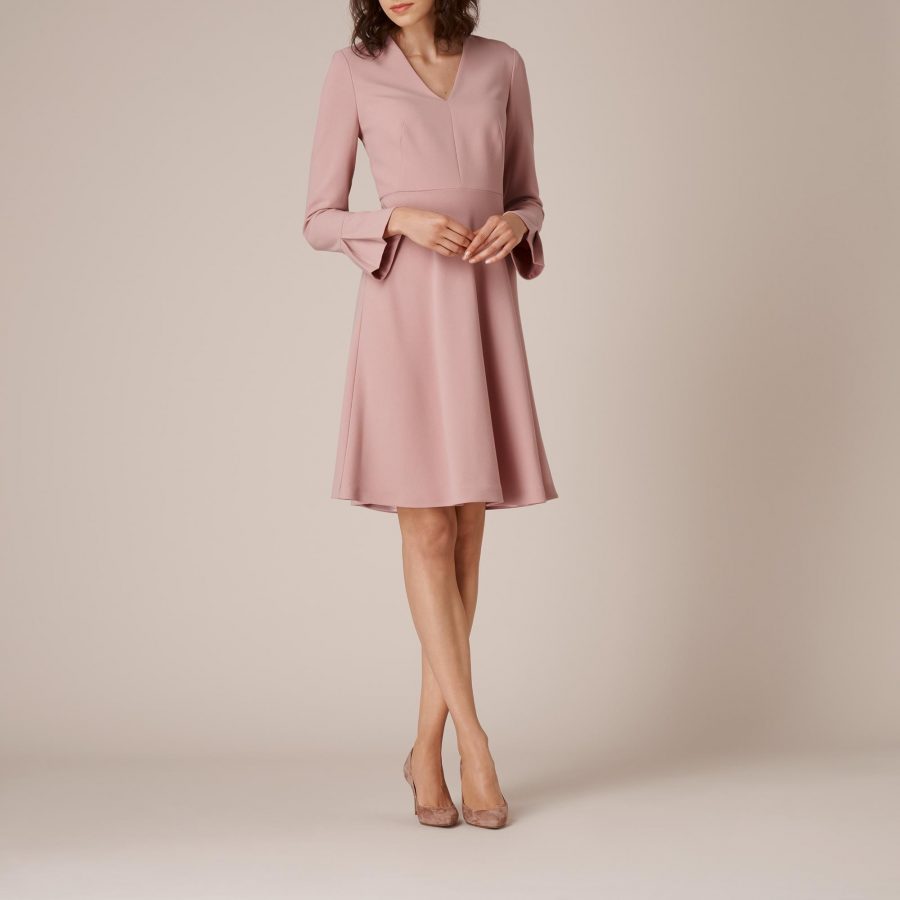 Her shoes are by Hobbs London and they're the Simone style.  They're still available in limited sizes at House of Fraser.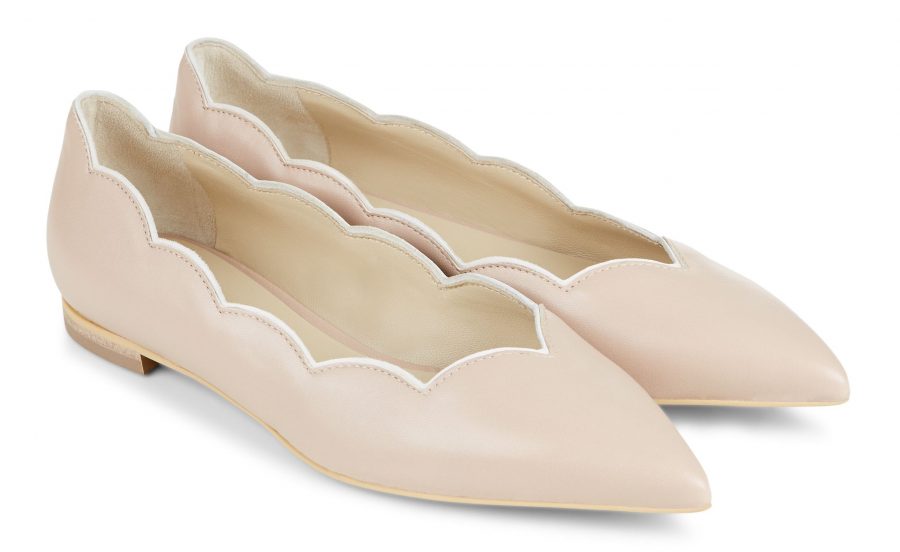 Thank you to Evangelina and Michelle for your help!
Prince William and Ms Haslam took George inside the school and into his reception classroom.  You can watch a short video of the moment below:
According to Richard Palmer, the Royal Correspondent for the Daily Express, Prince William told reporters that school drop off "went well", adding "it's was really nice actually.  It's a nice school."   He also said there was another parent who had more of an issue with their children, and he was quite pleased that it wasn't him!
Prince George looked very smart in his new school uniform, which consisted of a long-sleeved v-neck sweater with red detailing, a blue shirt, knee-length shorts and black leather shoes.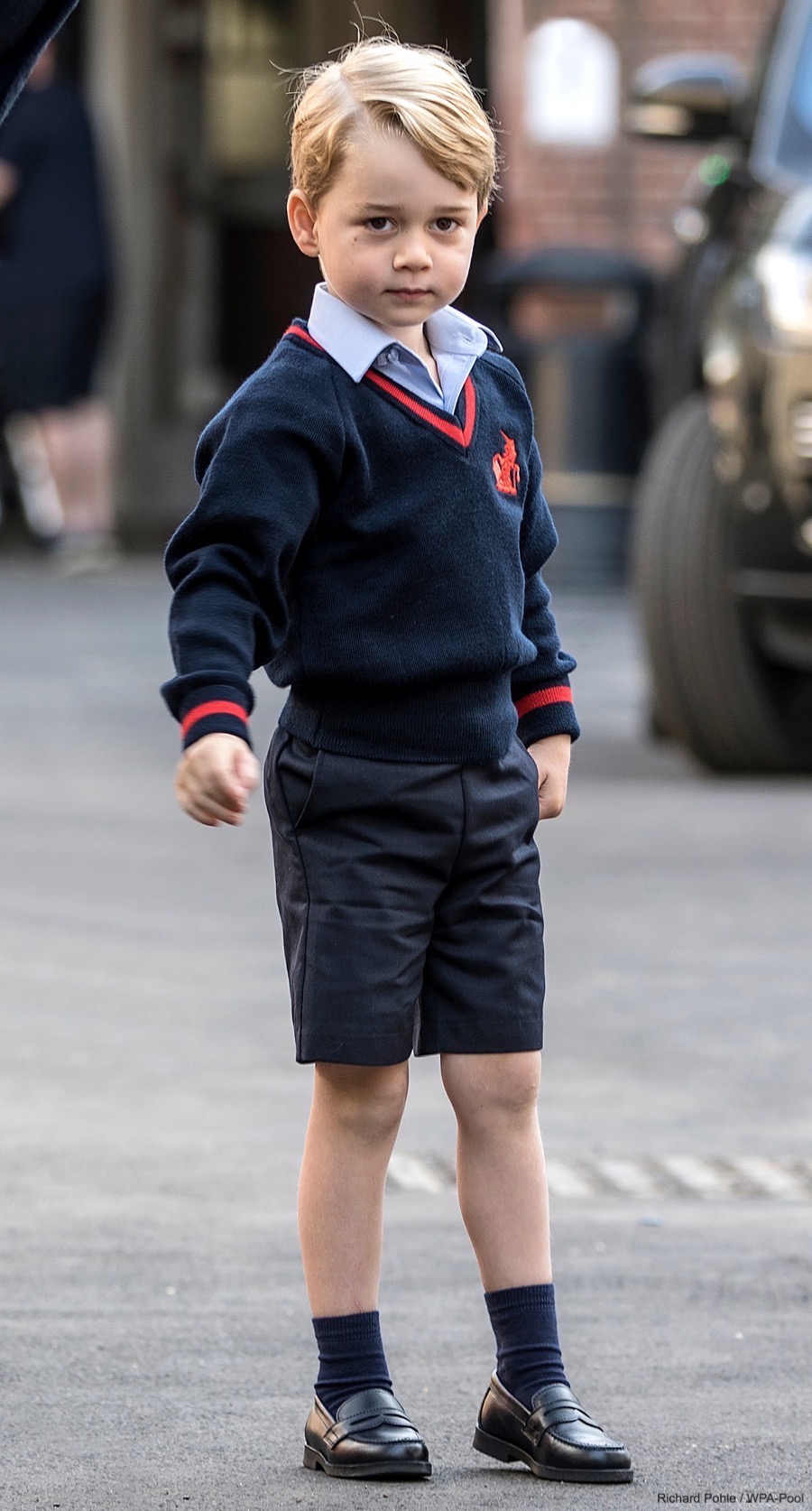 We show the uniform below at John Lewis (note: George might be wearing a different shirt to the one pictured below):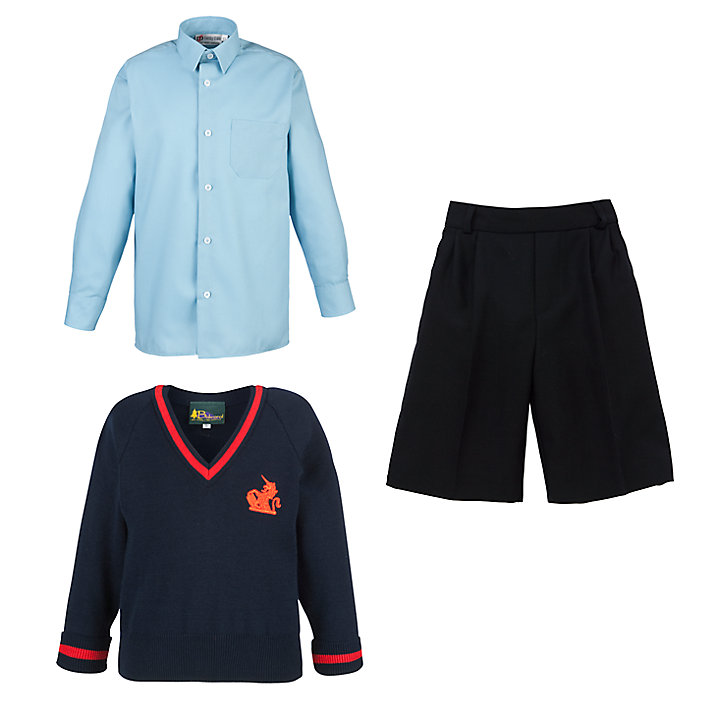 As you may have noticed, Kate didn't accompany George.  Unfortunately, she is still suffering from hyperemesis gravidarum (HG), an acute version of morning sickness.  The NHS describe HG as "excessive nausea and vomiting", and explain that sufferers might be unable to keep food or drink down, which can have a negative effect on their daily lives.
Maria Matthews wrote an honest account of her experiences with HG in Vogue magazine. It's worth a read if you'd like to grasp a sense of what Kate might be suffering with:
…I wonder how many other women have suffered the isolation and depression that comes from the relentless wretchedness of HG, together with frustration at the apparent lack of a safe, effective remedy. No woman should have to suffer a genetic design fault so acute that the heavenly gift of carrying a child feels like hell on earth.
Of course, we offer our best wishes to Kate and hope she feels better soon.  She must be very upset to have missed her son's first day at school.
Did Prince William let it slip that Kate's around 11 weeks pregnant?
According to Rebecca English, Royal Correspondent for the Daily Mail, Prince William might have let it slip that Kate is around 11 weeks pregnant during a visit to Oxford earlier this week.  From her article:
Opening up about yesterday's announcement for the first time, he said: 'We just need Catherine to get over this first bit, then we can start celebrating next week.'

His words appear to confirm that Kate is 11 weeks along and will hit the crucial 12-week mark in her pregnancy next week."
The couple's spokesperson has not given any official confirmation about Kate's due date. However, the same reporter was told off the record that is Kate is less than 12 weeks pregnant.

If Kate is currently 11 weeks pregnant, does that mean we can expect Royal Baby #3 in March?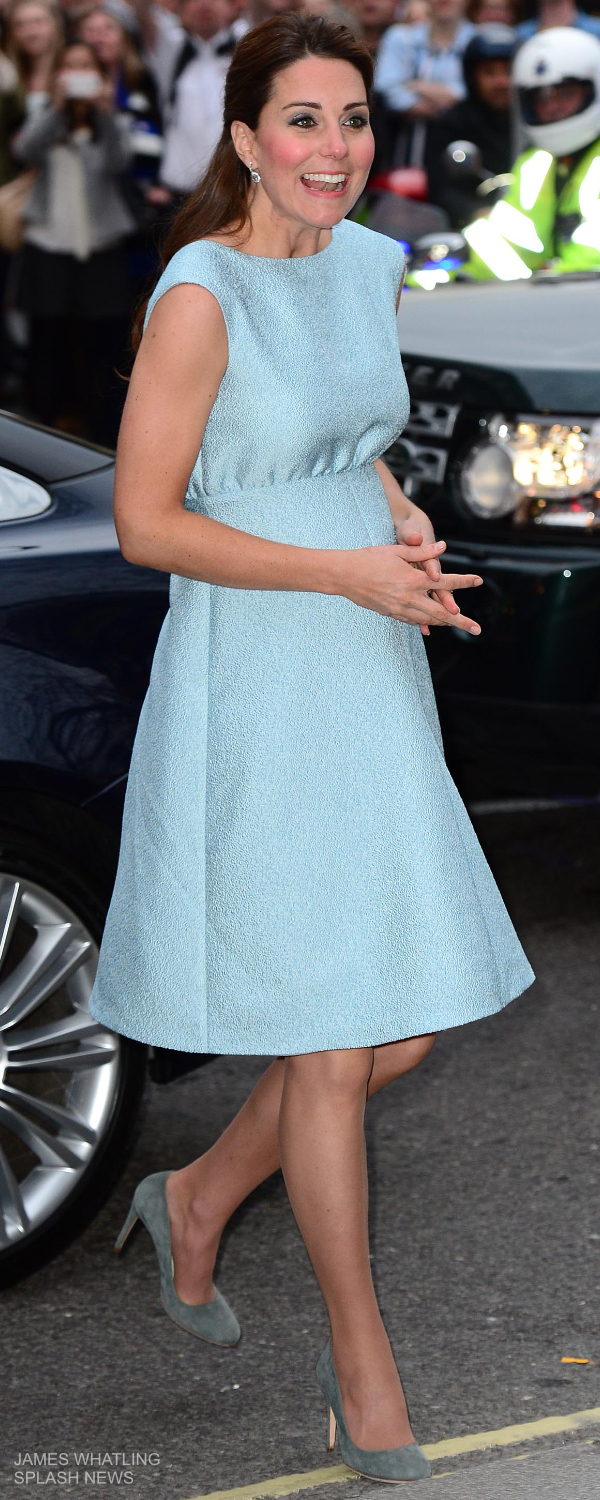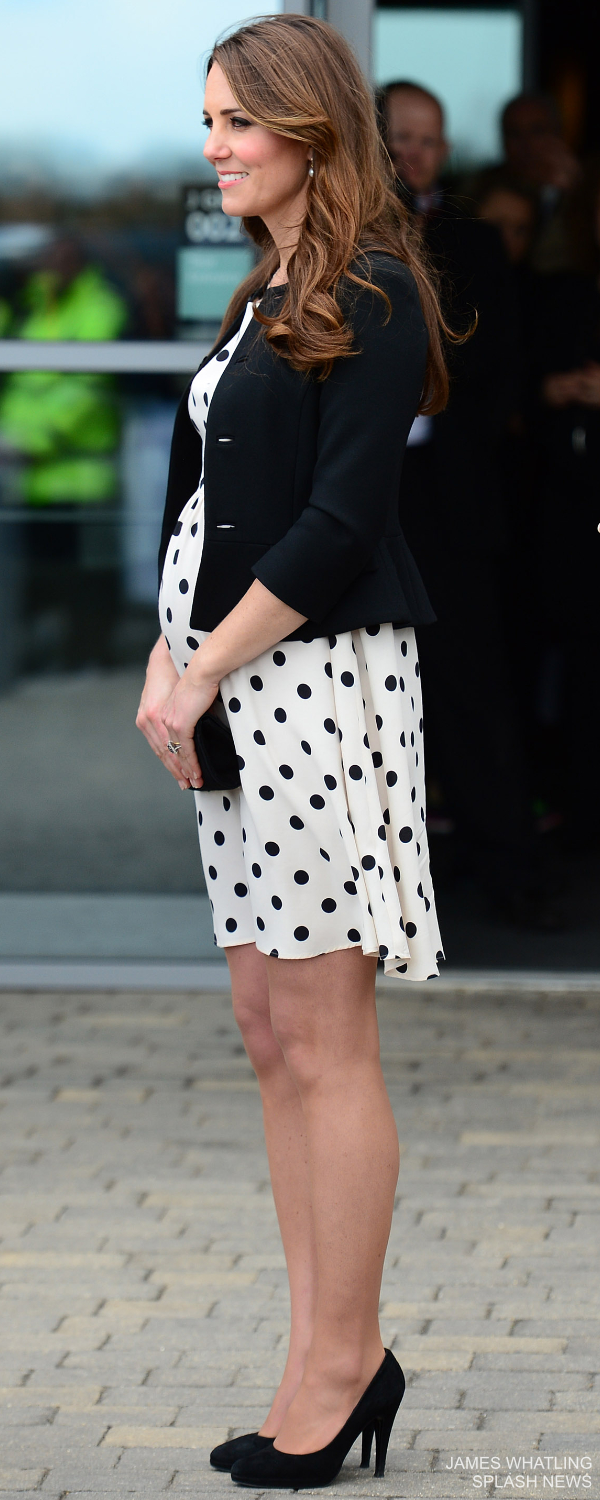 Kate's Petit Bateau top is on sale PLUS here's an extra discount code!
Remember the Petit Bateau top that Kate wore in Vogue magazine for their special 100th birthday issue?  It's now on sale at The Outnet.  It costs $37.95 / £23.40.  But wait! You can get it even cheaper if you've never ordered from The Outnet before. If it's your first order with the company, simply enter the code WELCOME15 for another discount!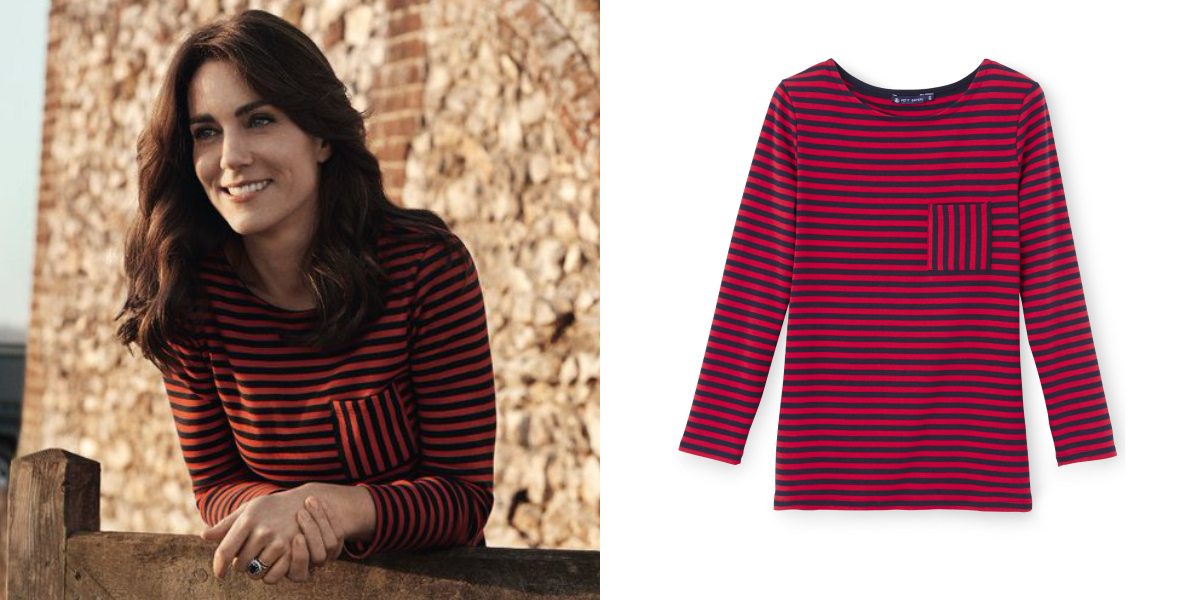 This works for any first-time order* (not just the Petit Bateau top) and the store carries some of Kate's favourite brands. If you didn't already know, the Outnet is one of Net-A-Porter's outlets (the other being Yoox).
The Outnet stocks designer labels that Kate's worn in the past include Chloé, Preen and Temperley London.
Pro tip:  Change country and order from your local Outnet site by clicking the flag icon in the top left of the screen.
*The voucher code excludes Iris & Ink. There's no expiry date for the code.
Happy shopping!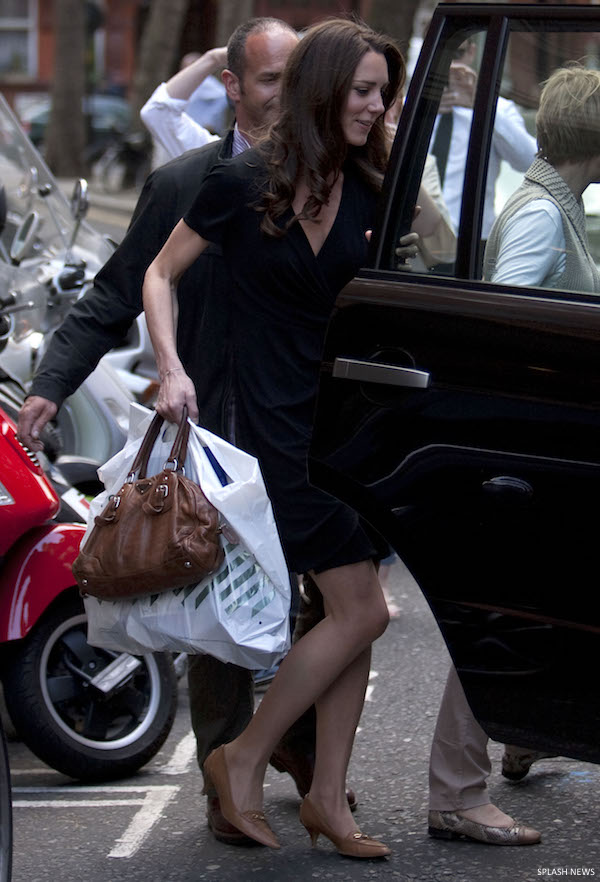 Kate wins £91,700 in damages for *THOSE* photos printed in Closer magazine.

In 2012, the paparazzi snapped photos of Kate sunbathing topless in France.  The photos were taken using a zoom lens while the couple holidayed at a private chateau.  Closer published the photographs in the French edition of their magazine.
This week, a court in Paris ruled that the photographs were an invasion of privacy. The court awarded Kate €100,000 (around £91,700 / $119,706) in damages, which will be paid by two Closer magazine executives and two photographers.
After the ruling, Kensington Palace released the following statement on behalf of the couple:
The Duke and Duchess of Cambridge are pleased that the court has found in their favour and the matter is now closed.

This incident was a serious breach of privacy, and Their Royal Highnesses felt it essential to pursue all legal remedies.

They wished to make the point strongly that this kind of unjustified intrusion should not happen.
The couple will donate the money to charity.
Hobbs London x Historic Royal Palaces
Today, Hobbs London (a British brand worn by Kate on numerous occasions) unveiled their second clothing and shoe collection with Historic Royal Palaces, an independent charity that manages some of the UK's royal palaces.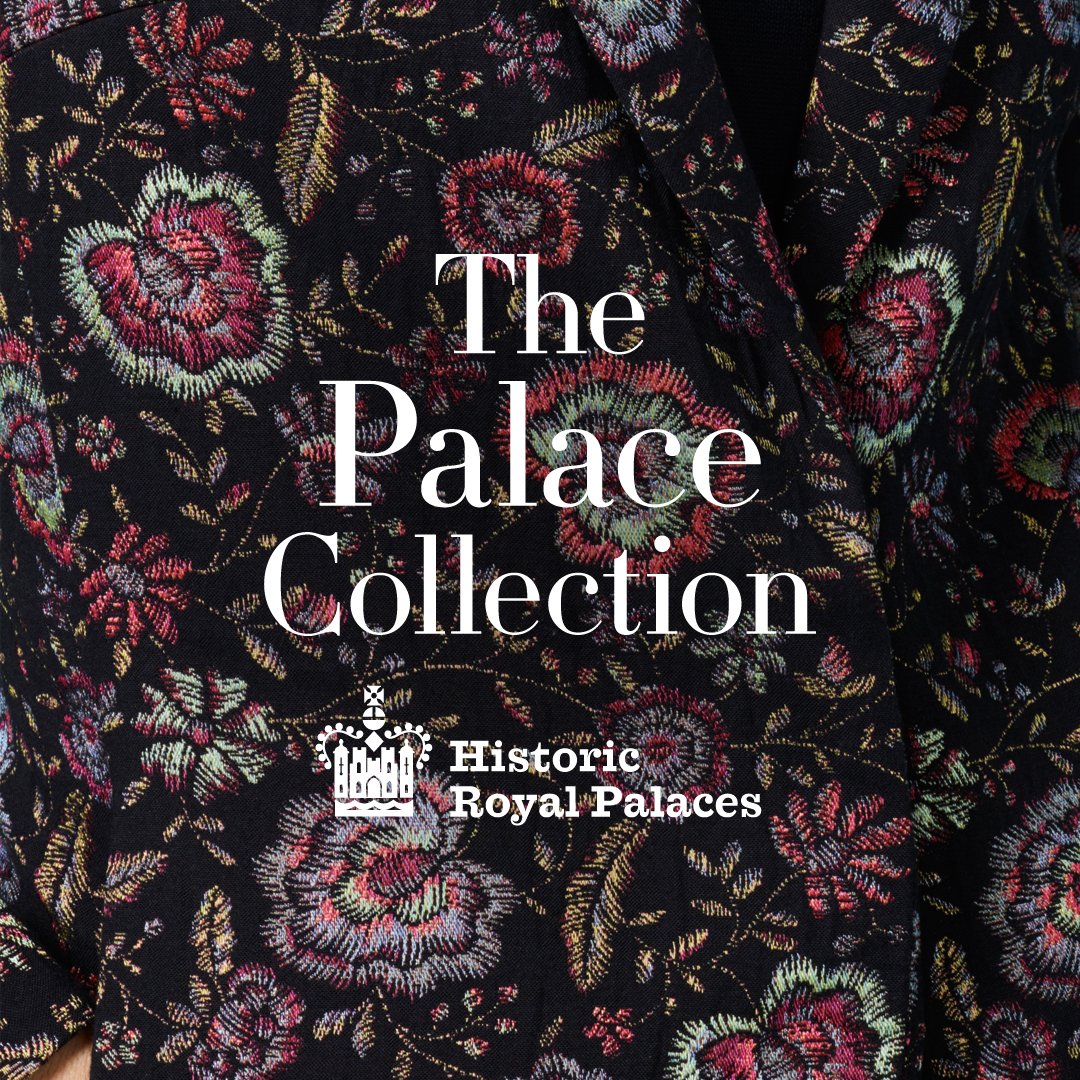 Today, they unveiled their autumn/winter collection.  The collection was inspired by the lavish 17th-century Baroque interiors in Hampton Court Palace and the magnificent Crown Jewels housed in the Tower of London:

You can read more about the collaboration and view all the items in the collection by clicking here.
Maternity section:
Note: In honour of Kate's exciting baby news this week, we've added a maternity category to the wardrobe section of our site. Perfect for mums-to-be who are looking for a bit of style inspiration during their pregnancies! We've only included a few pieces so far, but we'll be adding more soon.