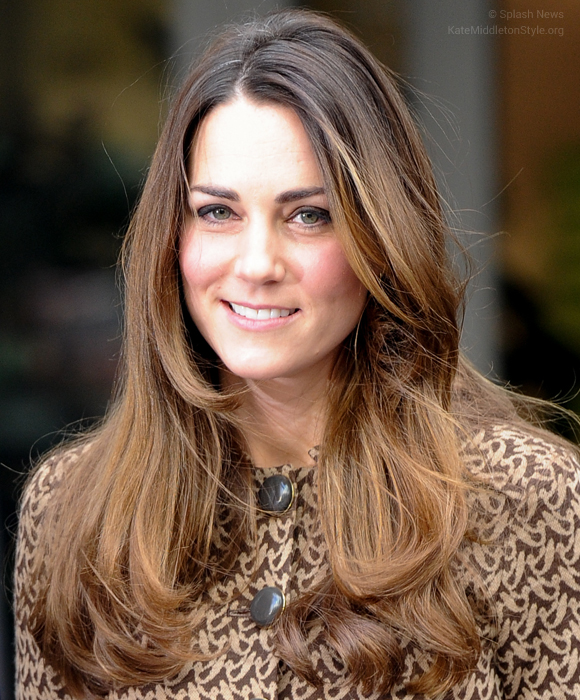 This morning, Kate and William visited the Only Connect charity head office in Kings Cross, London.  Only Connect provide training, support and creative opportunities for ex-offenders, prisoners and at-risk young people.
During the visit, the royal couple toured the offices and watched a dance performance.
The Duchess of Cambridge meeting some of our OC Impact Entourage today pic.twitter.com/B9nvSUN3Zg

— Only Connect (@onlyconnectuk) November 19, 2013
William and Kate also looked at items from the Handmade Alliance's workshop.  The Handmade Alliance are a social enterprise that works with at-risk young people in the community.  A look at the display:
Our workshop display, ready to show the Duchess of Cambridge #royalvisit http://t.co/Sr2JZNuu3C

— Handmade Alliance (@HandmadeAlly) November 19, 2013
In addition, Kate and William also met with staff from Bounce Back, a charity foundation focussed on training and employment of ex-offenders.
About Kate's Outfit:
If you think Kate's outfit feels familiar today, it's probably because we've seen it before.  The Duchess last wore the brown Birdie print shirt dress by Orla Kiely during a visit to two Oxford schools last year, in capacity as Patron to The Art Room charity.
Here's a reminder of Kate in that outfit back in 2012:
For today's event, Kate accessorised her Orla Kiely dress with brown tights and her brown suede Aquatalia booties once again.
Just to make thing confusing, the Aquatalia boots Kate's wearing are known by a range of different names: They were originally called the 'Rouge'.  They sold out, then were re-released as the 'Royal' at Nordstrom and the 'Regal' on Aquatalia's website last year.  Both styles sold out.  Today, the boots are sold as the Ruby Dry at Russell and Bromley, and the Royalty at Aquatalia.  The Royalty's design is exactly the same as the Rouge, but there are additional silver pieces of hardware on the clasp.
For those looking to RepliKate, Aquatalia also designed a very similar boot called the Pumpkin, this is currently on sale at DSW (Designer Shoe Warehouse) for $299 (compared to the Royalty which is $475 at Aquatalia.)
Kate's hair looked a little lighter today, it appears more blond at the bottom of the hair:
Kate wore her Kiki Citrine tear drop earrings.  She also carried a brown suede clutch bag today too.  Some people think it's the Russell and Bromley Muse clutch bag – (which we've seen her carry on numerous occasions in a range of colours) but I think it looks too narrow in shape.  It's certainly not Emmy clutch Kate often carries, as the The flap on the bag is also a different shape.  She could be carrying this brown suede bag from L.K. Bennett.  Nothing is confirmed as yet – but once we've agreed on an ID I'll be sure to post an update here.
Shop Kate's style:
About Only Connect:
Only Connect is a London-based charity that provides training, support and creative opportunities to help ex offenders, prisoners and at-risk young people realise their own value.
On their website, only connect state that they have more than halved the expected rate of reoffending just by working with ex-offenders, and they believe they have saved the taxpayer £3.2 million.
>> Read more about Only Connect
Prince William is also a patron of the St Giles Trust, which helps ex-prisoners to get back on their feet. He visited their offices earlier this month.
Place2Be:
Make sure you visit us again tomorrow, as Kate has another charity engagement: this time with Place2Be in London.
Place2Be is a children's counselling charity. Kate became patron of the charity back in April this year.
Aaaand Finally:
If you enjoyed today's article, why not sign up for our Kate-themed newsletter?  Just pop your email address into the purple box under the tweet/like/share buttons below.  Once a month, we'll send you discounts, news of brands on sale, news of Kate-items back in stock, some great articles you should have a read of, interviews plus more!