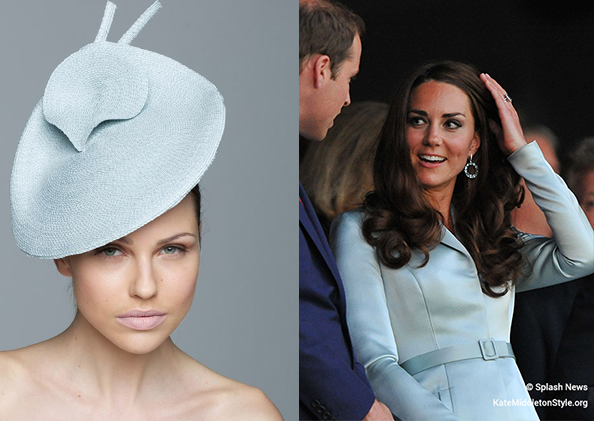 On June 16th 2014, Kate watched husband William take part in the Most Noble Order of the Garter procession at Windsor Castle, along with other prominent members of the Royal Family.
New appointments to the Order are announced on St. George's Day, but the installation ceremony takes place on the Monday of Royal Ascot Week. The day is known as 'Garter Day.' More about the Order of the Garter from the Royal.gov.uk website:
The Order of the Garter is the most senior and the oldest British Order of Chivalry and was founded by Edward III in 1348.

The Order, consisting of the King and twenty-five knights, honours those who have held public office, who have contributed in a particular way to national life or who have served the Sovereign personally.
The Queen appoints the Garter Knights without consulting ministers.
On Garter Day, the Garter Knights all wear blue velvet robes and black velvets hats with white plumes as they process through the castle grounds to St. George's Chapel, where hundreds of spectators line up to view. Chris Jackson from Getty tweeted the following picture of the "pomp and ceremony" from the proceedings – it shows you how many people line up to watch too –
After a church service, the royals ride in carriages. The British Monarchy uploaded this Vine clip of Kate, Prince William and Prince Charles riding together:
And finally, how cute is this picture? Kate smiling at William as he looks at her from the procession:
Kate's outfit:
Kate 'repeated' her blue satin coat by Scottish designer Christopher Kane from the London 2012 Olympics opening ceremony:
The Telegraph newspaper described the piece as an "ice-blue eau de nil satin fitted coat dress". There are no similar pieces available from Christopher Kane, it is likely the coat is bespoke.
Kate wore a new hat today by a familiar designer, Lock & Co . With thanks to Anna from My Small Obsessions we know that the style is called Sweet Delight.  Here's a look at the hat from the Lock & Co website:
Kate carried her L.K. Bennett Natalie clutch bag and wore a new pair of nude heels. We currently believe that they're a new pair of Jimmy Choos, the 'Gilbert' heel in nude leather. We thank Ashley Marie for this possible ID.
Finally, Kate wore her diamond and aquamarine or topaz drop earrings (see photo above). The beautiful earrings are still a mystery to Kate fans – they've not yet been IDd.