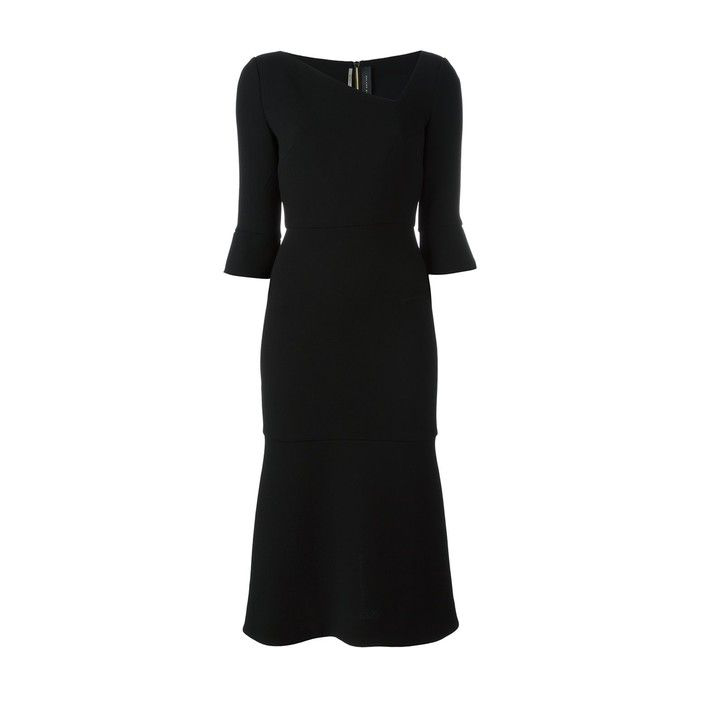 In November 2018, the Duchess of Cambridge (Kate Middleton) debuted a new black dress with an asymmetric neckline for The Royal British Legion's Festival of Remembrance at the Royal Albert Hall. Two and a half years later, we saw the dress again. This time, the Duchess wore it for Prince Philip's funeral at St George's Chapel in the grounds of Windsor Castle.
About the dress:
The black dress features a mid-length skirt, elbow-length bell-cuffed sleeves and an exposed back zipper in gold.  It's made from 100% wool and lined with silk. An old Pinterest pin put the dress's RRP at $1,760.
Where can I buy this dress?
Sadly, this is an older season dress. It is no longer available for purchase. Try eBay?
Roland Mouret offer a number of similar designs in navy and black — check out the widget at the bottom of this page.
Kate Middleton wearing Roland Mouret:
We've spotted Kate wearing three other Roland Mouret designs: the Ella gown in white, the Nansen dress in electric blue and the Manon dress in navy. View them all below:
About Roland Mouret:
Roland Mouret is a French fashion designer. Net-A-Porter call Mouret's designs "informed by his intuitive understanding of the female form". Matches Fashion call the designer a "master of structure and draping." Harrods state Mouret is "defining the era of the iconic dress" with his "cult collection of ultra-feminine designs".
I love the way fabric feels, I love to grab it, I love how clothes fall over the body. I'm known for drape and structure, but I succeed, I think, when the clothes feel comfortable to you.

Roland Mouret