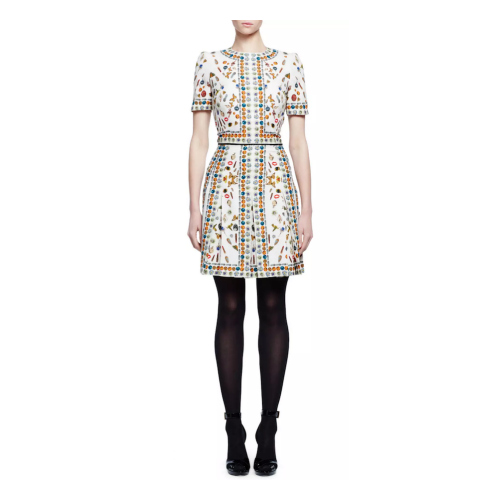 In July 2016, Kate Middleton watched Andy Murray play in the Wimbledon men's final.  For the occasion, she chose an Alexander McQueen dress in the company's Obsession Talisman print: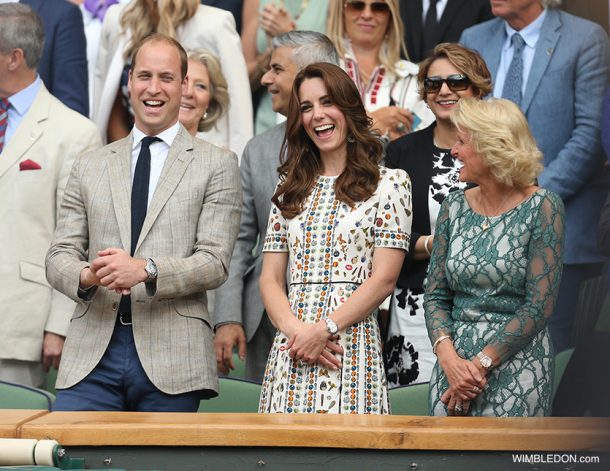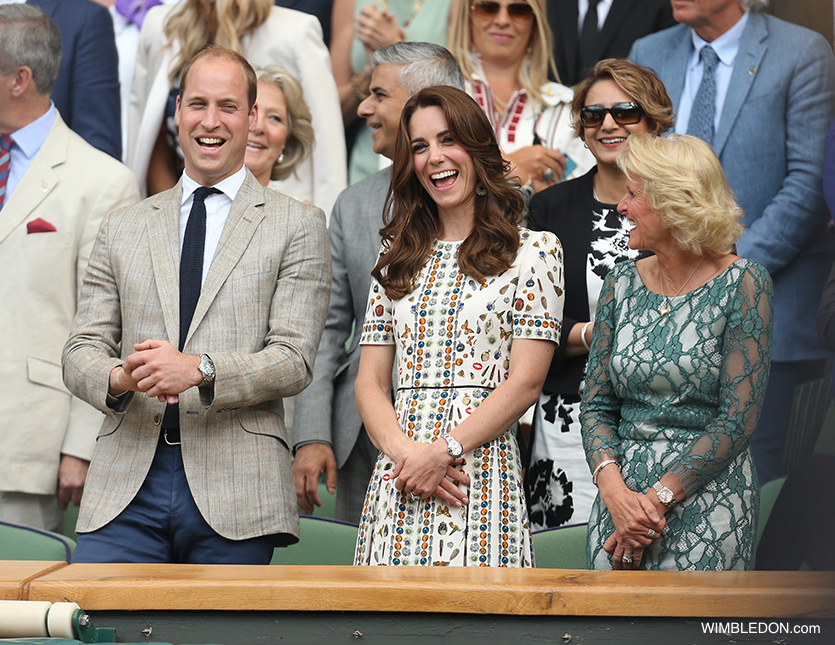 About the Alexander McQueen Obsession print dress:
It appears that Kate wore a bespoke version of this dress from Alexander McQueen's Pre AW16 collection –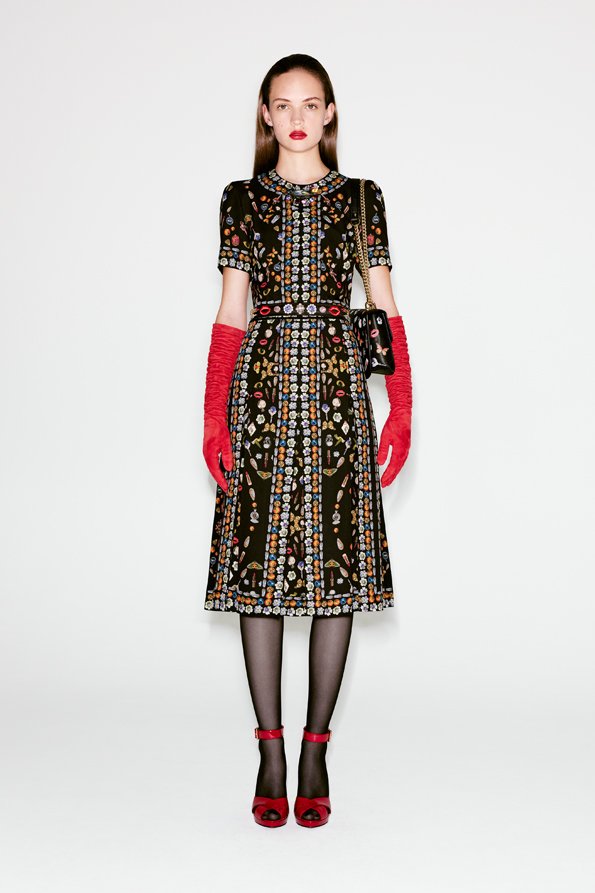 On the Alexander McQueen Instagram account, this dress is described as having "soft shoulders and military lines [that] nod to the '40s silhouette".
Kate's dress is made from ivory silk, just this piece available at Bergdorf Goodman: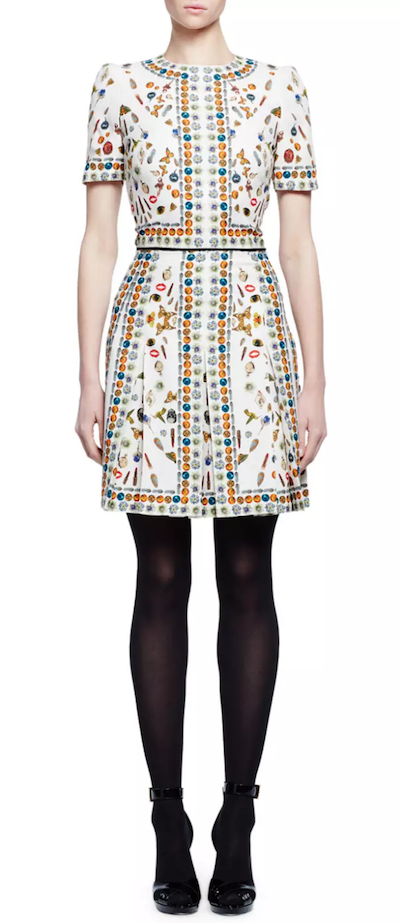 (You'll note this version is slightly shorter than Kate's).
The $2,995 dress (approximately £2,300 at today's exchange rates) features a jewelled neckline, a nipped in waist, an A-line silhouette and short sleeves.  You can view it here.
Here's a look at the back of the dress too: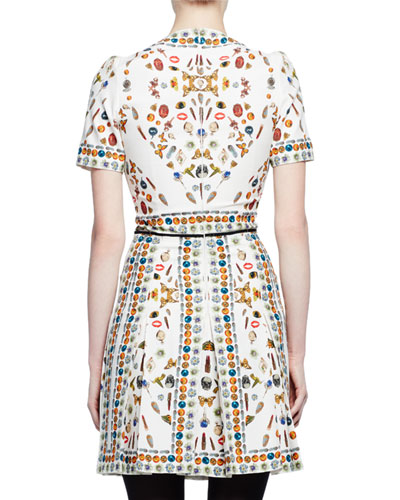 About the McQueen Obsession print:
The Obsession talisman print is a prominent feature of Alexander McQueen's autumn/winter 2016-17 collection.
The new collection is adorned with charms and heirlooms – precious artefacts gathered by an obsessive female collector.  Intricate prints and embroideries sit alongside 1940s-inspired accessories.
Here's a closer look at the Alexander McQueen Obsession print: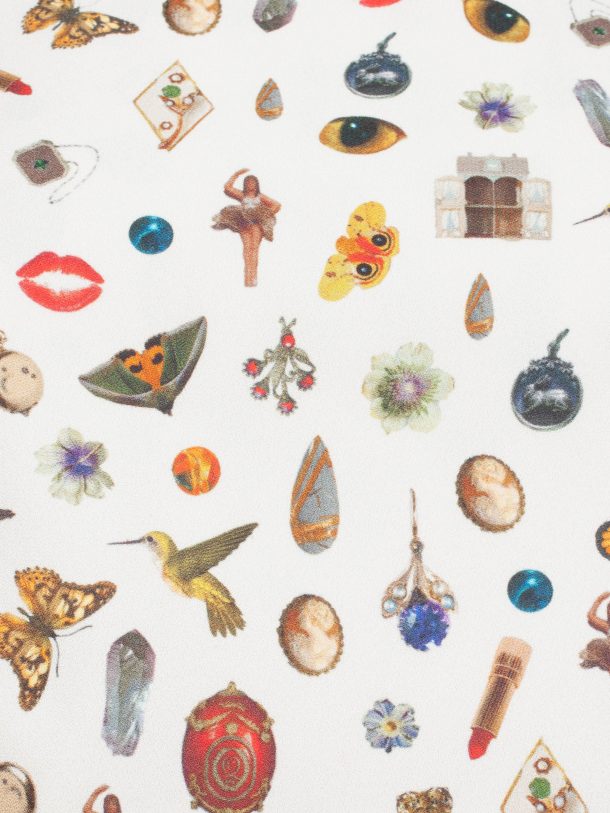 "For Alexander McQueen's AW16 collection, Creative Director Sarah Burton explores the idea of the obsessive collector gathering trinkets, charms and artefacts."
Harrods explain that the print features "random objects used to represent the idea of obsession".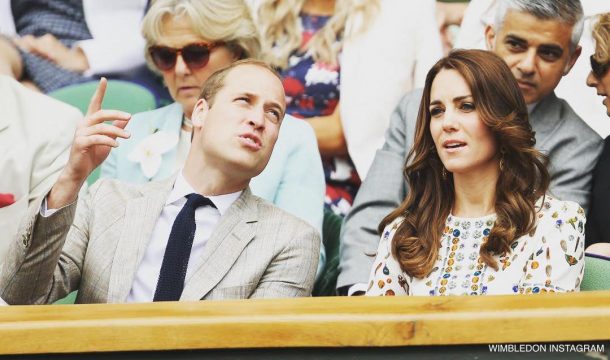 Matches Fashion note the pattern features a " treasure-trove of trinkets" including "butterflies, lipsticks, and the label's signature skull".  You'll also see faberge eggs, crystals, brooches, moths, hummingbirds and marbles.
Here's a look at one of Alexander McQueen's Obsession print bags from the season: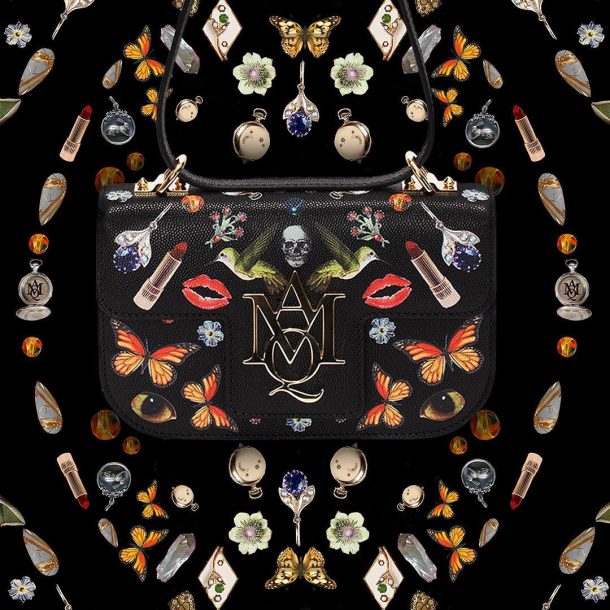 More pieces from the collection:
The Obsession print is highly sought after this season.  McQueen have used it on a number of items, including bags, dresses, scarves and blouses.  Use the widget below to browse: