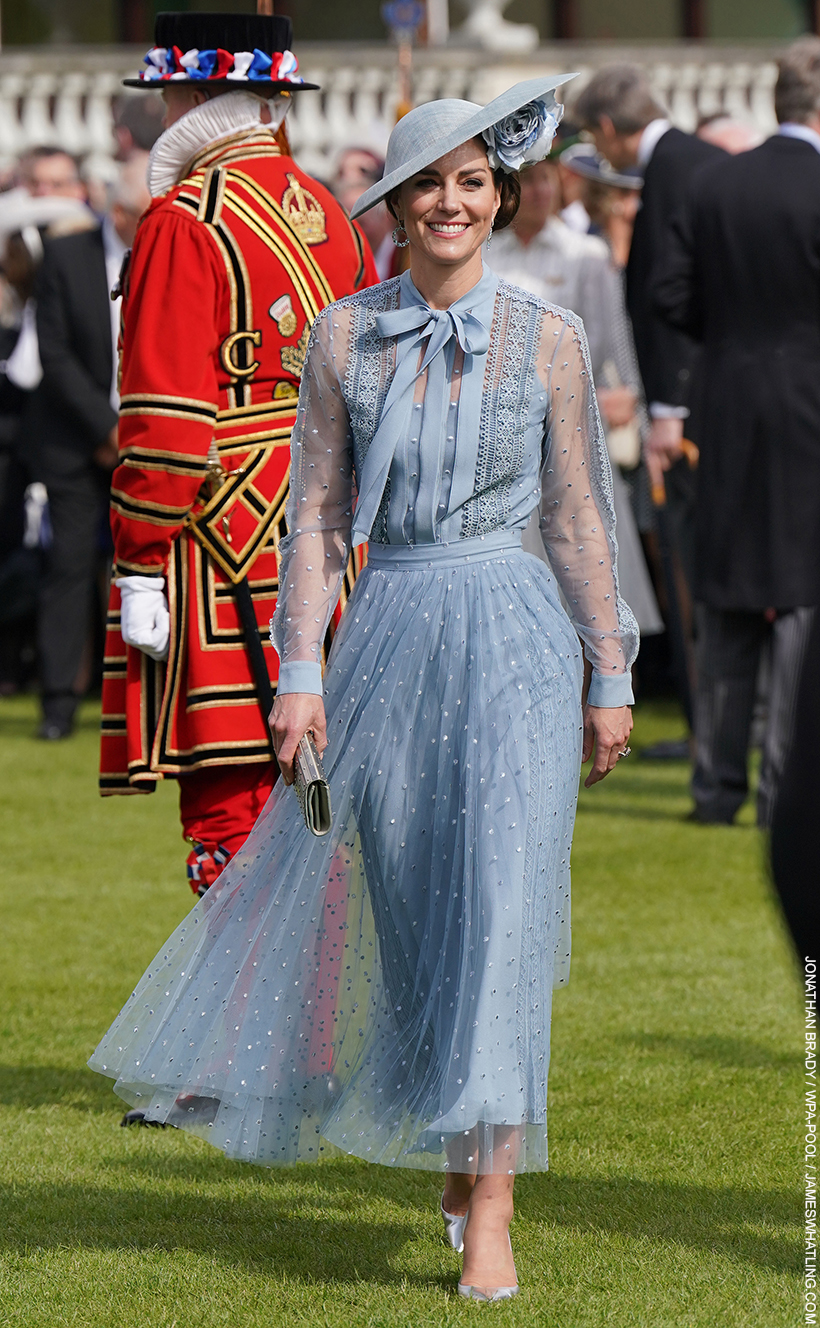 Kate Middleton re-wore one of her most elegant and ethereal ensembles at a Buckingham Palace garden party on Tuesday afternoon. Long-time readers will recognise the cornflower blue lace top and floaty tulle skirt from 2019's Royal Ascot. Both garments are from Elie Saab's 2019 Resort collection.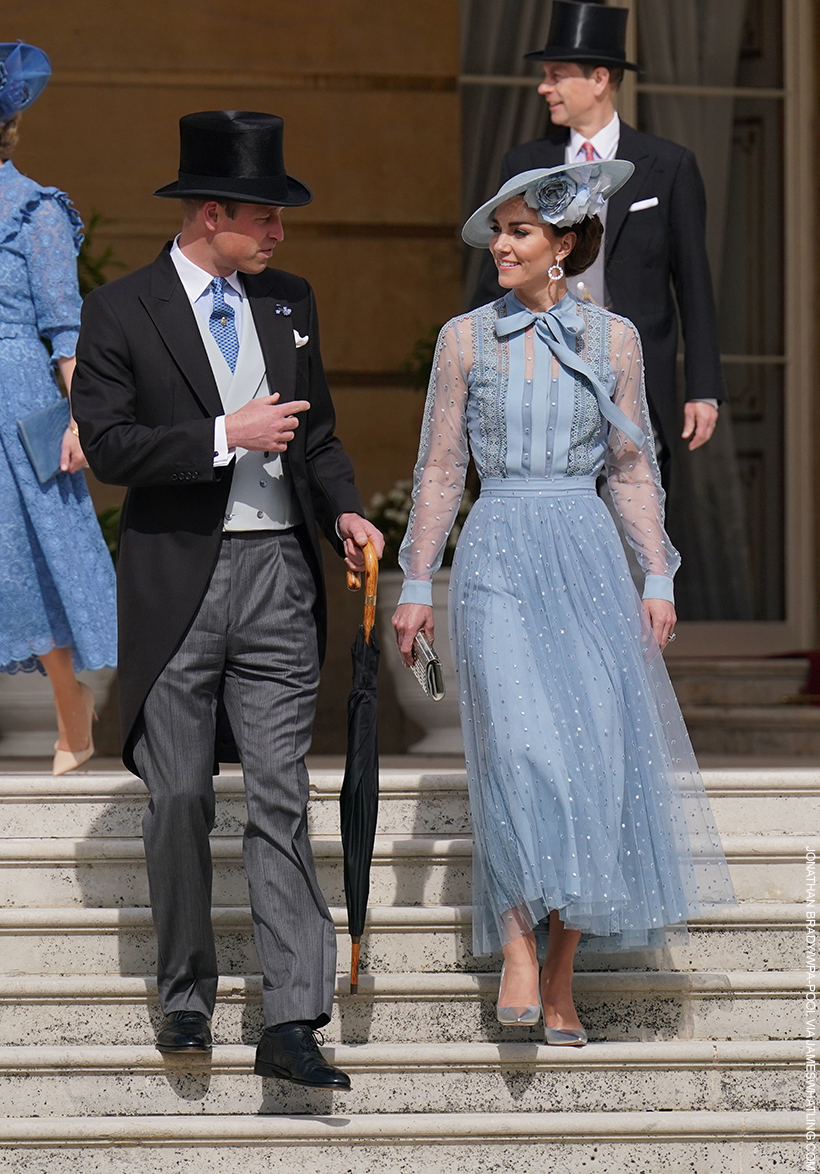 The Prince and Princess of Wales hosted the party along with the Duke and Duchess of Edinburgh, The Princess Royal and The Duke and Duchess of Gloucester. I love how Kate and Sophie twinned in their coordinating outfits! (Sophie looked fantastic, as always, in Suzannah London.)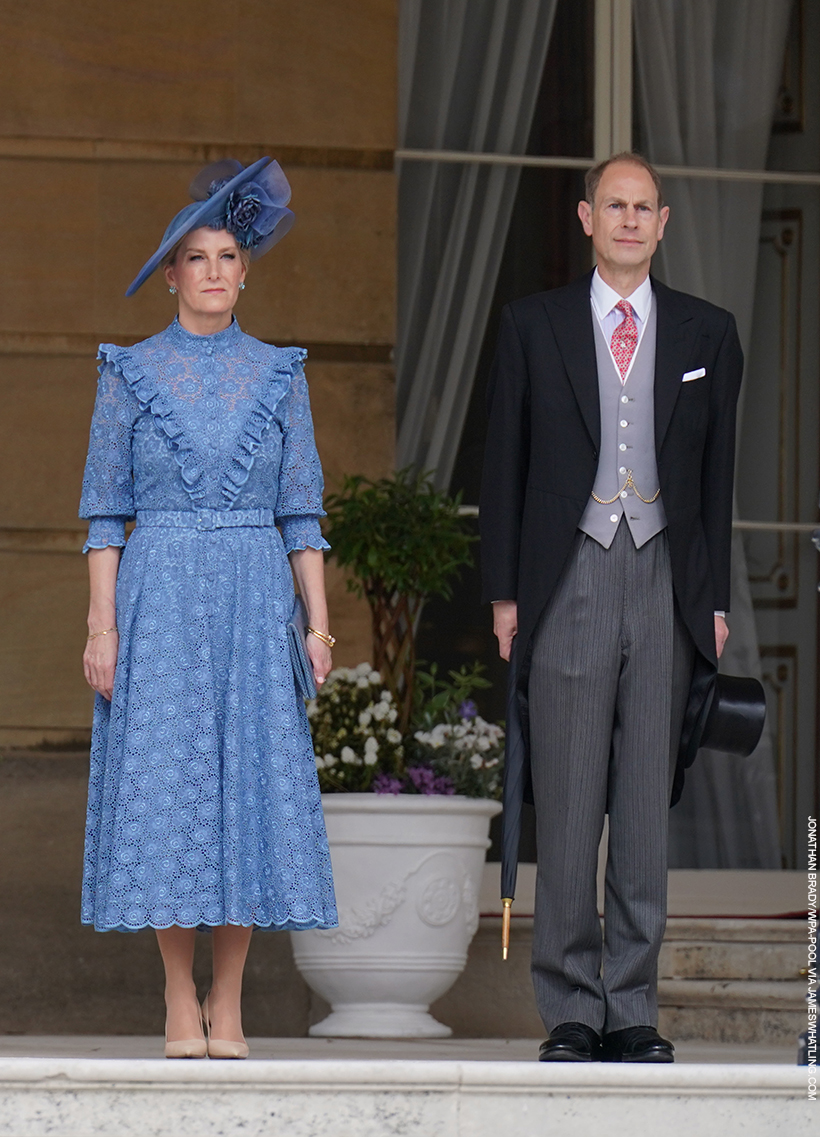 8,000 guests were invited and welcomed to the garden in Buckingham Palace in recognition of their public service and charity and community work. They were a diverse mix of people, ranging from high-ranking officials to everyday citizens. Guests had the chance to enjoy the beautiful surroundings, chat on the immaculate lawns in the gardens of Buckingham Palace, and enjoy the afternoon refreshments provided by palace staff from the Royal Tea Tent.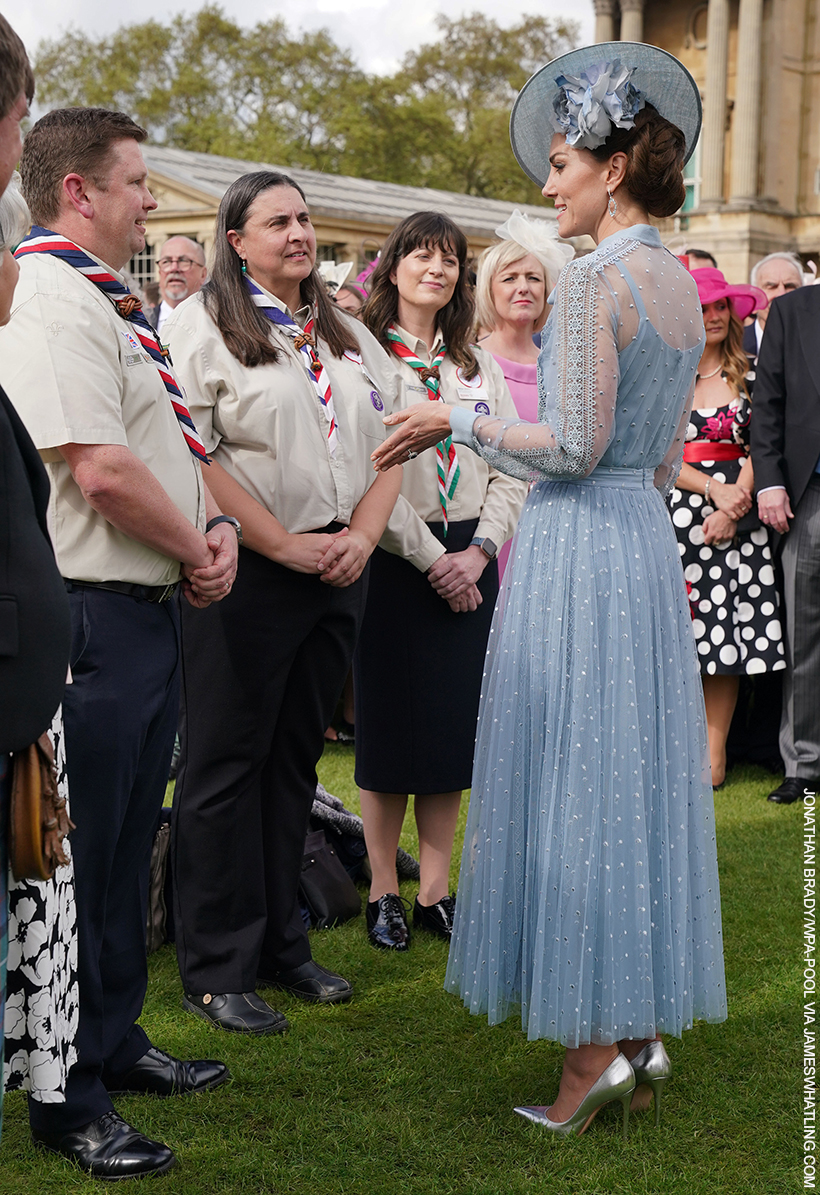 Guests at the garden party also included recipients of Queen Camilla's Coronation Champions Award. These dedicated volunteers were selected from 5,000 nominees. The awards, initiated by Camilla and coordinated by the Royal Voluntary Service, aimed to honour the remarkable contributions of volunteers across the UK. King Charles and Queen Camilla wanted to use the Coronation celebrations to acknowledge and appreciate those who go above and beyond for their communities. Winners were presented with a unique pin, a certificate, and tickets to either the Garden Party or the Coronation concert on Sunday evening.
The garden party is a British tradition that dates back to the 1860s. It is an opportunity for the monarch and other members of the royal family to meet and mingle with people from different walks of life, including community leaders, military personnel, diplomats, and ordinary citizens. Garden parties are usually held throughout the year—usually two at Buckingham Palace in May and one at Holyrood Palace in July. Guests are invited based on their contributions to society.
Let's take a look at Kate's outfit now.
Kate Middleton's Outfit at the Coronation Garden Party:
Kate, as always, looked flawless in her blue ensemble. She looked every inch the Princess and her attire was befitting of a garden party.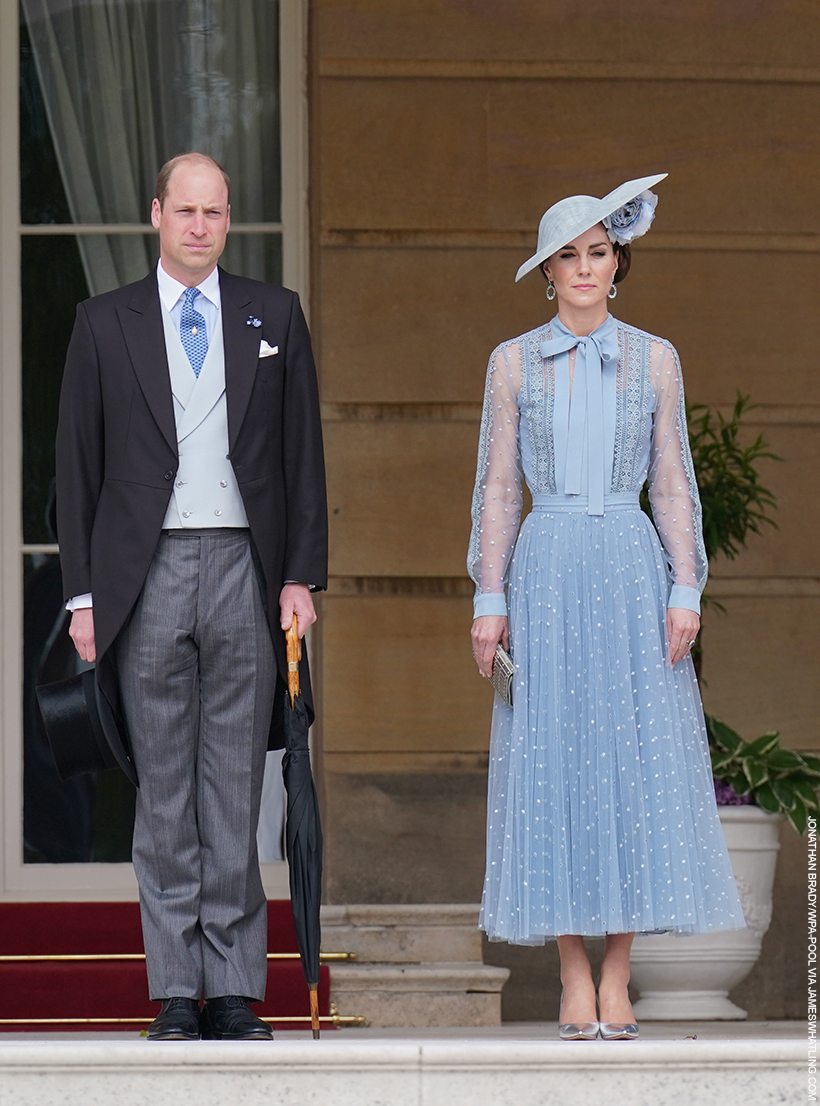 Kate's worn the entire look before—with exception of the earrings—to Royal Ascot in 2019.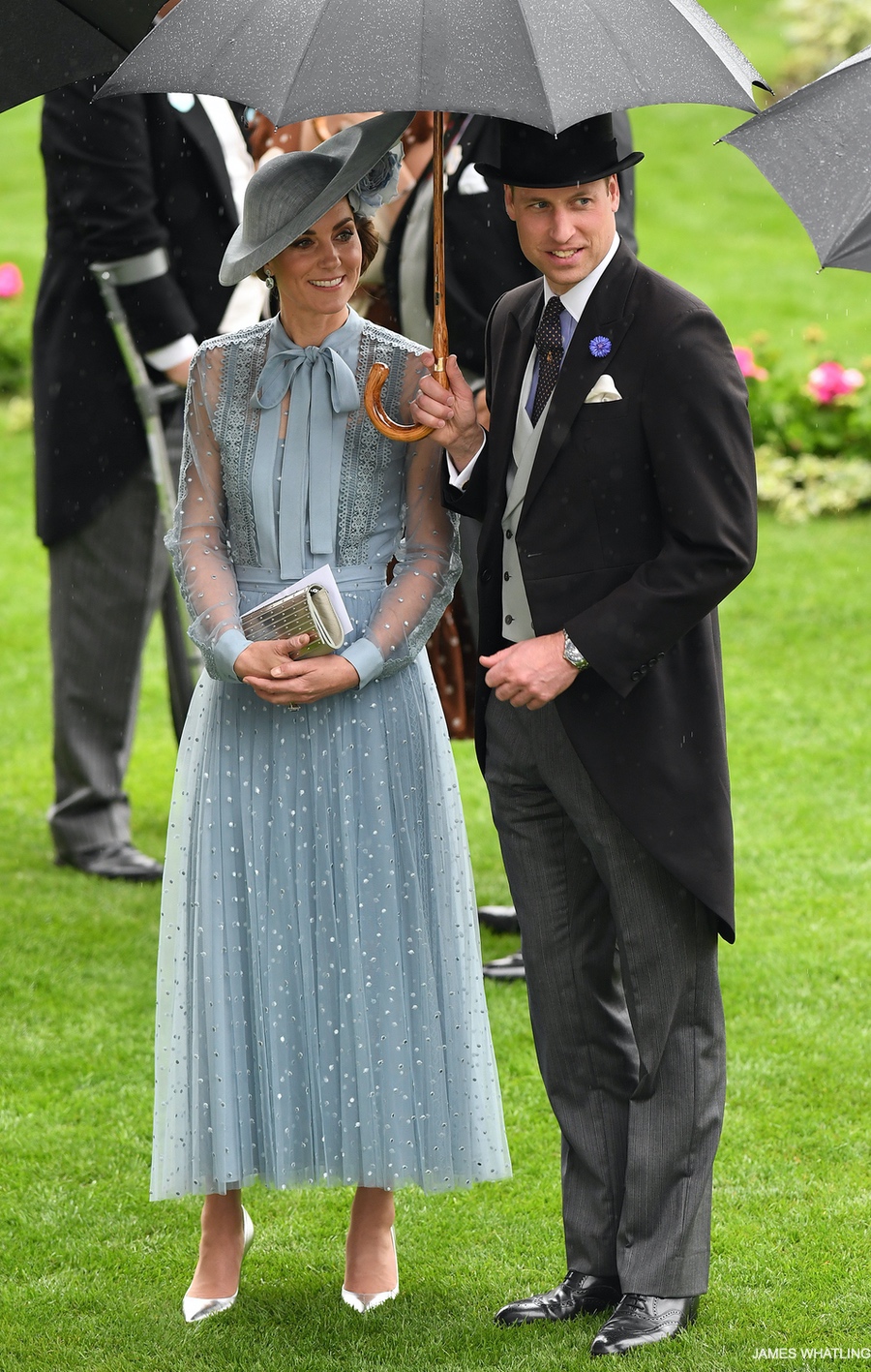 As I wrote in the opening paragraph, the ensemble comprises a top and skirt from Elie Saab's 2019 Resort Collection. You might notice Kate's top doesn't exactly match the piece shown in Saab's campaign (below), hers has longer sleeves. I expect her team worked directly with the Lebanese designer to commission a piece that adhered to the Ascot dress code.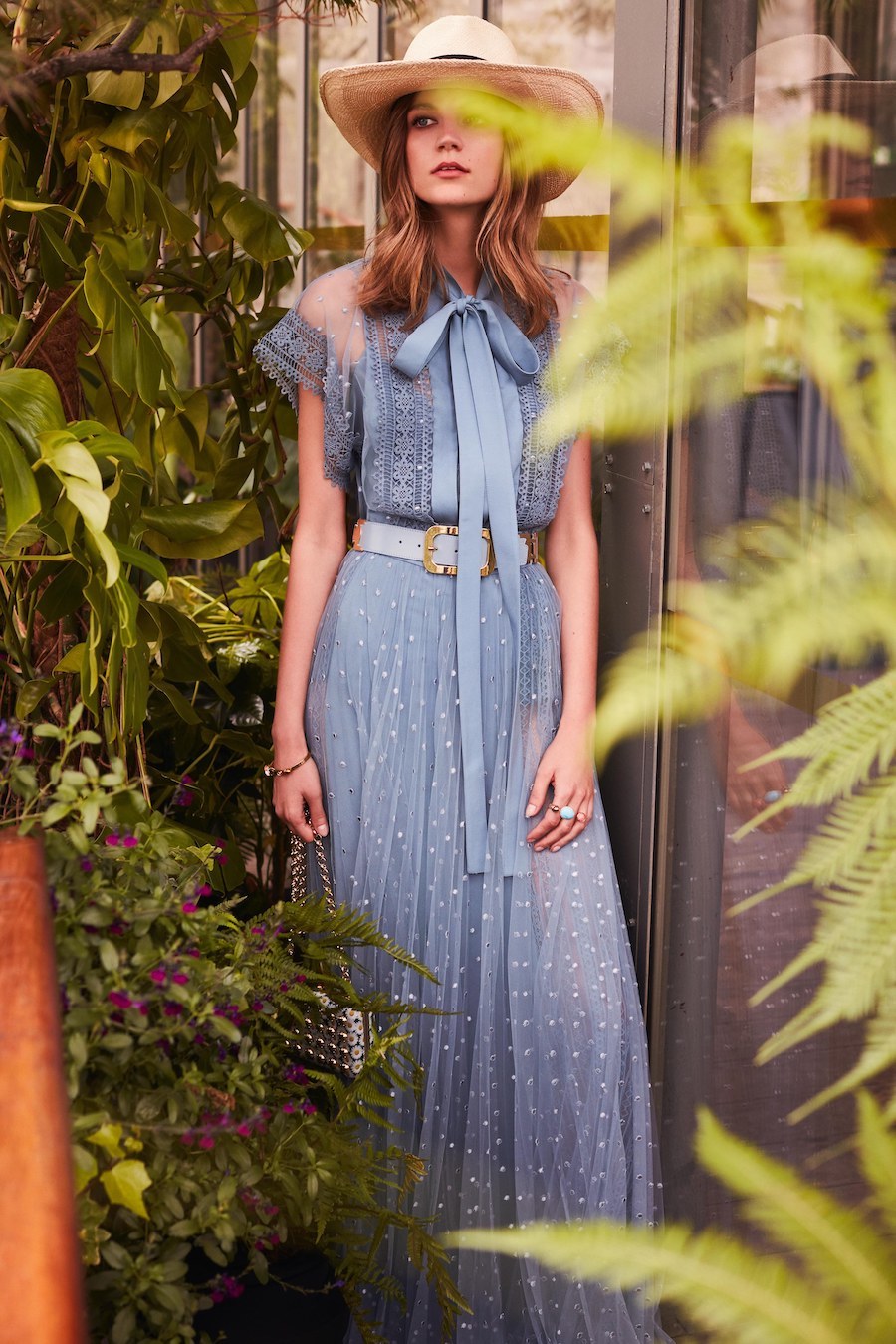 The beautiful blue ensemble features pretty macrame embellishments, a pussybow neckline, with embroidered polka dots on the blouse, which are repeated on the skirt. The skirt is graceful and the tulle underskirt moves beautifully.
Kate wore her hair up, reminiscent of her coronation up-do, topped with a Philip Treacy hat. Specifically, the OC 147 style from the milliner's 2016 collection.
The piece features a large flower under the saucer brim, dyed in soft blue to match her outfit.
Kate paired the blue skirt and top with the same silver accessories as before—her metallic leather pumps by Gianvito Rossi and a coordinating clutch bag, also from Elie Saab.
The pumps feature a pointed toe and a slim 105mm high heel.
Fallen in love with the shoes? Think they'd be perfect for an upcoming event? You're in luck. Find them at FarFetch.com and MyTheresa.com.
As I explained in my recent article about Kate's most-loved heel brands, Gianvito Rossi is the Princess's go-to designer for events and engagements. All my regular readers will know Kate owns this exact style in nine different colours. They must be comfortable!
The Elie Saab bag is known the 'Abat Jour clutch'. It's from the designer's Resort 2016 collection. It's made from leather, features metallic parts on the front and has matching silver hardware. As you'd expect, it's no longer available for purchase. Browse other Elie Saab clutches at FarFetch.com.
We've only seen Kate wear these three items from Elie Saab to date. It would be wonderful to see her in one of the designer's dreamy gowns in the future.
Let's finish by looking at Kate's blue gemstone hoops, they're by her favourite jeweller, Kiki McDonough.
This particular pair is known as the "Lola" style. They're crafted from blue topaz and diamonds, set in 18ct white gold.
I call Kiki McDonough Kate's favourite jeweller because we've spotted the Princess wearing a whopping 20+ pieces from the designer (both necklaces and earrings) since joining the Royal Family in 2011. Way more than any other designer.
Interested in owning a pair? You're in luck, they retail at kiki.co.uk for £3,500.