Back in November 2012, Kate and William visited their "Dukedom" for the first time.  They visited the city of Cambridge to meet the mayor and representatives from a number of local charities.
Early in the morning, before the Royal Couple set off for Cambridge, @TheRealJesal snapped this picture at Kings Cross St Pancras train station:
The couple boarded their train and shortly after 10am, they arrived in Cambridge. In this photo taken by @RaymondBrownCN, a Cambridge News reporter on Twitter, you can see Kate and William shortly after disembarking from the train.  Kate's carrying an umbrella, a result of the awful weather.  The brolly matches her outfit perfectly!
Kate's outfit from the Cambridge Visit:
Kate wore the light pink "Belli" coat by MaxMara Studio.  The coat is now out of stock, but you can shop a similar style from Max Mara Studio here.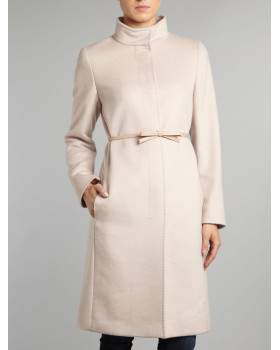 The coat is made from wool and cashmere and features a funnel neck and matching belt.  The coat originally retailed for £980 before going on sale for £784.
Kate paired the coat with an animal print dress, also by Max Mara.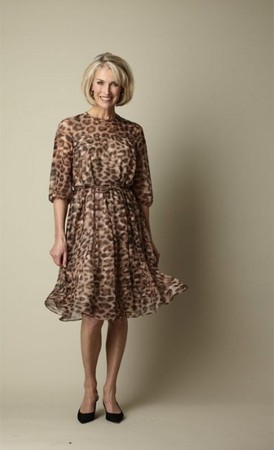 Kate paired the dress and coat with her brown suede Aquatalia 'Rouge' boots and her matching Emmy Shoes Natasha clutch bag (pictured below in "cinder" brown.  Kate owns a darker brown suede colour.)


More details from the couple's visit to Cambridge:
The Duke and Duchess visited the Guildhall where they met representatives from the Mayor's charities,  Cambridge News Community Awards winners and other VIP guests.  Here's a montage of shots from @ChrisHavergalCN:
On the left Kate and William are both in the Mayor's Parlour, accepting a gift, which we're informed is a Cambridge palimpsest, made for the couple by Cambridge University Press.
Shortly after, the Cambridges headed onto the Guildhall's balcony, where the crowd roared with wild applause.   Here we share a snap from "You Can Bike Too" @YouCanBike2 on Twitter, who are an 'all ability bike product in Cambridge set up by a group of people with disabilities for the befits of the whole community.'
Kate & Wills have brief spell on the balcony in the freezing cold & crowd love it! #royalvisitcambs #royalsincambridge pic.twitter.com/L3xzEXtB

— You Can Bike Too (@YouCanBike2) November 28, 2012
Next, the royal couple conducted a walkabout through Market Square, before arriving at the Cambridge University Senate House.