Today, Kate tours two schools in Oxford, where she will visit special art therapy rooms set up by The Art Room charity.
About The Art Room:
The charity has set up four dedicated art rooms in secondary and primary schools in Oxford and a further room in Islington, London. They run sessions throughout the week in these schools and work with a further 22 schools in the region.  The charity uses art therapy to help children with low self esteem and conditions such as Asperger's syndrome.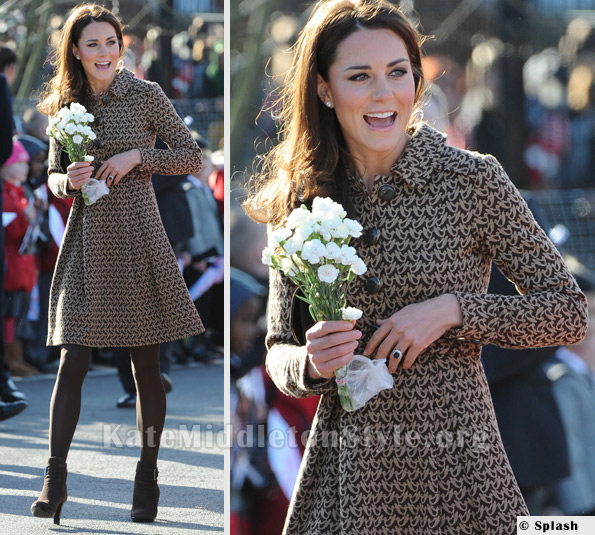 Kate's visits:
First, Kate will visit Rose Hill Primary School in Oxford and join eight children who will work on the Edward Lear poem, "The Owl And The Pussycat". According to the Mirror, the piece is often used as a good way to get children to talk. The children will paint the story as the Duchess watches.
Later today, at Oxford Spires Acadamy, Kate will join in on an Art Room meeting, which covers debriefing, training and supervision of the charity's staff in Oxford.
Speaking of Kate, Juli Beattie he Directer and Founder of The Art Room said: "You can't fail to be charmed. She's a highly independent woman who wants to make a difference."  (With thanks to @SkyNewsRoyal for the quote.)
Kate's Outfit:
Kate wore a brown and tan bird print shirt dress, brown tights and brown boots.
Kate's dress:
Kate's dress is by Irish designer Orla Kiely. The dress is made from wool, has long sleeves and a playful bird print.
The Orla Kiely website describes the dress as:
Birdie Wool Jacquard Shirt Dress: Wool long sleeve shirt dress in Birdie jacquard fabric. Button through at centre front. Deep pleats in skirt and pockets in side seams. Button fastening at cuff.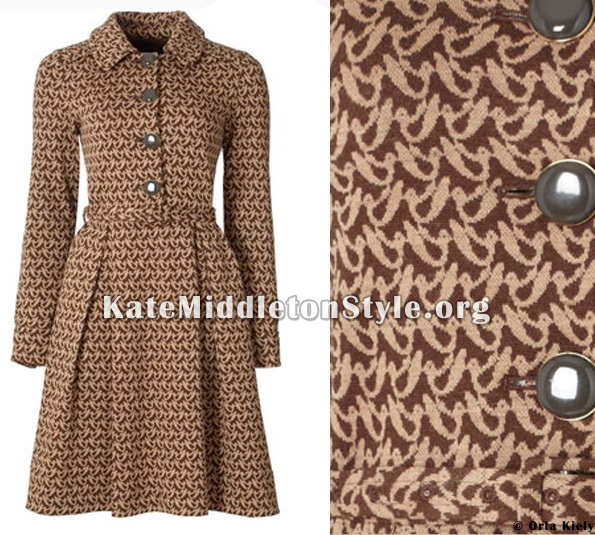 If you like the dress, you may be sad to learn it has already sold out on Orla Kiely's website and no department stores seem to stock the garment (though we'll keep looking at other boutiques for you!) Coggles do stock Orla Kiely and Yoox have some older season pieces too, at a discount price, but neither have this dress in stock. Amazon do have a leather bag in the same print:
More by Orla Kiely:
Orla Kiely
A selection of Orla Kiely print items.As well as sweet dresses, Orla Kiely makes a number of other items for both the home and the workplace.
Kate's Ankle Boots:
Those with a keen eye will notice that Kate is wearing her brown suede Aquatalia by Marvin K ankle boots, previously worn during her first royal engagement last year at the launch of the RLI's new lifeboat in Wales. Aquatalia have re-released the boots exclusively with Nordstrom, naming the boot the "Royal," they carry both the black and brown suede colours: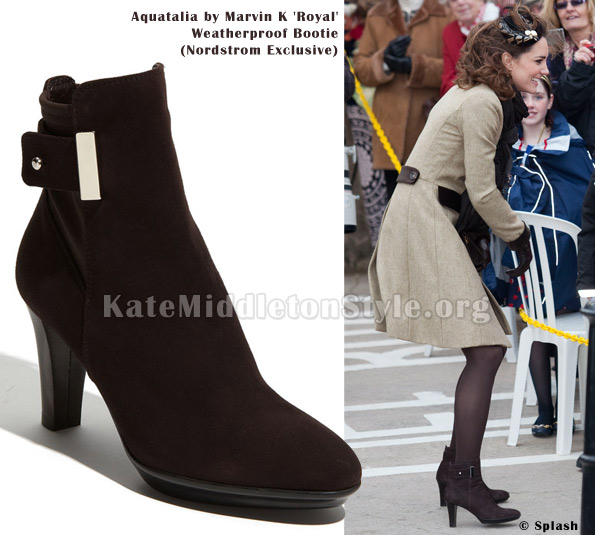 Kate's Dog's name!  We know it now!
According to journalists at Rose Hill Primary School, Kate told the children her spaniel is called Lupo!