Earlier this week the Duke and Duchess of Cambridge visited homeless charity Centrepoint, which is based in London.  Prince William is a patron of the charity, as was his late mother, Princess Diana.
The royal couple visited the charity late afternoon on Wednesday 21st, unfortunately, I was away visiting family (it is the holiday season!).  I DID send Kate a memo about postponing the trip to a more convenient time for me, but she mustn't have received it  ;-)  So… here's an update  (albeit a little late!) about Kate's outfit and some information about the charity itself.
Kate's outfit:
Kate wore an olive green turtleneck jumper dress to the event today, cinched in with a black belt and paired with sheer black tights and boots.
The dress is from Ralph Lauren's mainstream blue label (as opposed to the purple or black labels, which are more expensive).
Kate's boots are an old favourite:  the Aquatalia Rumba boots, which we've seen her wear on many occasions.
Finally, Kate's wearing her Kiki McDonough 'Grace' earrings.
Huge thanks to What Kate Wore for allowing me to 'use' these IDs in the post, as I was away from the laptop at the time!
During the event:
During the event, Kate and william viewed a group session at Centrepoint's "Workwhise" programme, which enables participants to prepare themselves to find a job.  They engaged in a festive cookery class and William even engaged in some dancing with other members at the charity!
Here are some videos from the event:
Photographs:
Harriet Armstrong has very kindly allowed us to share some photographs she took at the event this week.  Here is a mash up of our favourites: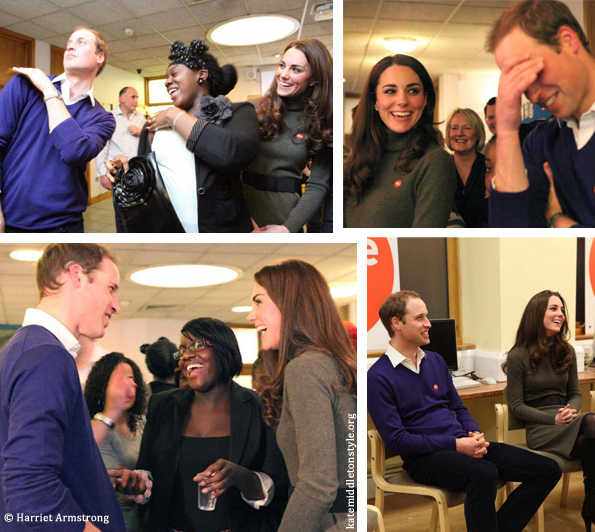 We love how happy Will and Kate both look, plus Harriet's photos really show the great atmosphere at the event: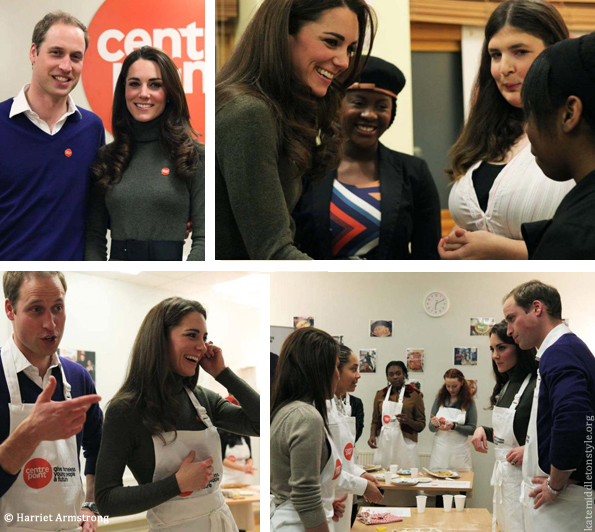 See the rest of Harriet's photographs on Centrepoint's Facebook page, here.
About Centrepoint:
Centrepoint helps over 1,200 homeless young people between the ages of 16-25 every year by providing more than a place to stay.  Young adults can also find a range of emotional, educational and health support, plus the charity offers encouragement and opportunities to learn new skills, gain independence and grow in confidence.
According to the Centrepoint website, the charity has always been close to the Prince William' s heart as he used to visit the centre along with his mother during his childhood.  The Prince became Patron of Centrepoint in 2005. In 2009, he slept on the streets of London with Centrepoint's CEO Seyi Obakin in temperatures as low as -4C to deepen his understanding of homelessness.
Interesting fact about Centrepoint:
Centrepoint's CEO Seyi Obakin attended William and Kate's wedding with 20-year-old Shozna, a user of the charity from east London.
William met Shozna at the "100 Women in Hedge Funds" event in 2010, where she made a great impression on the Prince, leading him to break royal protocol and give her a hug!  This led the Prince to later invite Shozna to attend the wedding.  For the wedding, Shozna had a dress designed and made specially for her by Raishma Islam, who was a former assistant to Princess Diana's dress designer Elizabeth Emanuel.  You can read more about Shozna and the Royal Wedding by clicking here.
And … the winner is ….
Congrats to Elisee J who won the purse in our competition in association with Kate's favourite label Reiss!  Woo!