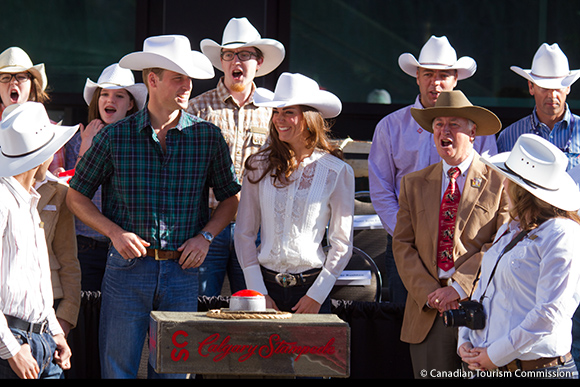 In July 2011, William and Kate concluded their tour of Canada with a visit to the famous Calgary Stampede Parade.  The Parade's website states that this year was the "99th Incarnation of the Greatest Outdoor Show on Earth."  The Royal Couple were guests of honour and were asked to kick off the festivities by pressing the plunger:
Kate's outfit:
To the Stampede, Kate wore a white Temperley London blouse. Rather aptly, it is named the "Rodeo".
The blouse was available on Net-A-Porter.com where it was described as follows:
Cut from a gossamer silk and cotton-blend and trimmed with lace, Temperley's ivory shirt will instantly soften every look. Wear it as a sophisticated contrast to love-worn jeans.
The cotton and silk-blend shirt retailed for £445.  Here's another look at the blouse on the mannequin:
Shop Temperley London Blouses:
Kate wore her Goldsign bootcut jeans.  The brand confirmed Kate wore their "Passion Bootcut Jeans" in "Habit."
London-based boutique Austique blogged about Kate buying the jeans from their store.  Read the post by clicking here.
Kate wore her silver Tiffany & Co. "Diamonds by the Yard" bracelet from the Elsa Peretti collection.
Duchess Kate also wore a pair of turquoise earrings.  We're not certain who the designer is, but in 2011, a lady called Corrie McLeod wrote to us, to say she made the earrings for Kate.  She planned to open and online store and sell her sell her handmade jewellery.  Sadly, Corrie never kept in touch and we're unsure if she was able to fulfil her dream!
Finally, Kate wore her Butler and Wilson belt for the second day running.
As you can see above, the belt features a silver cross enclosed in a circle, and adorned with green, white and turquoise coloured stones.