Many followers of this blog will already be aware that Kate is a keen supporter of children's hospices. She is patron of the charity EACH (East Anglia's Children's Hospices), and she's visited several different hospices in the UK as part of her royal duties since 2011.  She's also visited hospices in Malaysia and Australia during recent foreign tours.
Today, EACH announced that Kate privately visited their 'Treehouse' centre recently, in support of the UK's Children's Hospice Week, which ran from the 13th – 20th June this year.
During the visit, Kate met with children and their parents.
According to EACH, Kate is working with The Royal Foundation to learn as much as possible about the role volunteers can play for children's hospices.
Kate has released the following statement about Children's Hospice Week through EACH:
"Around the clock support is crucial for children receiving palliative care. They and their families often need help every hour of every day, both in hospices and at home. As Patron of EACH, I have seen first-hand this remarkable and varied work and just how vital the support of staff and volunteers can be to the families of children with life limiting conditions. It has been wonderful to see the fantastic public support for Children's Hospice Week over the last few days. Please continue supporting your local children's hospice in whatever way you can."
How you can help:
Kate's outfit:
Of course, this is a style blog – so we cannot finish the post without a quick mention of the purple paisley dress worn by Kate in the photographs above.  The dress is by Diane Von Furstenberg and is made from 100% silk.  The style name is "Duenne". 
We know from photographs that the piece dates back to Kate's university days, from at least 2002. Kate also wore the dress again during the 2012 Royal Tour, as she was leaving Sabah (the Malaysian State on the Island of Borneo).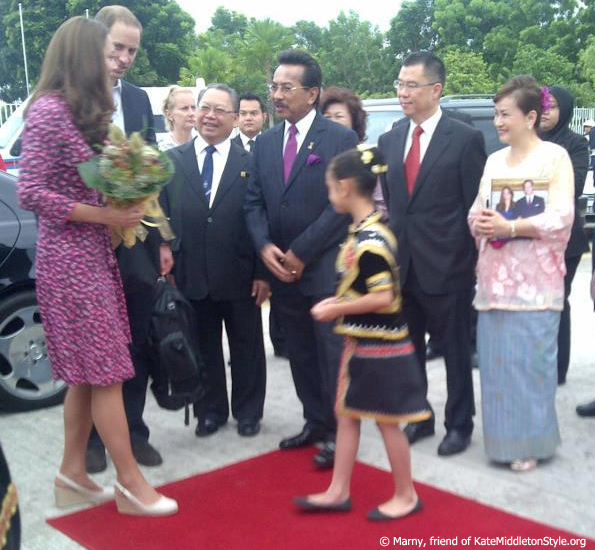 Watch: Kate's video message supporting Children's Hospice Week 2013