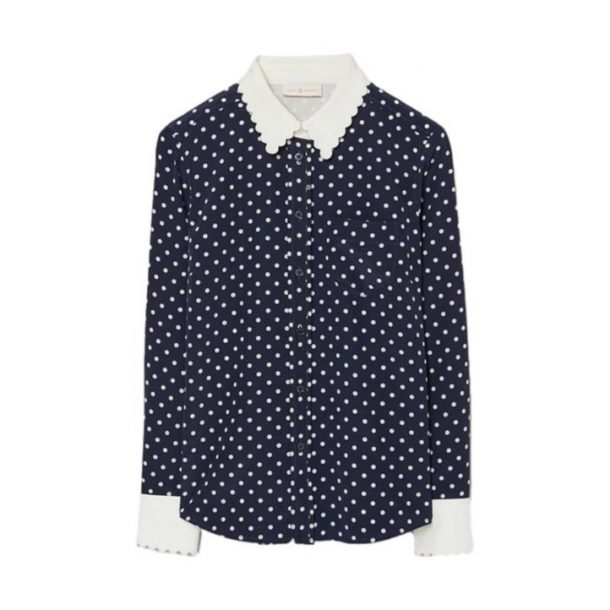 On Thursday, 13th of May 2021, the Duchess of Cambridge spent the day visiting local organisations in Wolverhampton.  For the series of engagements in the West Midlands city, Kate wore a blue polka dot blouse by Tory Burch.
About the Tory Burch Scallop-edged shirt:
The pretty polka dot shirt has a fitted silhouette and is made from 100% silk.  It features a tailored white scalloped collar and matching cuffs.  According to Nordstrom, Tory Burch's iconic double-T logo is visible in a few of the polka dots.
Buying the shirt:
RRP: £390 now on sale for £190
If you're in the UK, it looks like the blouse is available in limited sizes at toryburch.co.uk
Sadly, when I checked different US retailers, the shirt was out of stock.
I have not checked European stores, or rest of world. 
Kate and Tory Burch:
Kate's no stranger to Tory Burch clothing.  The Duchess has worn several items of clothing from the American brand over the last few years.  A quick look:
From top left, clockwise: Kate at the Anna Freud Conference in 2018. Kate during a playdate with Prince George during the 2014 New Zealand/Australia tour. William and Kate signing the U.S. Embassy's Book of Condolence after the Orlando nightclub shooting in 2016. Kate departing from India in 2016. And during the 2016 tour of Bhutan, when William and Kate had dinner with the King and Queen of the country.
About Tory Burch:
Nordstrom describe Tory Burch clothing as an "eclectic mix of bohemian glamour and American sportswear", and as being known for "effortlessly stylish, always-interesting pieces".