In 2011, Kate was photographed wearing a pink cowl neck sweater on two different occasions. First, before her wedding in April and then again later in the year when strolling along a beach in Anglesey, North Wales with sister Pippa.
Here's a picture of Kate shortly before her wedding in April:
We're pretty certain Kate is wearing the Women's Cashmere Cowl Neck Tunic from John Lewis.
The Sloane Square building in Chelsea where Kate is known to shop is still part of the John Lewis family, but it is known as Peter Jones. Kate has been photographed leaving the department store with shopping on numerous occasions since 2010-2011.
About the John Lewis pink cowl neck tunic:
The sweater was described as being made from 100% cashmere.
Details:
Brand John Lewis Women
Material 100% Cashmere
Neckline Cowl Neck
Washing instructions Hand or machine wash at 40°C wool cycle
John Lewis wrote:
This 100% Cashmere tunic will keep you both stylish and warm this winter.
The cowl neck tunic came in two different colour options.  A deeper pink colour (as seen on Kate) and a lighter, peachier pink, shown below: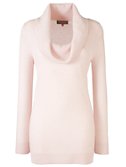 Shop sweaters at John Lewis:
Fast forward to 2015 and John Lewis no longer sell this tunic.  However, they do sell a number of other tunics and sweaters, which you might like if you are looking for something similar: