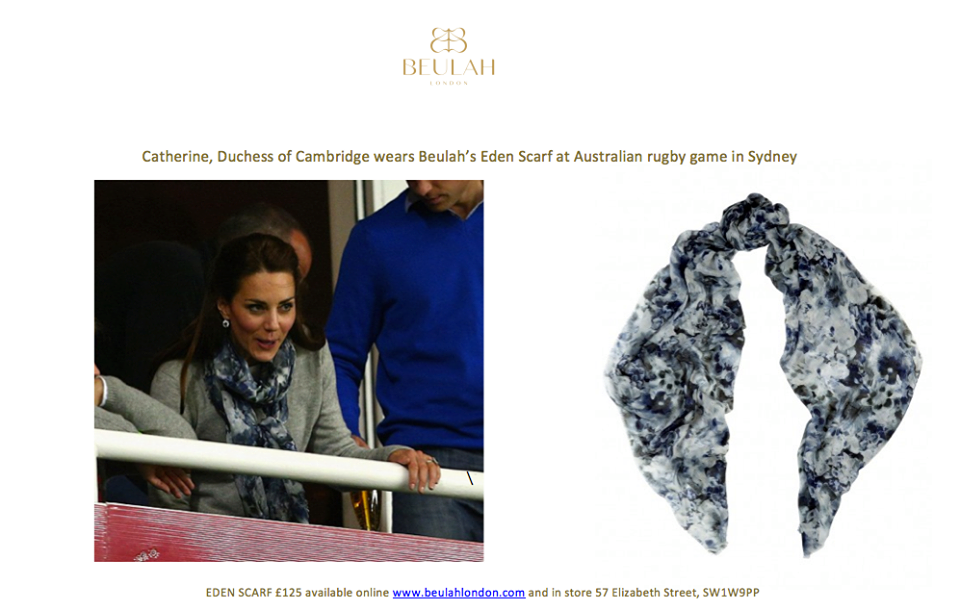 On day thirteen of the Royal Tour, William and Kate spent a private evening with friends watching a rugby match at Sydney's Allianz Stadium. A couple of photographers managed to snap a few candid images of the couple enjoying the match. Here's a sleepy looking Kate:
For the rugby, Kate was dressed in a casual outfit, which consisted of a grey sweater, a pair of navy blue jeans and her grey mint velvet plimsols.
She finished the outfit off with a new (to us) scarf from Beulah London. Beulah have confirmed Kate is wearing their "Eden" scarf in a "Fractured Blossom Dark" print. The scarf costs £125 (approx $200 USD).
Here is how Beulah London describe their Eden scarf:
Beulah's modal and cashmere- blend scarf is equal parts elegant and playful. Printed with pastel blues, this lightweight design can be wrapped around your neck or draped loosely over the shoulders.