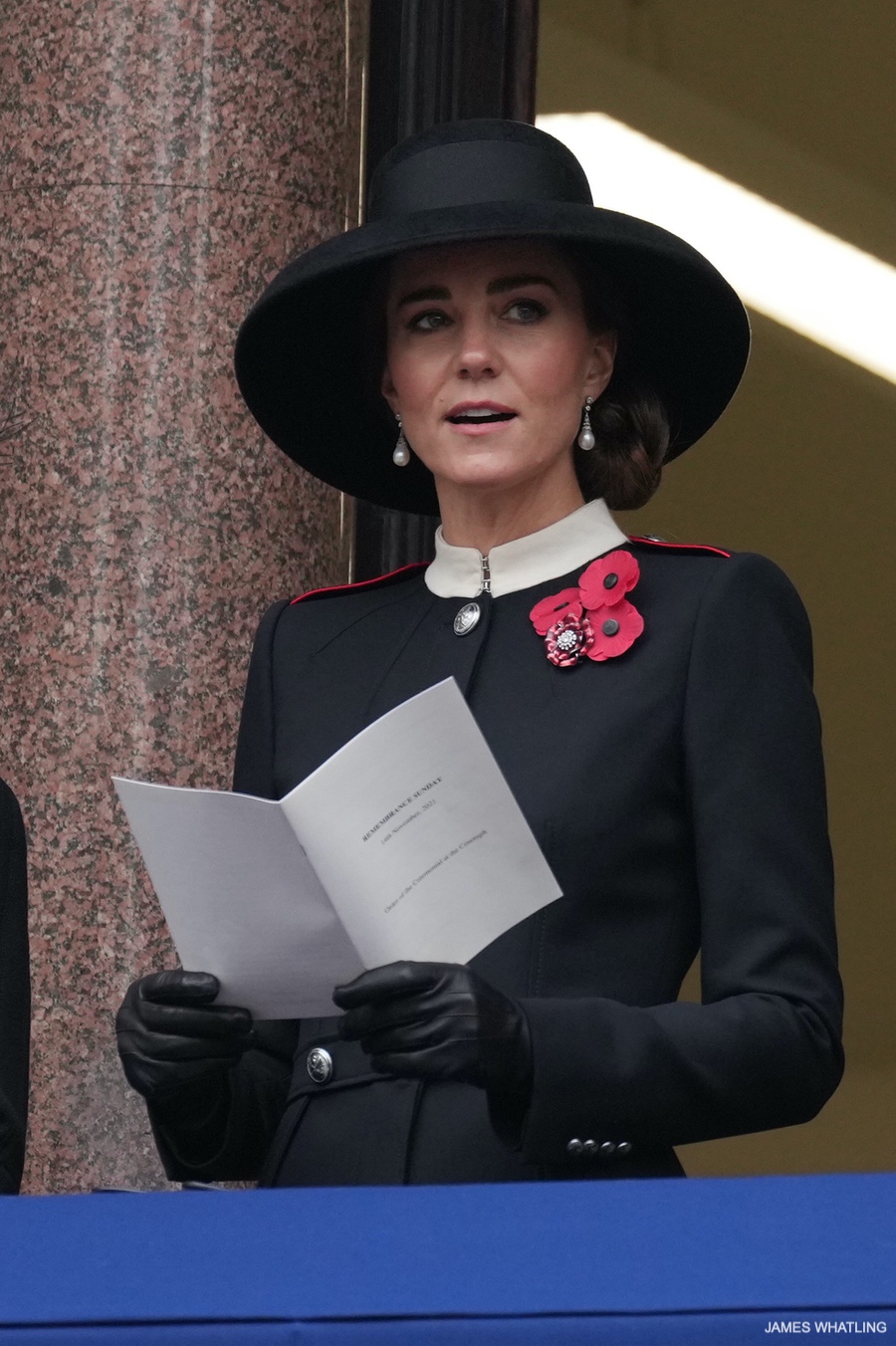 Sunday, 14th November 2020—For the eleventh consecutive year, the Duchess of Cambridge attended the National Service of Remembrance at the Cenotaph War Memorial in Whitehall, London.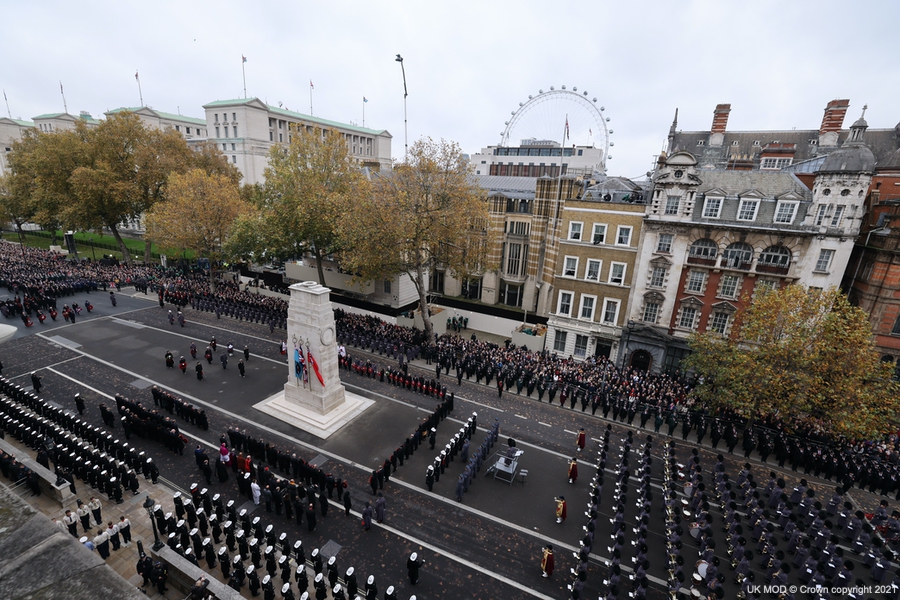 She joined Camilla (The Duchess of Cornwall) and Sophie (The Countess of Wessex) on a balcony at the Foreign Office.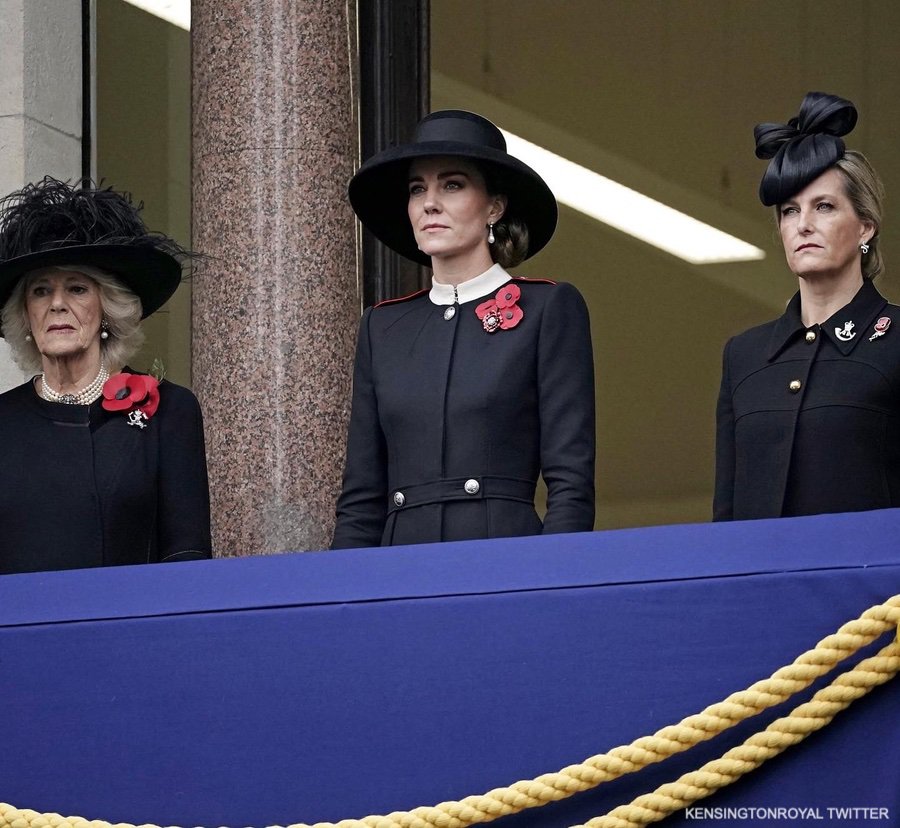 The three royals observed the two-minute silence held at 11:00 am GMT and watched as members of their family laid wreaths at the base of the Cenotaph.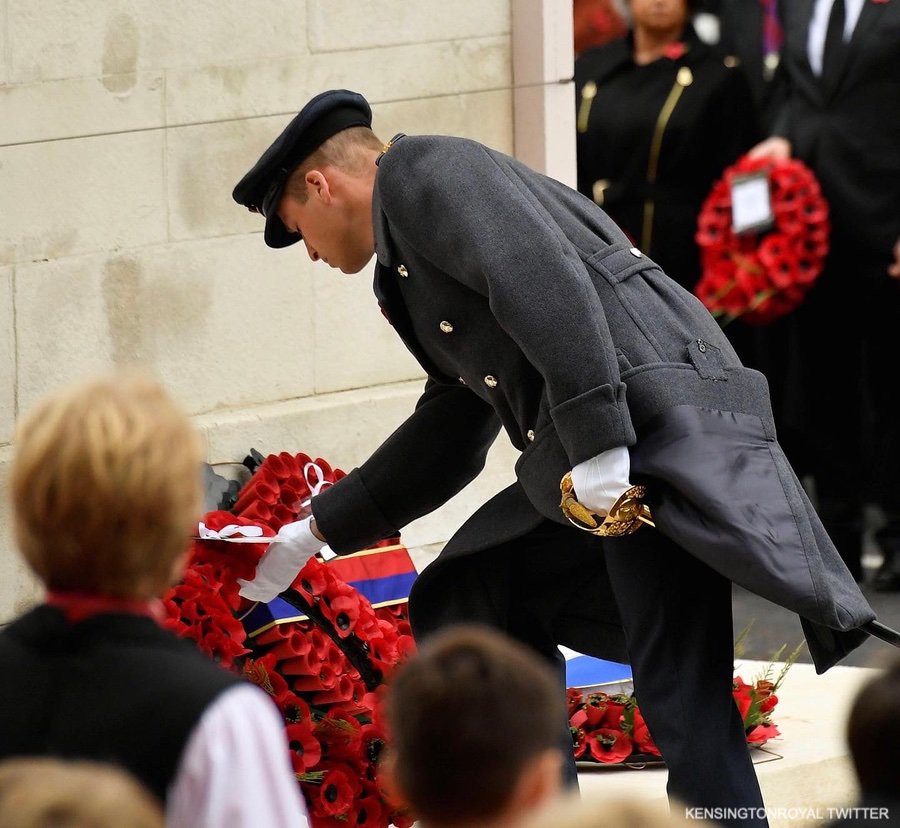 As in previous years, Prince Charles laid two wreaths. One for himself and one on behalf of The Queen.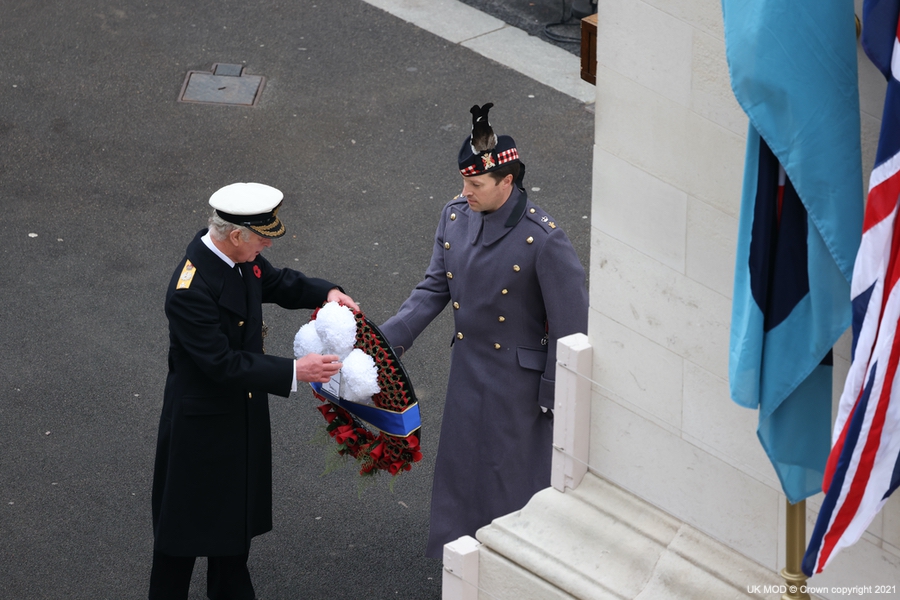 Sadly, Her Majesty could not attend this year's service. A press release from the palace revealed that the monarch has sprained her back. Buckingham Palace said she is "disappointed" to have not attended.
The Remembrance Sunday service is hugely important to the Queen, who lived through World War II as a teenager. During her 69-year-rein, the monarch has only missed six ceremonies (two during pregnancy, four during royal tours). (Below, Kate stood next to the Queen during the 2019 ceremony.) This is the first time she's missed the Remembrance Sunday service in 22 years.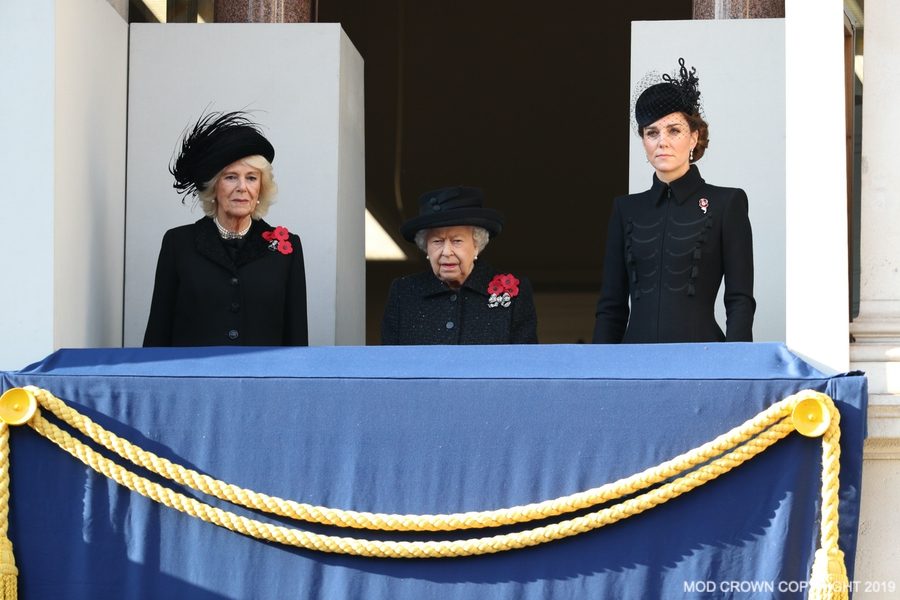 Doctors had advised the Queen to rest until mid-November after a one-night stay in hospital last month (understood to be an unrelated issue). This was scheduled to be her first public appearance in two weeks.
Last year, the coronavirus pandemic meant the service was scaled down. Members of the public were banned from the area and were not allowed to watch the ceremony. This year, proceedings have returned to normal. Hundreds of servicemen and women attended and nearly 10,000 veterans marched past as large crowds watched on.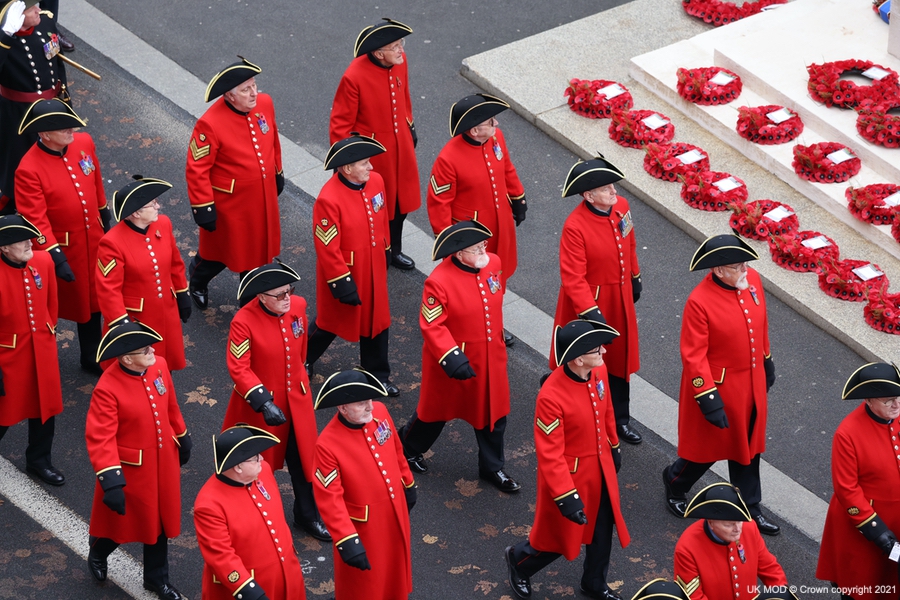 If you'd like to watch the full Remembrance Sunday service, you can do so below:
As I've written in my last few posts, it often feels strange to segue from writing about Remembrance into something as frivolous as fashion! But this is a style blog. We follow Kate's fashion choices and look at what she's wearing. So here we go:
Kate's outfit:
The Duchess chose military styling for today's Cenotaph ceremony.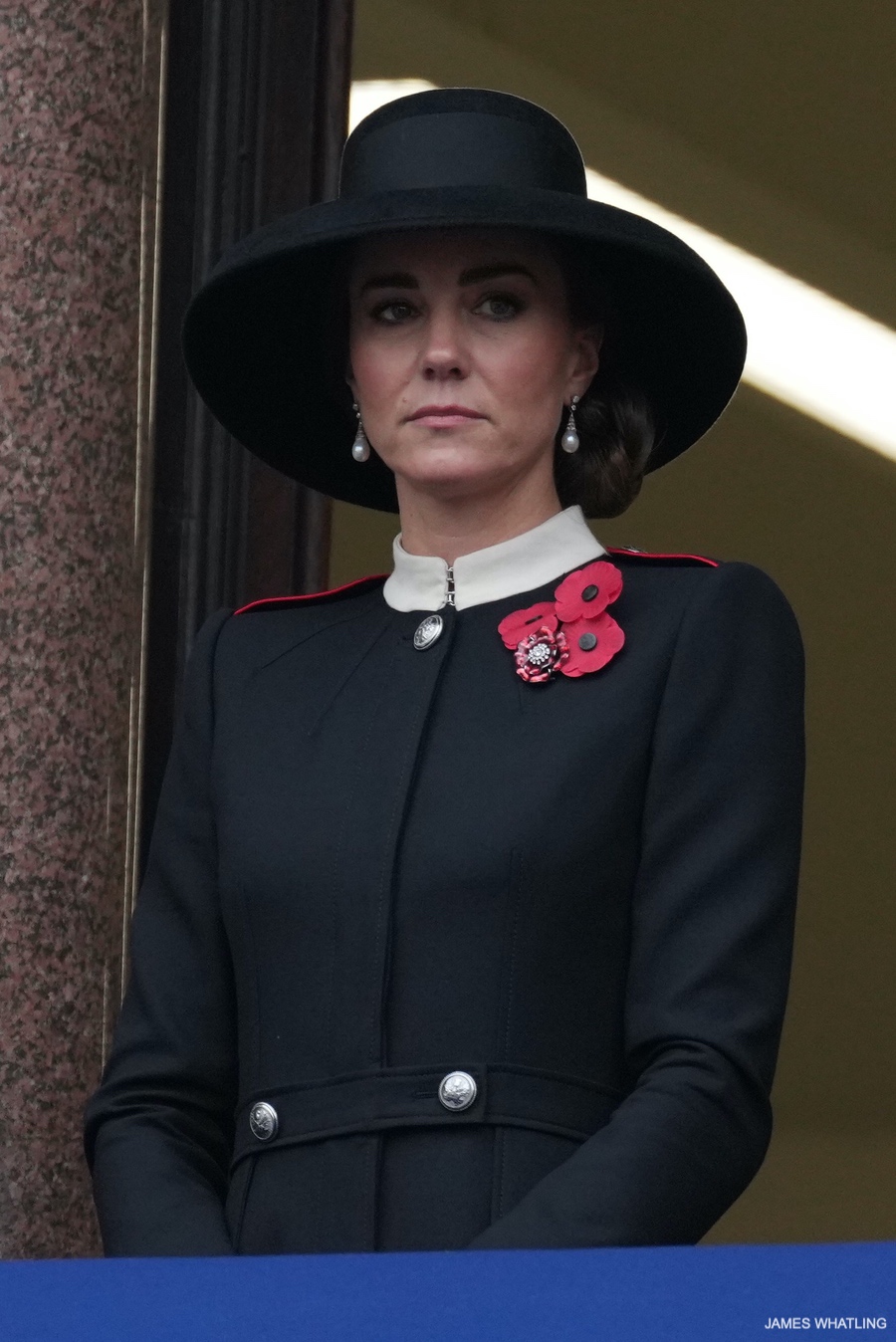 Her coat is by Alexander McQueen. FEATURES.
It's a bespoke piece, created especially for Kate. It does contain elements of a few jackets in McQueen's previous ready-to-wear collections (no longer available to buy, sadly.)
Kate first wore the coat to the 2018 National Service of Remembrance. Correct me if I'm wrong but I don't think she's worn it to any other public event between then and now.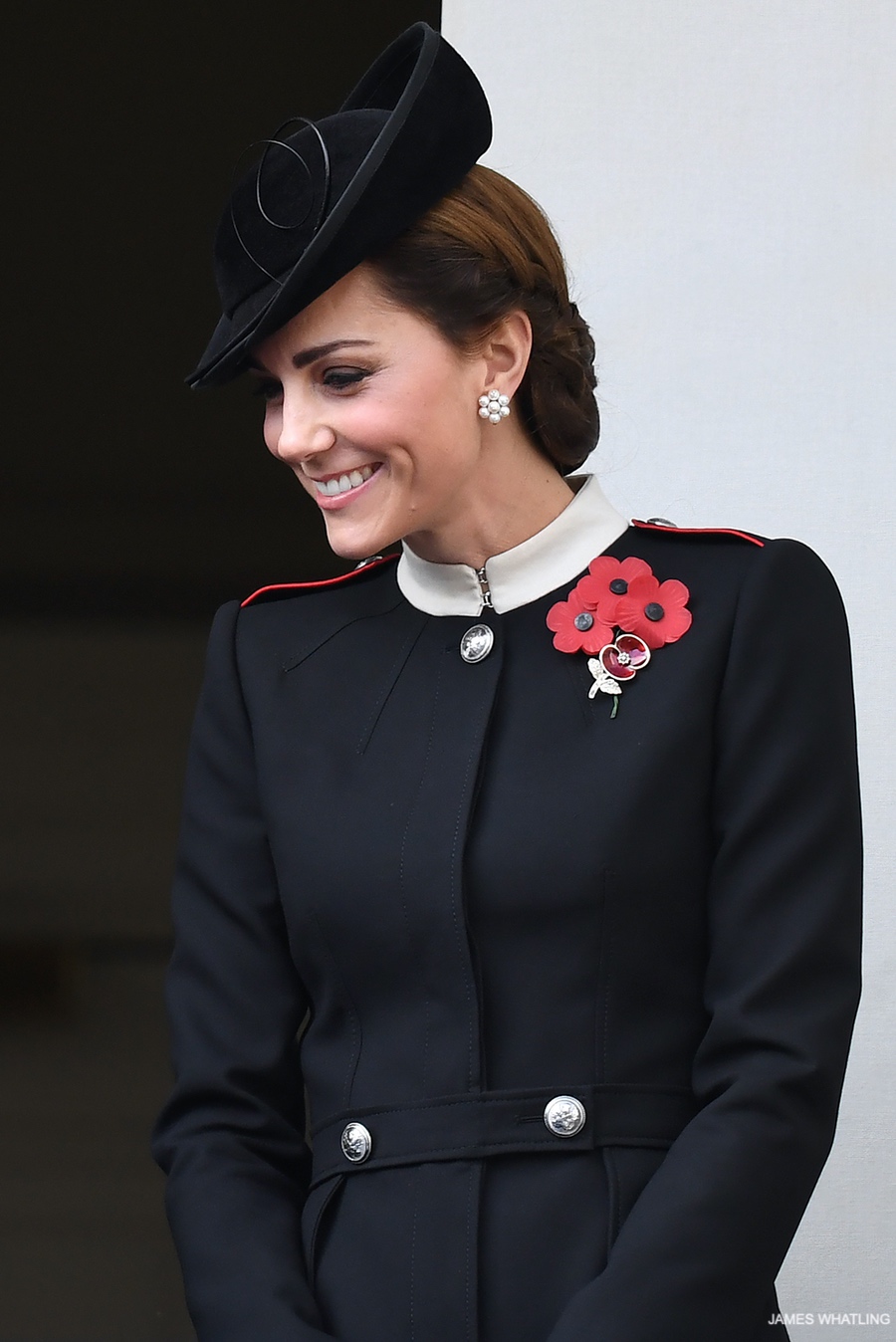 Kate's hat is by Lock & Co. It's their Tiffany Drop-Brim hat in black: (Thanks to Emma for the info.)
The piece is crafted from 100% rabbit fur felt. It features a lipped drop-brim and a wide Petersham band with a bow on the back. Lock & Co call the "Breakfast at Tiffany's hat" a "style saviour" that is "perfect for dressier social engagements".
At the time of writing, the hat is no longer available in black but can be purchased in navy for £275. Which Kate also owns: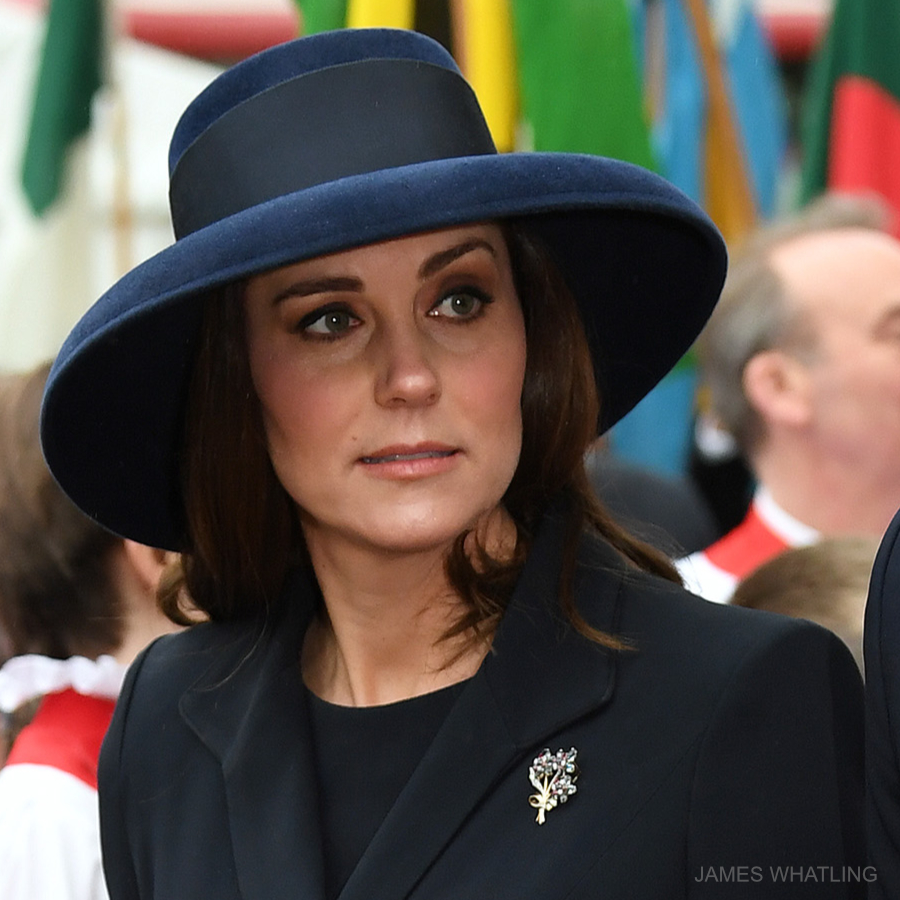 Above: Kate wearing the navy blue Lock & Co. Tiffany hat during a Commonwealth celebration at Westminster Abbey in 2018.
At Remembrance events, Kate often wears three paper poppies on her coat's lapel. They're said to represent her three great uncles who died in WWI. This is just a theory, this is not confirmed by the Palace. This year, the Duchess secured the three poppies with a new crystal flower brooch:
Priced at £19.99, the piece of jewellery features sparkling stones in the centre of the red, enamel poppy. All profits from the piece support the Royal British Legion, a charity that provides lifelong support for the Armed Forces community.
Kate's earrings are the pearl and diamond drops that once belonged to Princess Diana. Often referred to as the Collingwood pearls. The company sent the earrings to Diana as a wedding gift.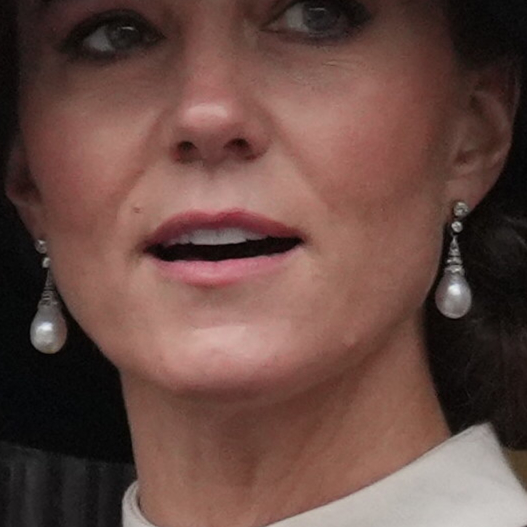 The Duchess sported a new pair of black leather gloves at the service. I believe they're the Emilie style by Cornelia James. I've written to the brand to confirm. I WAS WRONG: In an email, Cornelia James told me Kate does not wear their black leather gloves. I'm now wondering if they're this pair by Dents.
Update: Kate also carried her Alexander McQueen Wicca satchel bag in black. (See owns the bag in three colours).