Kate and William attended the wedding of Zara Phillips and Mike Tindall at Canongate Kirk, Edinburgh.
The Royal Couple mingled with guests at the event, including 'The Saturdays' band member Una Healy and Coronation Street actress Katherine Kelly.  As expected, a number of sports stars and other members of the Royal Family were present at the wedding too.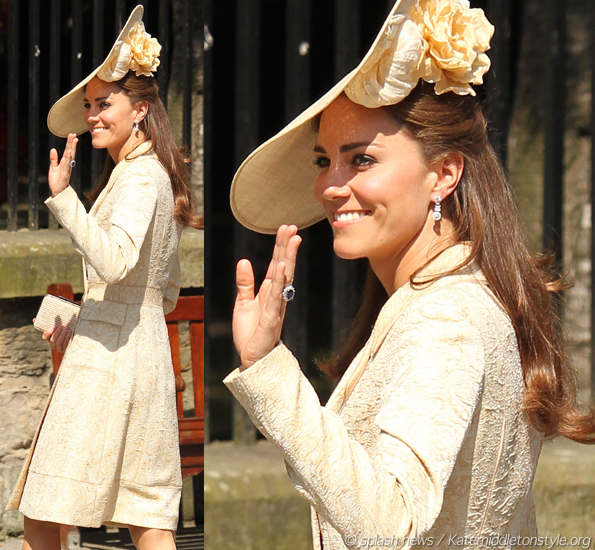 Kate's outfit:
Kate chose to recycle a gorgeous light gold/biscuit coloured coat from the 2006 wedding of Laura Parker Bowles.  The designer of this Jacquard/Brocade style coat is as yet unknown, although many are speculating that it is by Jane Troughton; WhatKateWore believes the dress may be by designer DAY birger et Mikkelsen.
Under the coat, it appears that Kate chose to rewear the mystery lace dress from the "Young Stalin" book launch she attended back in 2007.
Here's a close-up of the bottom of the dress at the Young Stalin book launch (left) and the dress under Kate's coat (right).  You can see the scalloped shape lace with fringing is identical: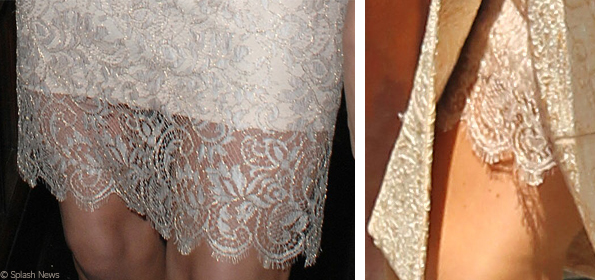 We have WhatKateWore & her fans to thank for this eagle-eyed observation: plus they believe they know the ID of the dress too! They're guessing that the dress is by Collette Dinnigan.  This is yet to be confirmed.
However, the similarities are evident in Kate's dress and the designs by Collette Dinnigan: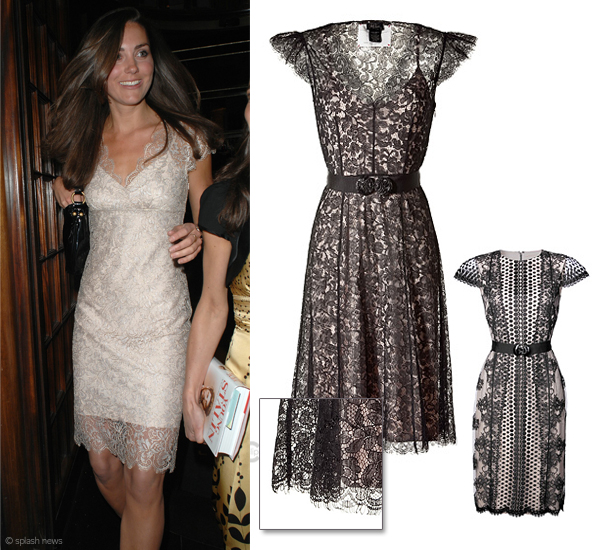 Left: Kate at the 'Young Stalin' book launch.
Middle: Black/Flesh French Flower Lace Dress by Collette Dinnigan
Right: Black French Floral Belted Lace Dress by Collette Dinnigan
Kate's accessories:
Kate chose to pair her dress with nude L.K. Bennett Platforms and a large hat of a similar colour.
Kate is also re-wearing the mystery silver earrings she chose to wear on the evening part of the Canada day celebrations, with her purple Issa dress (thanks to TH, my Facebook likers & WKW for reminding me!)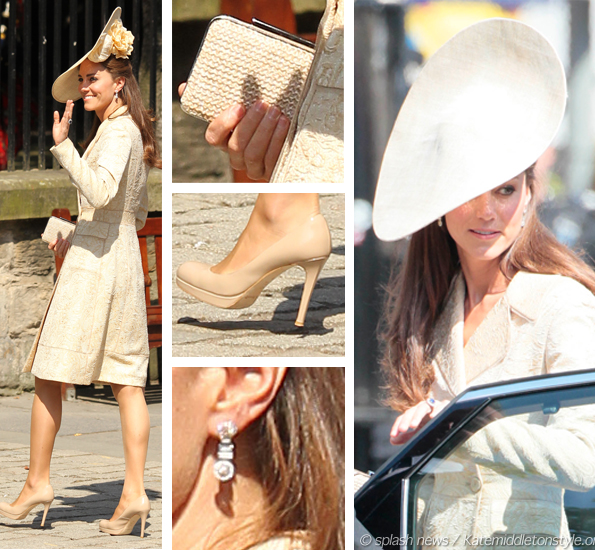 Kate's hat:
As you can see from the pictures, Kate is wearing a very large hat with flowers on the underside.
We don't know anything about Kate's hat yet, though I am entertaining the possibility that it is by Rachel Trevor Morgan.   There is also one similar on the Lock and Co website, plus the Duchess of Cambridge Style believes it's by Vivien Sheriff.  Once we know who designed Kate's hat, we'll let you know.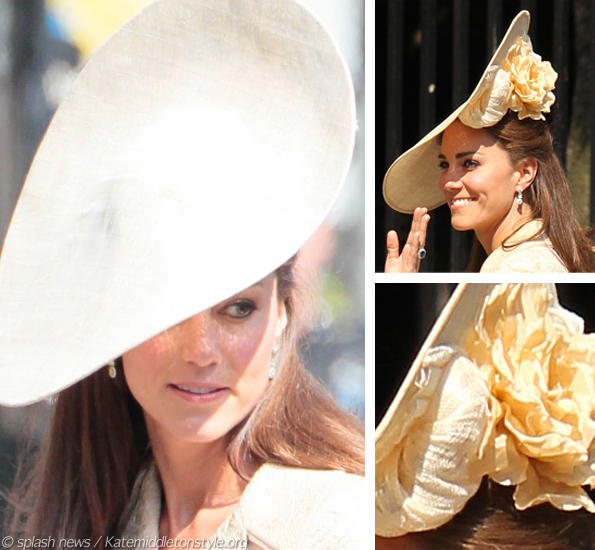 Thank you:
Thanks to @RoyalReporter and @RegalEyes who were live at the church filling their followers in on the all-important details, including reminding me that Kate wore the gold coat to Laura Parker Bowles' wedding (and to the wedding of a friend).  Thank you to my Facebook page likers and What Kate Wore too for helping with the earrings!