· Final day of Canada tour
· Couple wear their white hats
·  Will recycles outfit
· Kate dons white Temperley shirt & jeans
The Royal Couple ended heir tour of Canada with a visit to the famous Calgary Stampede Parade.  The website states that this year's parade was the "99th Incarnation of the Greatest Outdoor Show on Earth."  The Royal Couple were guests of honour, beginning the proceedings by pressing the plunger that starts the festivities.
Kate's outfit:
Kate wore a white Temperley blouse with jeans and her white cowboy hat from yesterday.
@liltinglimes on Twitter founded us the aptly named "Rodeo" shirt on Net-a-porter:
We've also been told by the lovely people at Goldsign that Kate is indeed wearing a pair of their jeans (not J Brand as CBC and other news outlets reported).  Kate is wearing the Goldsign passion bootcut in habit: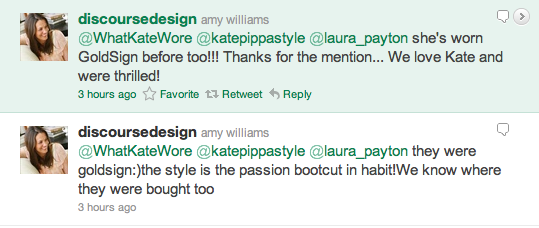 We've requested that Amy sends us more information about the jeans, including where that pair can be purchased from!
Kate's accessories:
Here's a closer look at the intricate detailing on Kate's Temperley shirt, plus a look at the turquoise earrings she wore, her matching belt and her thin silver bracelet.
There's no word on the belt or earrings yet – but some eagle-eyed Kate fans found that the belt is several years old.   Anna also emailed us some pictures of Kate wearing similar turquoise earrings – so they could be old too.  As soon as we know more details we'll let you know!
Get the look:
If you'd like to steal Kate's style, we think this is a perfect holiday look.  Pair a fancy white blouse with jeans and a hat on a sunny day abroad.  Finish your look with a Calgary-stampede inspired belt and some bright turquoise earrings!