We knew we'd be seeing Kate this evening, at an engagement with Prince Charles and Camilla the Duchess of Cornwall, but a visit from Kate to the Olympic Park this morning was a lovely surprise for us fans.  We got to see our favourite duchess sport refreshingly bright patriotic colours and a smart-casual outfit while visiting the British hockey team.
So, why a visit to the Olympic Park?  Of course, if you've been paying attention, you'd know that Kate is an ambassador for Team GB in the Olympics and Paralympics.
The semi-private visit was captured by @SkyNewsOlympic on Twitter (the Sky News account for all the Olympic news) and Lia, the lovely lady behind the account, kindly tweeted some pictures of Kate for us all to see:
Kate's coral red jeans, scarf & heels:
As you can see, Kate is wearing a pair of washed-out red denim jeans, which are thought to be the J Brands she was spotted purchasing a few months ago. However, you can clearly see they're not the "bright tomato red" colour as described in this article.  Instead, Kate's jeans are more of a coral-pink colour.  So we can't confirm if these jeans are J Brand: maybe they are the ones Kate bought and the colour was described wrong, or perhaps they're a different jean altogether?!  Current thinking is that these jeans could be from Zara or Oasis – see what you think here.
Kate teamed her coral/red/pink jeans with a dark blue blazer and a pair of L.K. Bennett heels, which gave the outfit a 'preppy' feel. She finished her ensemble off with an official Team GB supporters' scarf, which tied the the colours together nicely.  If you'd like to and support Team GB, you can buy a team GB scarf now on Next's website.  It's worth noting Kate was said to be wearing the Paralympic scarf.  Update:  I ordered my scarf from next and received it the following day.  It's for charity, so I HAD to get one! I've not taken it off, it's great!
Kate's blue blazer:
With thanks to the wonderful Ayvee on What Kate Wore's Facebook page, we now know that Kate is wearing an Emilio Pucci blazer.  "Kate Spotter" on What Kate Wore posted this EP jacket below, which was available for $679 from MyTheresa.  It looks like an exact match to me!
It's sadly sold out already.  However,   This appears to be the black version of her jacket in Selfridges.  However, this is significantly more costly because it's made of wool.  Understandably, it's still in stock, in all sizes: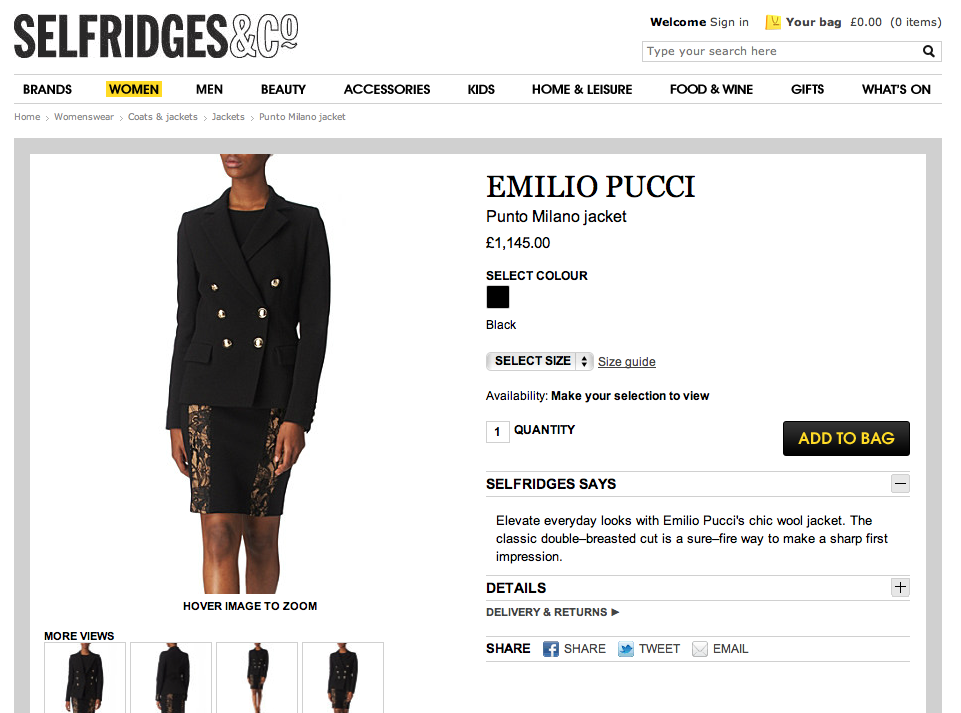 During her visit, Kate had a go at playing a bit of hockey. She changed into a team GB tracksuit top and a pair of Addidas trainers. You may (or may not) know that Kate has played hockey since school and she was once captain of the 1st 11 team at Marlborough College!  Kate scored a goal, after admitting that she was nervous about playing in front of so many people!  She later told one of the team members that she missed playing hockey in a team.