This morning Kate arrived at Mons Barracks in Aldershot to present Irish Guard soldiers with shamrocks to mark St. Patrick's Day.  During the presentation, Kate also pinned shamrocks to the collar of a very special member of the regiment:  their mascot, an Irish Wolfhound dog named Conmeal.
This was the first solo military engagement for Kate, who smiled all through the event.  You may recall that Prince William was appointed the honorary rank of Colonel of the Irish Guard last  year, and the newlyweds presented medals to members of the regiment in june on Armed Forces Day.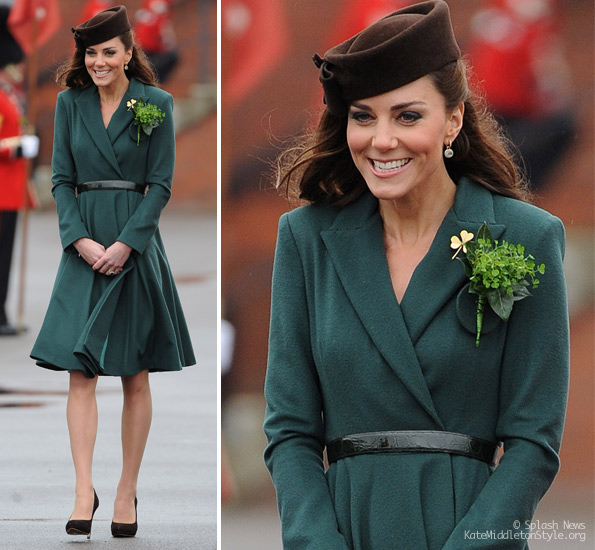 Here's a lovely video of Kate with the soldiers – I love the bit where all the lads raise their cans of Fosters!
httpv://www.youtube.com/watch?v=ly_W7FXqUxs
Kate's outfit:
Kate wore a green coat dress and black belt by designer Emilia Wickstead.  Samantha Cameron is a fan of the label too; she has worn many pieces from the designer on her recent trip to the US.
Rene, a member of What Kate Wore's Facebook page, posted this picture.  At the moment, we think Kate is wearing a customised version of this coat dress: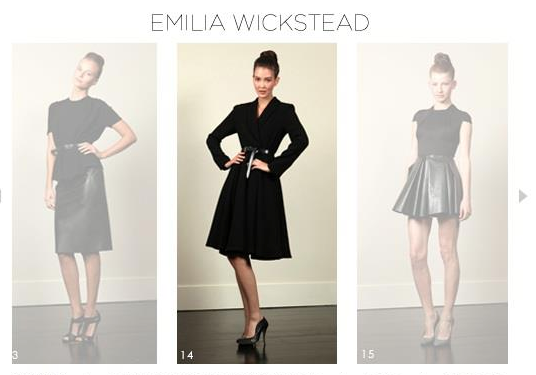 Atop of Kate's head is another Lock & Co hat, this time the "Betty Boop" in brown, which costs £245.  Here we see the hat on the Lock & Co website: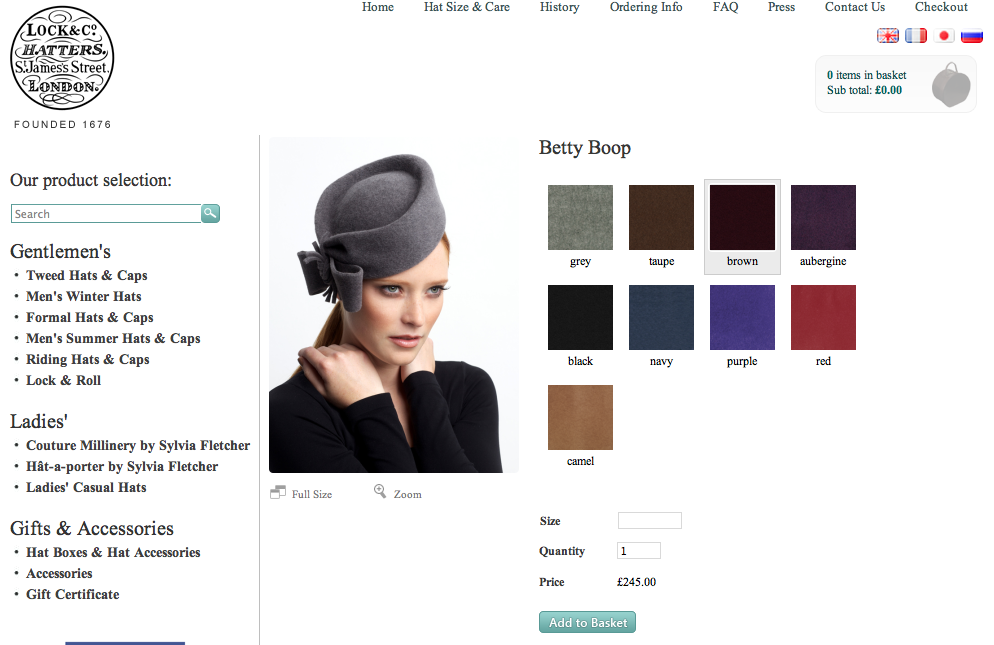 Kate's shoes are somewhat of a mystery to us. The brown suede heels are new, at least to the public (we've not seen them before).  From this photo, you can clearly see a diamante or swarovski crystal gem stone on the sole of the shoe.  There is a cursive font too: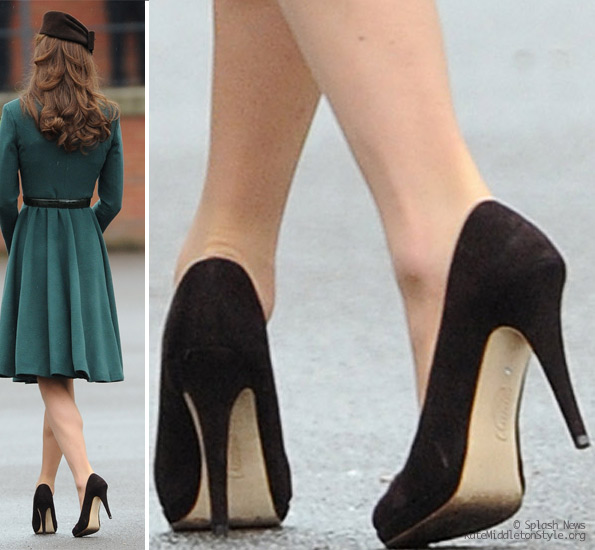 After visiting every single shoe retailer on the internet, current thinking is that they're by Emmy Shoes:
The font and diamond certainly look like good matches.  We know that Kate's sister Pippa has worn Emmy Shoes on occasion too.
The above photo also shows us how beautiful Kate's hair looks today.  The Duchess' lovely curls are cascading down her back elegantly – they appear to be pinned away from her face and the hat placed on top.
Get the look:
Well, it was hard trying to track down coats/dresses that match Kate's outfit today!  I did manage to find these two pieces from the ever popular Modcloth:
The shape of the black coat is certainly close to Kate's.  I would love to wear this with sky-high heels (like Kate's), perhaps in a dark purple or teal colour.  The teal coat, however, is a closer colour to Kate's, but the attached scarf makes this less of a match.  I do think this would look really cute with a pillbox hat like Kate's and it would look great worn out to any  formal event.
Happy St. Patrick's Day – enjoy your weekend!