On July 9th Kate and William attended a cocktail soiree at the United Kingdom's Consul-General's residence in Los Angeles.  Both the Governor and the Mayor of California welcomed the royal couple to California at the event.  A number of famous faces attended the party too, including footballer David Beckham, Nigel Lythgoe, a judge on popular US TV show, "So You Think You Can Dance".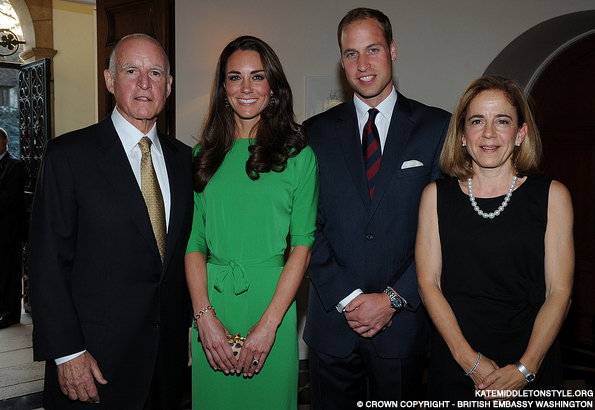 Kate's outfit in California:
Kate wore her green silk 'Maja" dress by Diane Von Furstenberg (DVF), the "Lytton" leopard print clutch bag by the same designer and a pair of black Prada pumps.  On Kate's wrist is her personalised gold charm bracelet, complete with royal monogram.
Diane Von Furstenberg released a press release on their website, clearly pleased that Kate wore their dress and clutched their bag at the LA event.
"Women we love:  Duchess of Cambridge – Kate Middleton.

Talk about arriving in style! For a reception held at the British Consul-General's house to welcome her and Prince William to Los Angeles, the Duchess of Cambridge Kate Middleton chose to wear our Maja dress in Lawn Green.

The future Queen accessorized her look with the Lytton Small Printed Snake Minaudiere in Popcorn Black/Blush"
Buying the DvF Maja Dress:
The DvF Maja dress is really popular among Kate fans, probably because it's an affordable piece that is versatile and can be worn on many different occasions.
Here is a selection of places you can buy the dress from, at a range of prices – Just hover to view more details and click through to buy! (Note – these dresses are not ordered by price).