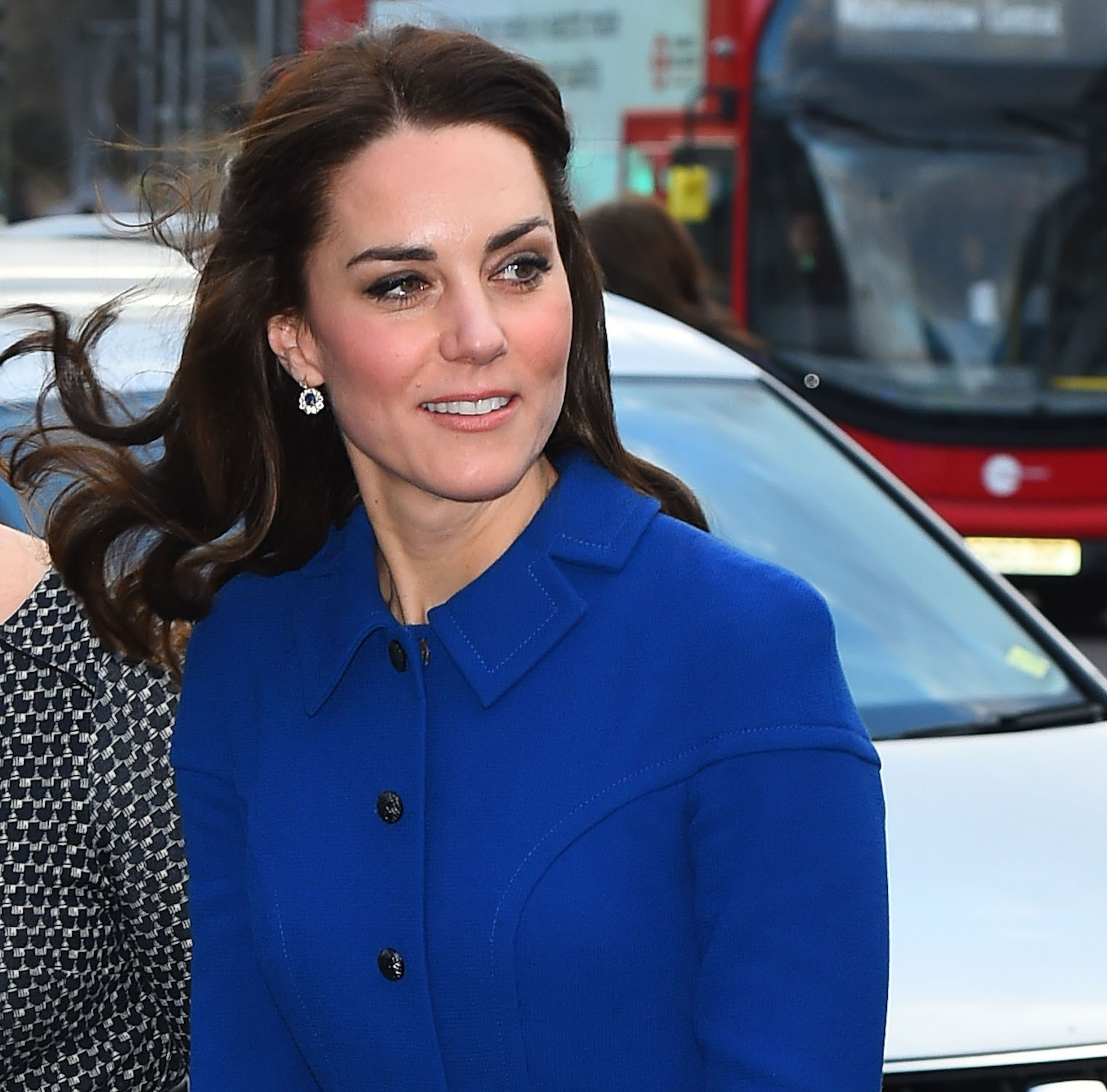 On January 11th 2017, the Duchess of Cambridge visited two different charities.  They were her first public engagements of 2017.

First, Kate visited the Anna Freud Centre's Early Years Parenting Unit (EYPU) in Holloway, London.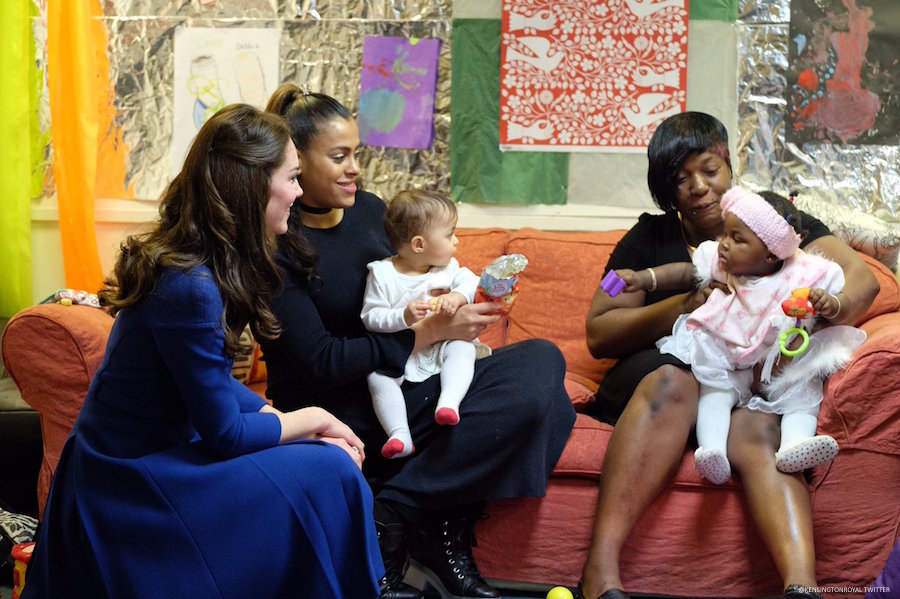 The Anna Freud Centre is a children's mental health charity with over 60 years of experience caring for and helping to treat young people with mental health problems.   The charity's Early Years Parenting Unit works with parents who have personality disorders, and their children under five years old, who are at risk of being taken into care.  The treatment seeks to address the parents' personality disorders; children's developmental needs; and the parent-child relationship. The ultimate aim is to keep families together and help parents become more aware of, and responsive to, their children's needs, leading to more emotionally attuned parenting.
During her visit, Kate took part in a discussion with parents and staff: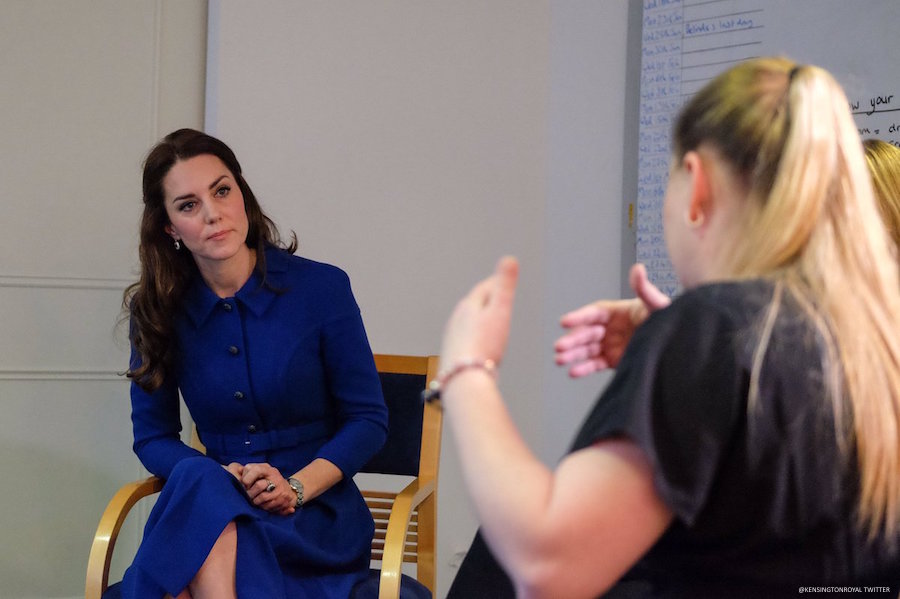 Kate spoke with one group of mothers who'd been through one of EYBU's treatment programmes.  After learning about their struggles, Kate sympathised:
"Parenting is tough. And with the history and all the things and the experiences you've all witnessed, to do that on top of your own anxieties, and the lack of support you also received as mothers… I find it extraordinary how you've managed actually. So really well done."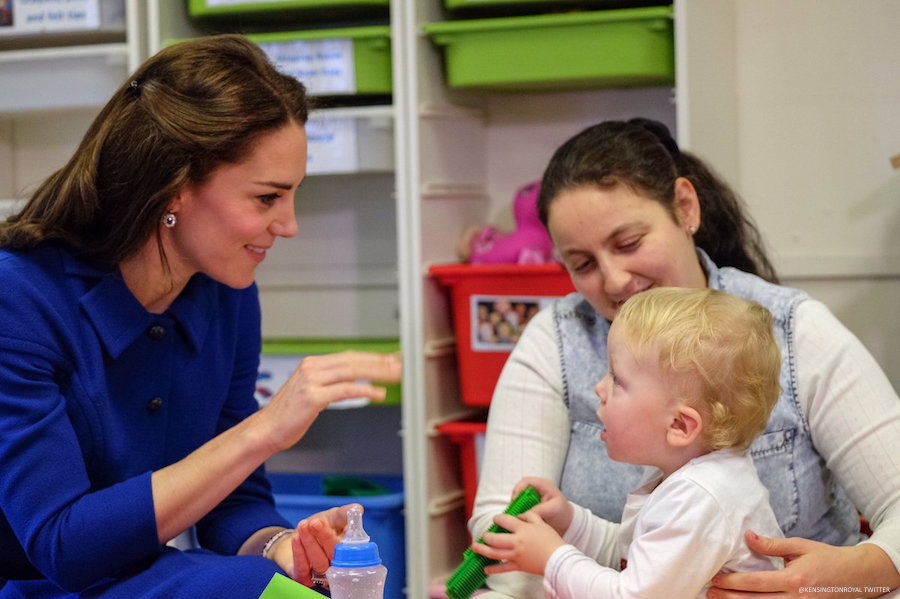 Later, Kate took part in a "Theraplay" session at the facility.  The session promotes the attachment relationship between parents and their children.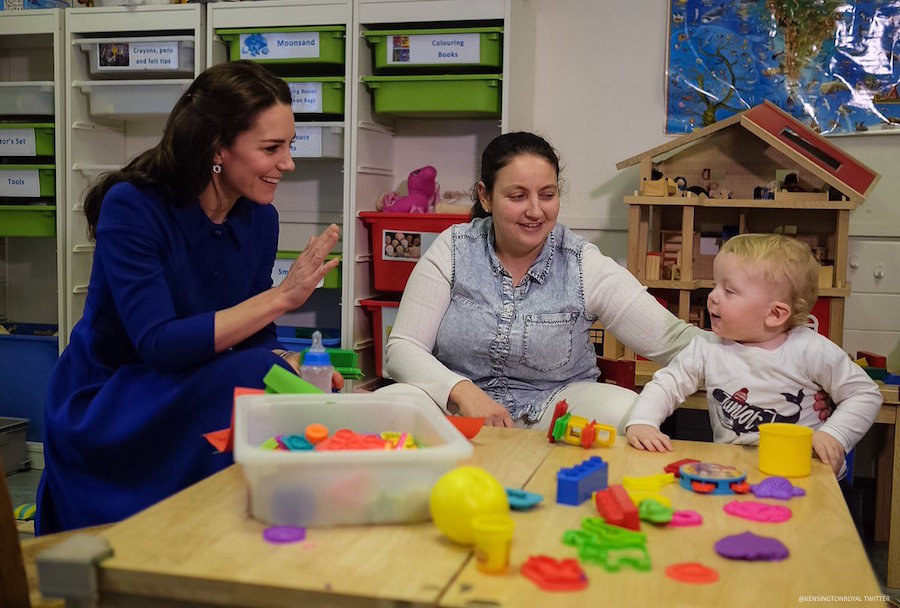 You may recall Kate is Royal Patron of the Anna Freud Centre and has visited the charity on a number of occasions. Below, we show Kate visiting the charity for the first time in September 2015.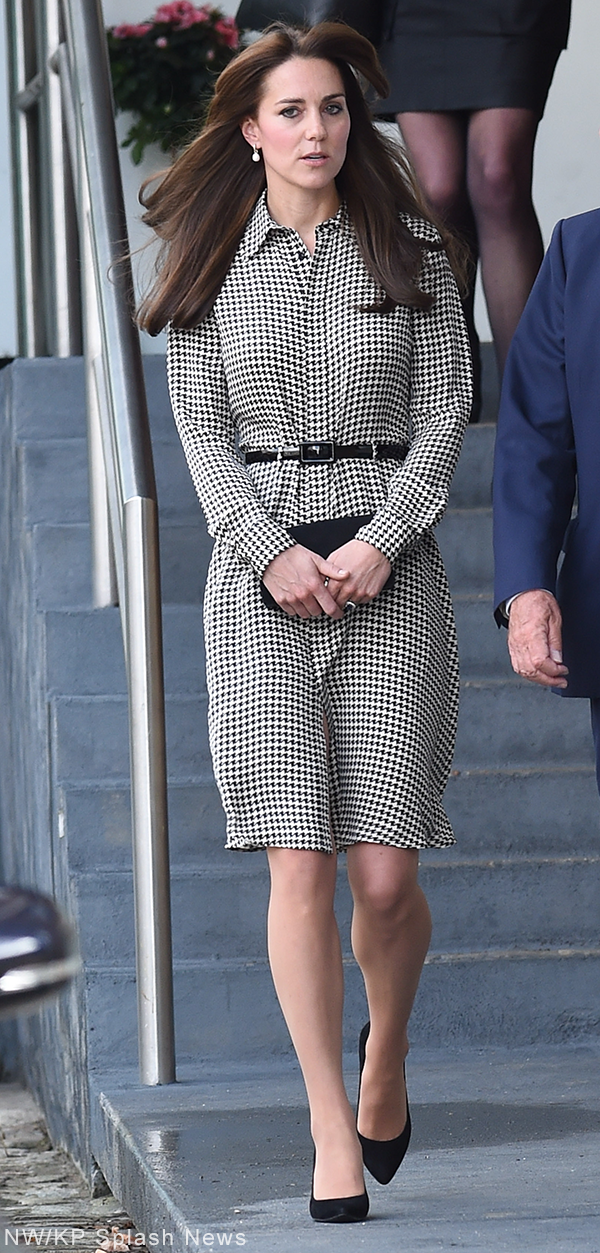 In the afternoon, William joined Kate for her second engagement of the day.  The pair visited Child Bereavement UK's London Centre, which is marking its one year anniversary.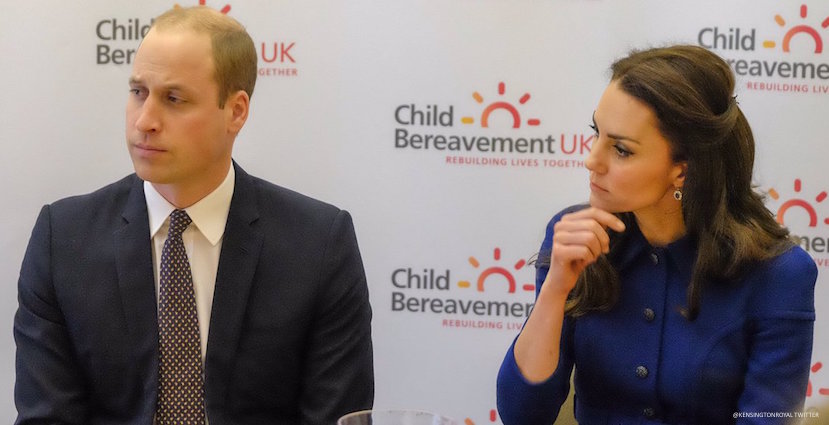 The charity provides support for children and families when a baby or child of any age dies or is dying, or when a child is facing a bereavement.  They also provide training for professionals (such as teachers) whose work brings them into contact with bereaved families.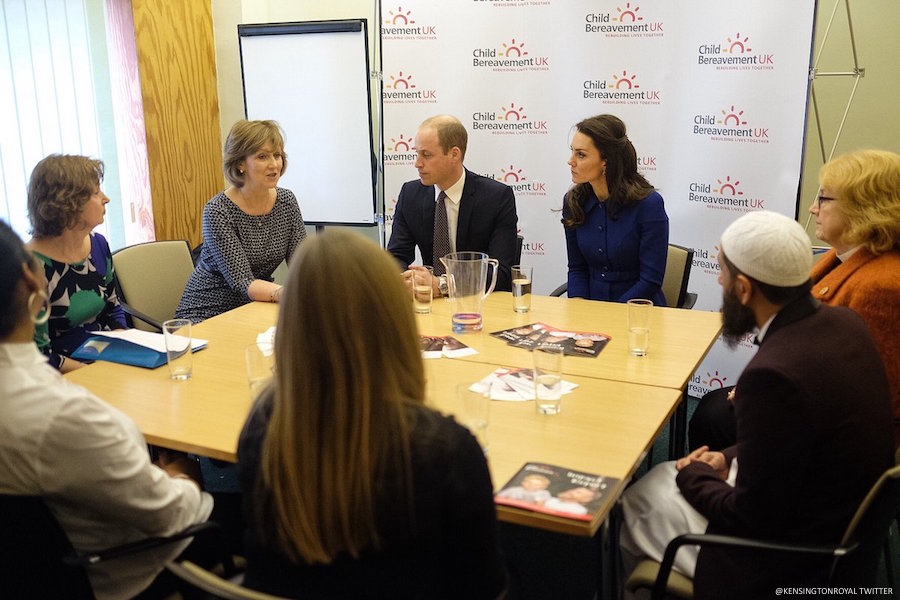 You may recall Prince William is Royal Patron of Child Bereavement UK.  Kate last visited the charity alongside William in March 2013.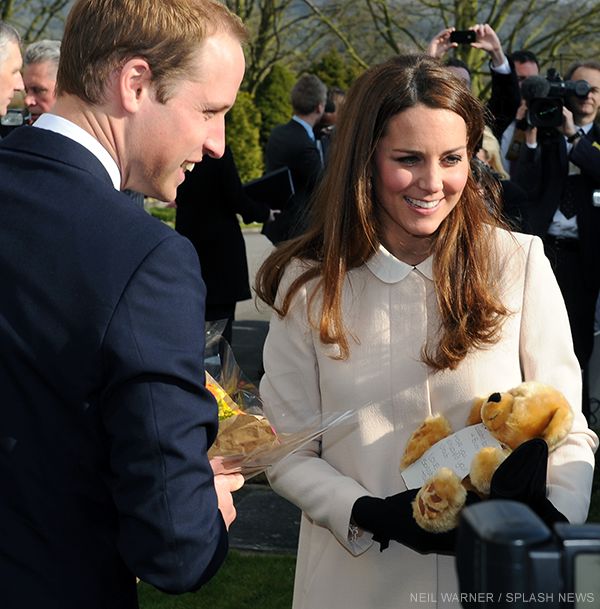 During today's visit, William and Kate met professionals and volunteers who work for the service before meeting with children and families who've been support by the charity.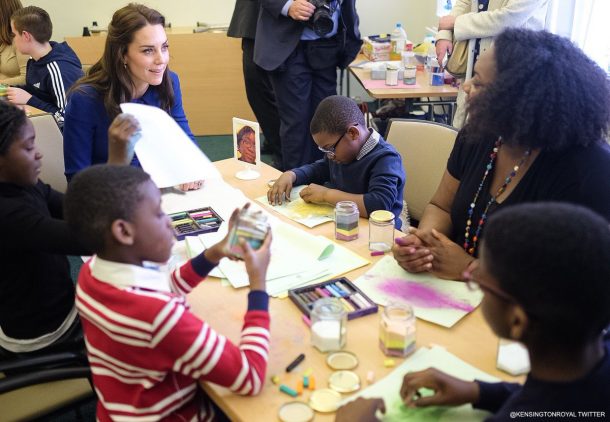 In addition, William and Kate attended a Family Support Group session with children, parents and careers who regularly meet up to explore themes like memories, feelings, support networks and resilience.  These sessions help people feel less alone, plus they decrease the sense of feeling 'different' when somebody important in their lives has died.  
The Duke and Duchess concluded their visit by marking the East London centre's first anniversary by cutting a birthday cake.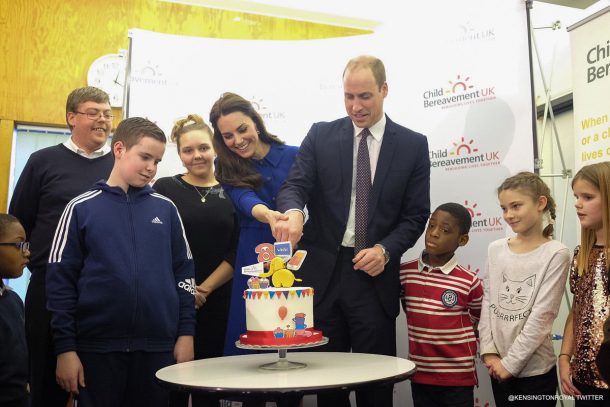 Kate's outfit:
Kate debuted an electric blue coat dress by Eponine London.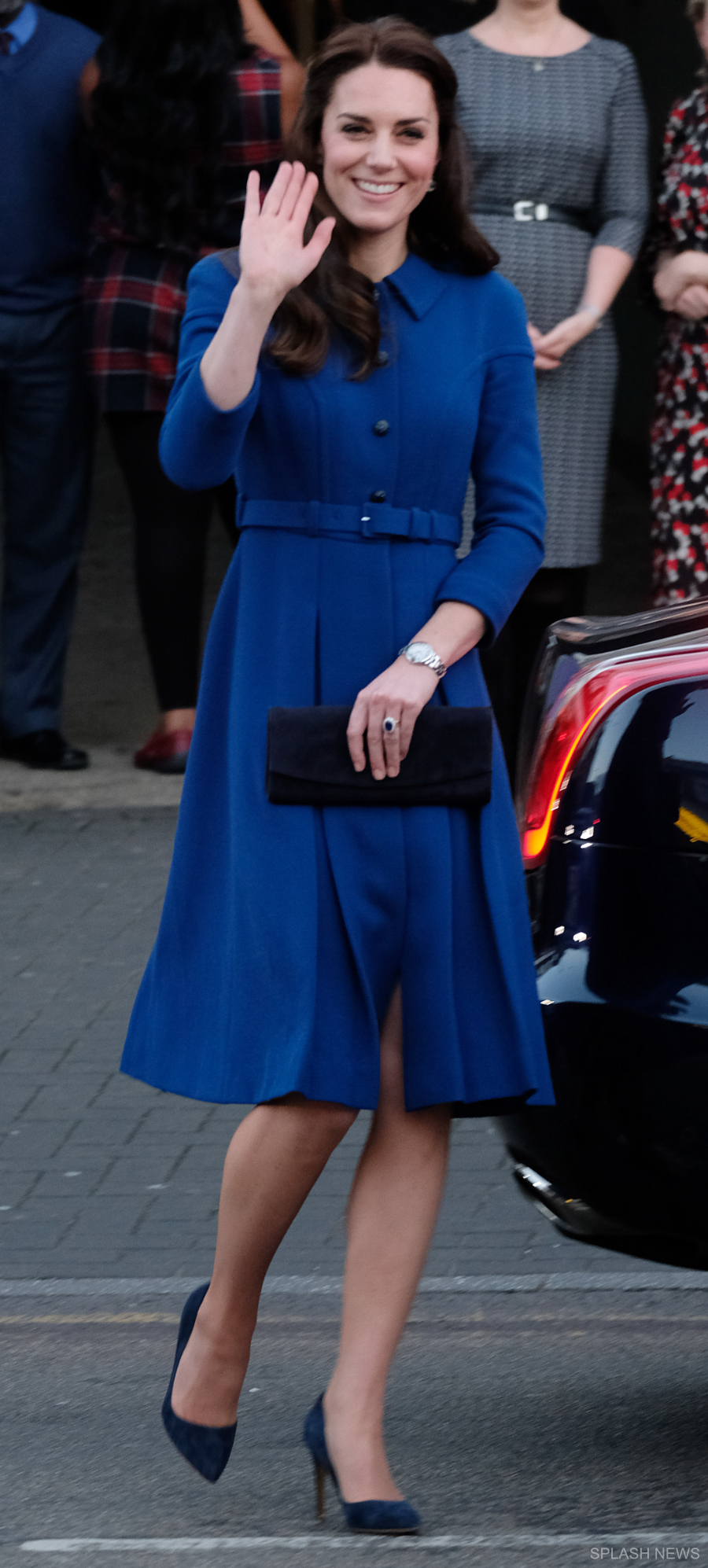 It's from the label's autumn/winter 2016 collection.  The knee-length coat dress features bracelet length sleeves, notched detailing on the collar and matching belt.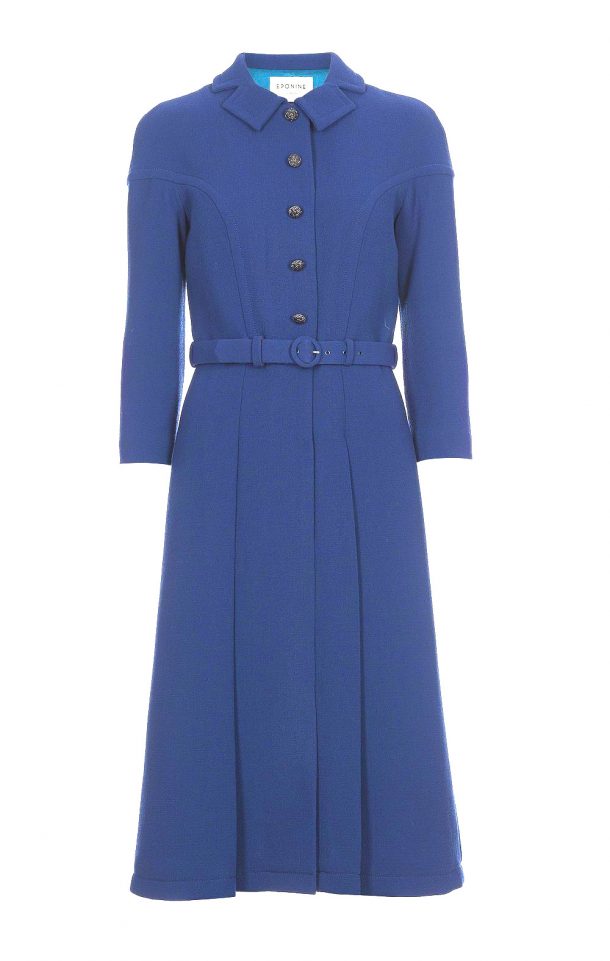 It is the second time Kate has worn an item of clothing from the label. You may recall she wore a brightly coloured skirt suit from Eponine London back in March 2016?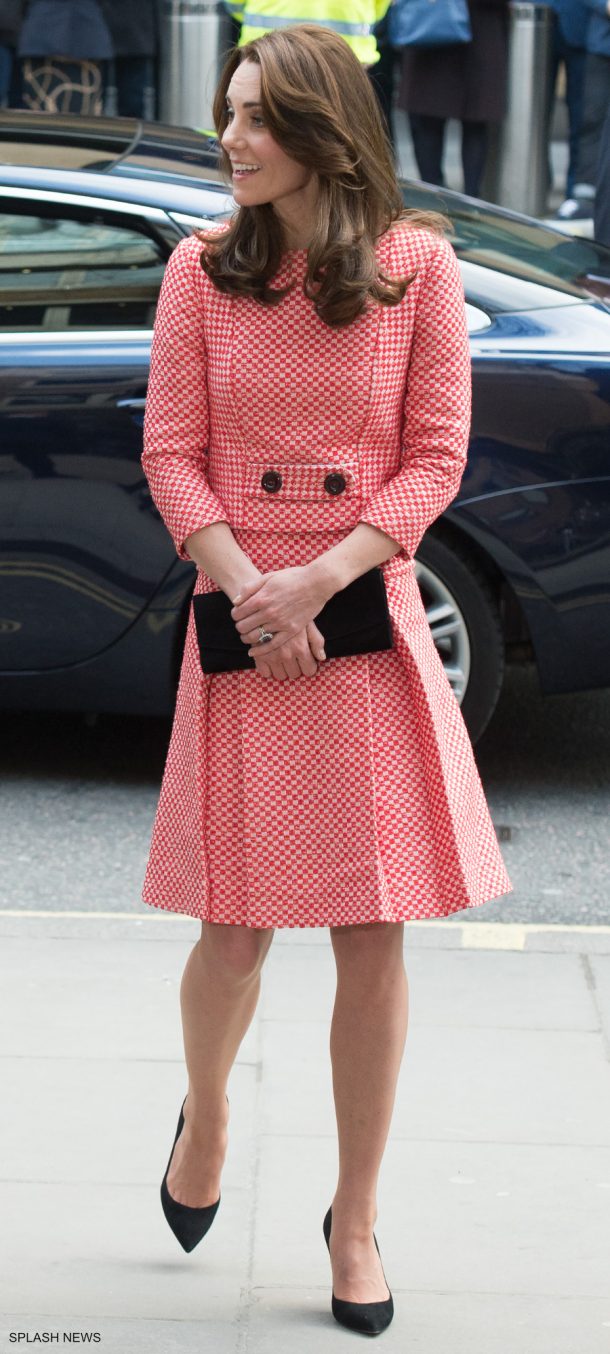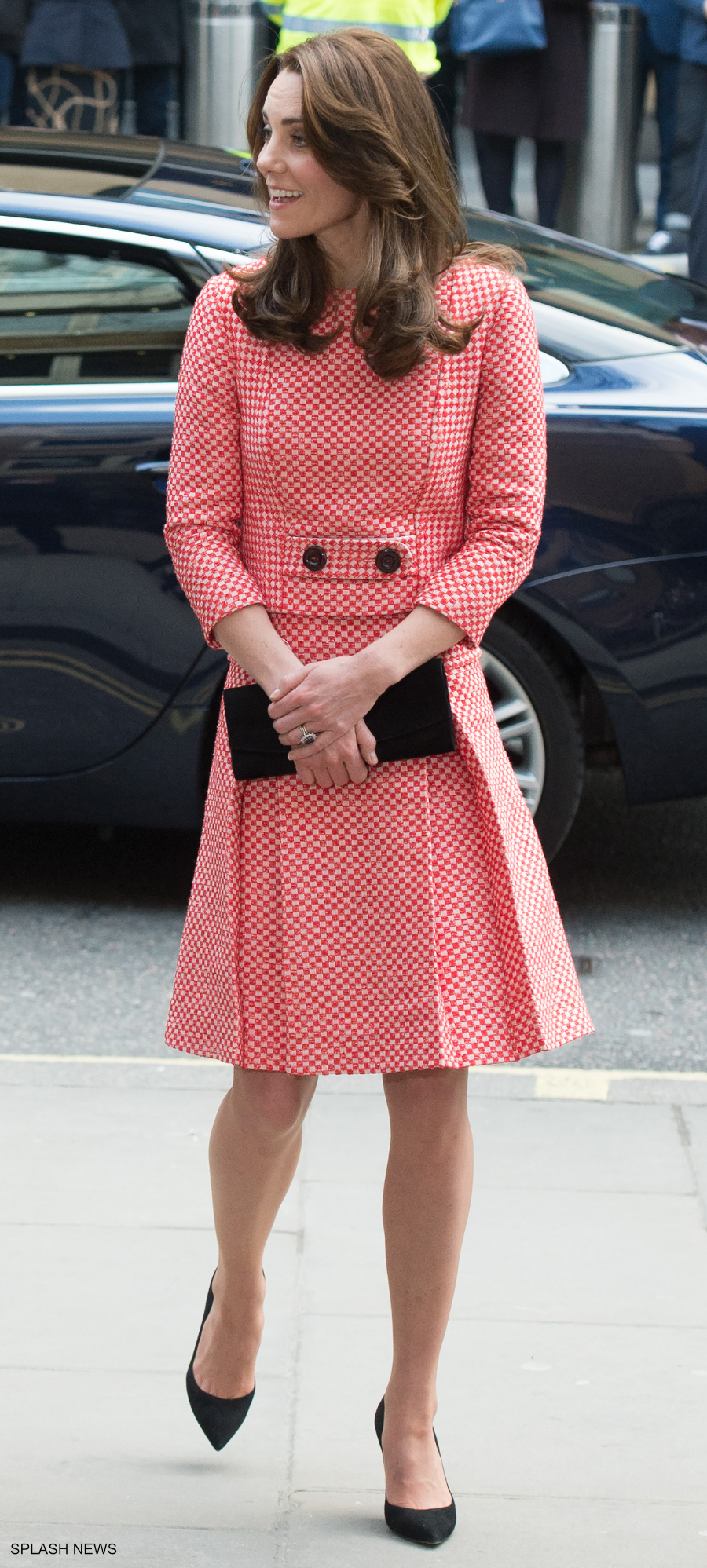 Kate wore her sapphire and diamond earrings (pictured below on another occasion).  They're thought to be adapted from a pair worn by Diana, Princess of Wales.  For more information, click here.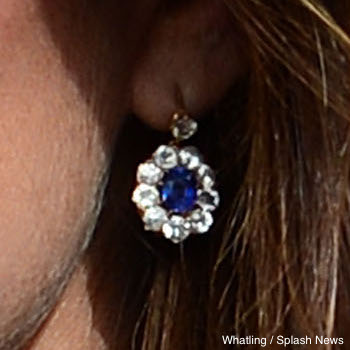 Kate wore her Cartier Ballon Bleu watch.  It should feel familiar to our regular readers, she's worn it in public since 2014.   The watch is still available to buy from Farfetch.com, where it retails for $5,696 USD / £4,104 GBP.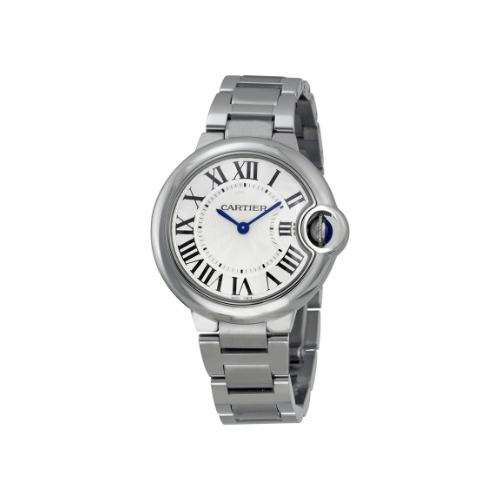 Kate carried her Stuart Weitzman Muse/Raz clutch bag (it is known by both names).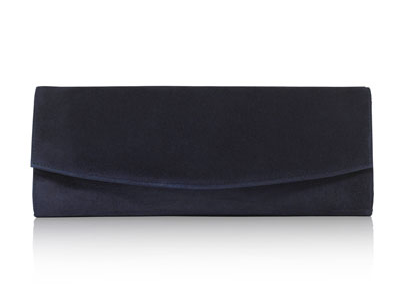 Sadly, the blue suede clutch is no longer available to buy.  However, the gold leather version is 50% off on StuartWeitzman.com at the moment.
Kate coordinated with her navy blue Rupert Sanderson Malory pumps.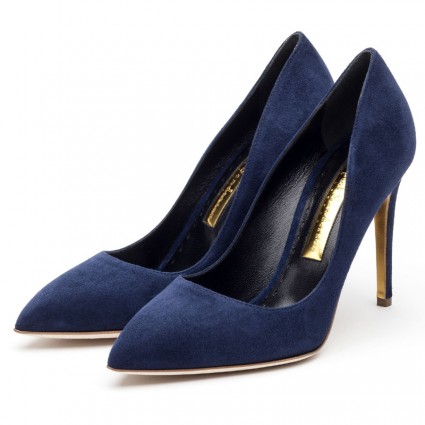 The blue suede shoes have gold detailing on the inside of the 100mm heel. The shoes cost  $675 USD (approximately £550).