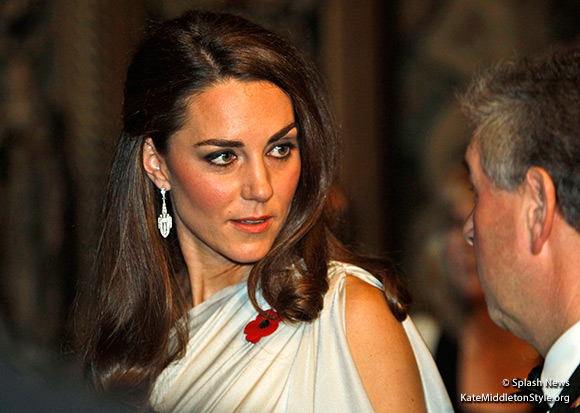 On the 10th of November 2011, Kate and William attended a reception and dinner for the National Memorial Arboretum (NMA) appeal, hosted at St. James's Palace.
The NMA is a centre of Remembrance and a memorial to commemorate and celebrate those who have given their lives in the service of their country, or have served or suffered because of conflict.  The appeal sought to raise £12 million in funding to ensure facilities can be provides for widows, families, comrades and the public, turning the NMA into a world class Centre for Remembrance.
From the NMA website:
The Appeal was launched in April 2009 by The Duke of Cambridge, who is its Patron, to develop the Arboretum into a world-renowned centre for Remembrance. As a serving member of the Armed Forces, His Royal Highness has shown particularly empathy for the charity's aim and the Appeal is particularly close to his heart.
Kate's outfit:
Kate wore a silver asymmetric gown by designer Jenny Packham.  The dress was made from chiffon satin material.  Below we show a near identical dress by the designer in the "Flame" red colour way, via Stylebop:
Shop Jenny Packham dresses:
Kate wore a pair of art deco-style earrings from Beaut Jewellery.   The style name is Ava-Eva.
The Ava Eva earrings are described by Beaut as follows:
Royal vintage-style 'Eva' earrings as worn by the Duchess of Cambridge, Kate Middleton. These art deco vintage style earrings are 9ct gold hoops and sterling silver set with paste stones. Handmade in London.
When Kate wore the earrings in 2011, they were exclusive to Jenny Packham.  Since, Beaut have decided to make them publicly available as part of their collection.  You can shop the earrings here.
Finally, Kate wore her Jimmy Choo Vamp sandals.
Shop Jimmy Choo: