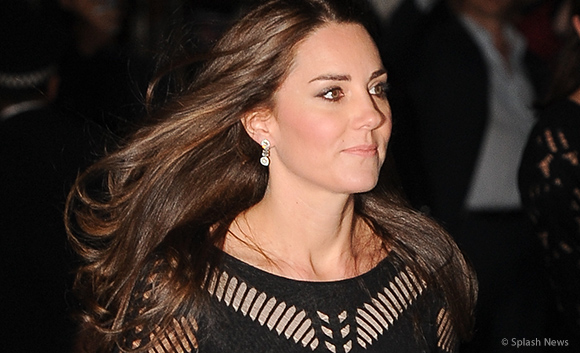 This evening, Kate attended Action on Addiction's Autumn Gala Evening dinner and reception at L'Anima, a multi-award winning Italian restaurant in the heart of the City of London.
This is the third public appearance for the Duchess this week, and since announcing her second pregnancy six weeks ago.   Two days ago, Kate welcomed the President of Singapore to Britain and she attended the Wildlife Photographer of the Year 2014 awards ceremony.
At the gala event tonight, Kate heard a speech by Action on Addiction Chairman John Lloyd.  She also watched comedian and impressionist Rory Bremner perform, and she met with the charity's supporters.
While Kate left before the meals during her previous two engagements, it's thought she stayed for the meal at the gala dinner tonight.  Hopefully this is a signal that she is starting to feel better.  Earlier this week, the Palace said Kate "continues to be affected by Hyperemisis Gravidarum, but thankfully, her condition is steadily improving."  The Express reports that Kate's pulled out of a whopping 17 engagements over the last two months due to her condition.
As you may recall, the Duchess is Patron of Action on Addiction.  Here's a picture of Kate visiting a school in Manchester, back in 2013, when pregnant with Prince George.  Kate launched the school's counselling programme run by two of her charities, Place2Be and Action on Addiction.
Speaking ahead of tonight's event, Nick Barton, the charity's CEO, praised Kate for the support she's offered Action on Addiction.  He added that the Charity are delighted she's able to attend the Autumn Gala Evening.
"We are enormously grateful that Her Royal Highness has helped us to keep addiction very much in the spotlight by her involvement to help reduce the stigma surrounding the condition. The Charity's mission is to free people from addiction and we hope this evening will help us to make further progress in achieving that aim."
Kate's outfit:
This evening's event was a black-tie affair, which meant we got to see Kate in a beautiful dress.  Here's a full length shot of the Duchess this evening:
Kate's dress is an off-the-peg piece by Temperley London.  It's from the label's current collection: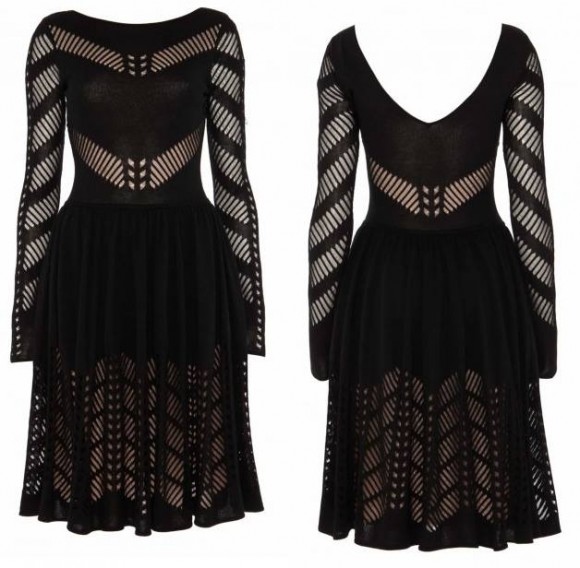 The style name is "Emblem Flare" and the dress costs £595 (approximately $954).  Here's how Temperley London describe the piece:
Update your wardrobe in style with the Emblem Flare Dress from Temperley London's Pre-Fall collection. This long-sleeved dress is inspired by stained glass ironwork and woven from a lightweight cotton-blend yarn. Delicate panels expose the nude slip, adding an edge to this feminine piece. The design is finished with a slashed neckline and a scoop back. Simply slips on.
And another look at Kate in the dress, this time from the back.  Note the scoop neckline:
As you'll notice in the image below, Kate's opted to wear a belt with her Temperley London dress.  One astute person on Twitter suggests Kate might have borrowed the belt from her long lacy Temperley Amoret gown!  It is not the same belt – closer inspection shows the belts are different fabrics.
As you can see, Kate is wearing her Jimmy Choo Cosmic pumps in black suede.  Jimmy Choo says their platform pumps are must haves, and that the style "exudes modern elegance".
Kate carried a bag that's new to us, it features a half-circle flap and intricate beading on the front.
The bag is a vintage piece by "Magid".  Anna from My Small Obsessions has researched the bag and believes it could date from the 1950s.

Finally, Kate wore her diamond earrings (left and centre) they're a mystery pair, we first saw her wear them in 2011, during the Canada tour.