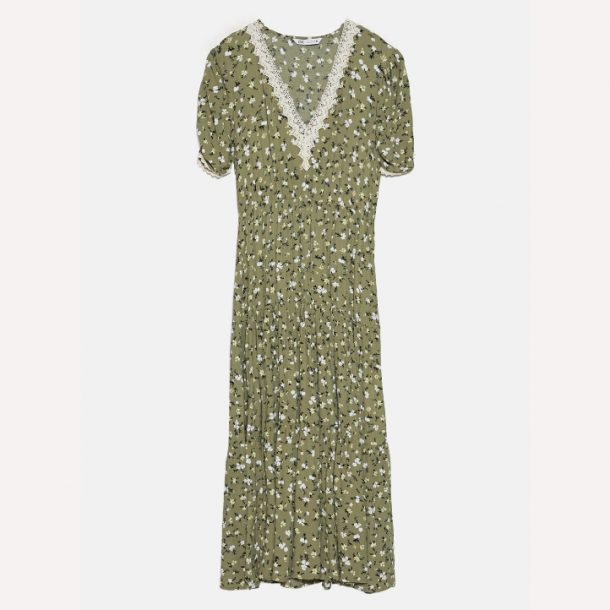 On the 30th of August 2020, the Duchess of Cambridge (Kate Middleton) appeared in a short video posted to her official Instagram page:
The social media post announced Kate, along with four others, had judged over 30,000 entries for the "Hold Still" project and whittled them down to 100 finalists. You can read more about the Hold Still project on this page.
In the video, Kate wore a khaki green dress printed with a floral motif. It is by Zara.
About the dress:
The dress features a v-neckline trimmed with white lace and matching detail on the short-sleeve cuffs. It has a midi-length skirt with a slight ruffle and a slit-opening at the side.
The green dress is from Zara's 'Join Life' collection. Join Life is the brand's eco-friendly initiative, which focusses on sustainability and reducing the impact of fast fashion.
According to the Zara website, at least 50% of the khaki dress's fibres are obtained from more sustainable sources.
Buying the dress:
The piece retailed for £49.99 on Zara's UK website before it went into the summer sale at just £9.99!
Sadly, you can no longer buy the dress online but you can use a tool on their website to for check in-store availability (the link is at the bottom of this page, underneath the product description). A couple of stores in London still have the dress in stock in limited sizes (I have not checked anywhere else though).
Alternatively, you can look for the dress on eBay. At the time of writing, several resellers have the piece in stock.
Kate Middleton wearing Zara:
Kate regularly wears clothing from Spanish clothing company Zara. The retailer specialises in fast fashion and is known as an affordable 'high street' brand in the UK. Kate famously wore a pleated blue dress from Zara in 2011, on her way to her honeymoon. Since, she has worn a number of dresses, coats, jeans and accessories from the brand.
Above: Kate wearing Zara's lace tulip dress at a charity concert in 2011; Kate wearing a Zara headband at the 2019 Festival of Remembrance and Kate recently wearing a yellow Zara sweater during a video call to a school in Lancashire in April 2020.