Kate Middleton owns the Joseph Nessie Jacket in white flannel. (Shown below in blue.)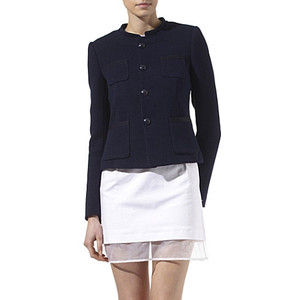 She wore the white jacket over a floaty dress during a visit to the Epsom Derby in 2011. The tonal white ensemble highlighted the newlywed's post-honeymoon glow.
About Kate's Joseph Nessie Jacket:
The Nessie Jacket had a cropped fit, it hit at the top of the hip.  The jacket was available in blue too.  It was previously available in blue tweed fabric for £479.99 at JulesB.
Kate wearing Joseph:
Kate has worn pieces by the London-based designer on a number of occasions during her time in the public eye.  She wore the brand's Vanessa and Scarla dresses back in 2011.
About Joseph:
Joseph is a British fashion label founded in 1972 by Joseph Ettedgui.
Known for its minimalist aesthetic, the brand offers a sophisticated take on wardrobe essentials. From impeccably tailored trousers to luxe knitwear, Joseph's pieces are the epitome of understated elegance. It's a brand that resonates with those who appreciate quality craftsmanship and timeless design.
Shop the brand at Joseph-Fashion.com