On the second day of the 2019 Royal Tour, Kate stepped into Pakistan's National Monument wearing a floor-length green gown covered in sequins and crystals. Jenny Packham designed the showstopping dress.
At the time, we wrote that Kate wore a bespoke version of Packham's Georgia gown (pictured below) from the Autumn-Winter 2019 collection. As you can see, the off-the-rack version of the dress came in both lilac and rose pink.
A year later, Jenny Packham released the dress in the deep forest green shade worn by Kate. She renamed the piece from Georgia to Tenille.
Kate wore the green glittering gown for a second time, to the Royal Variety Show, on the 18th of November 2021.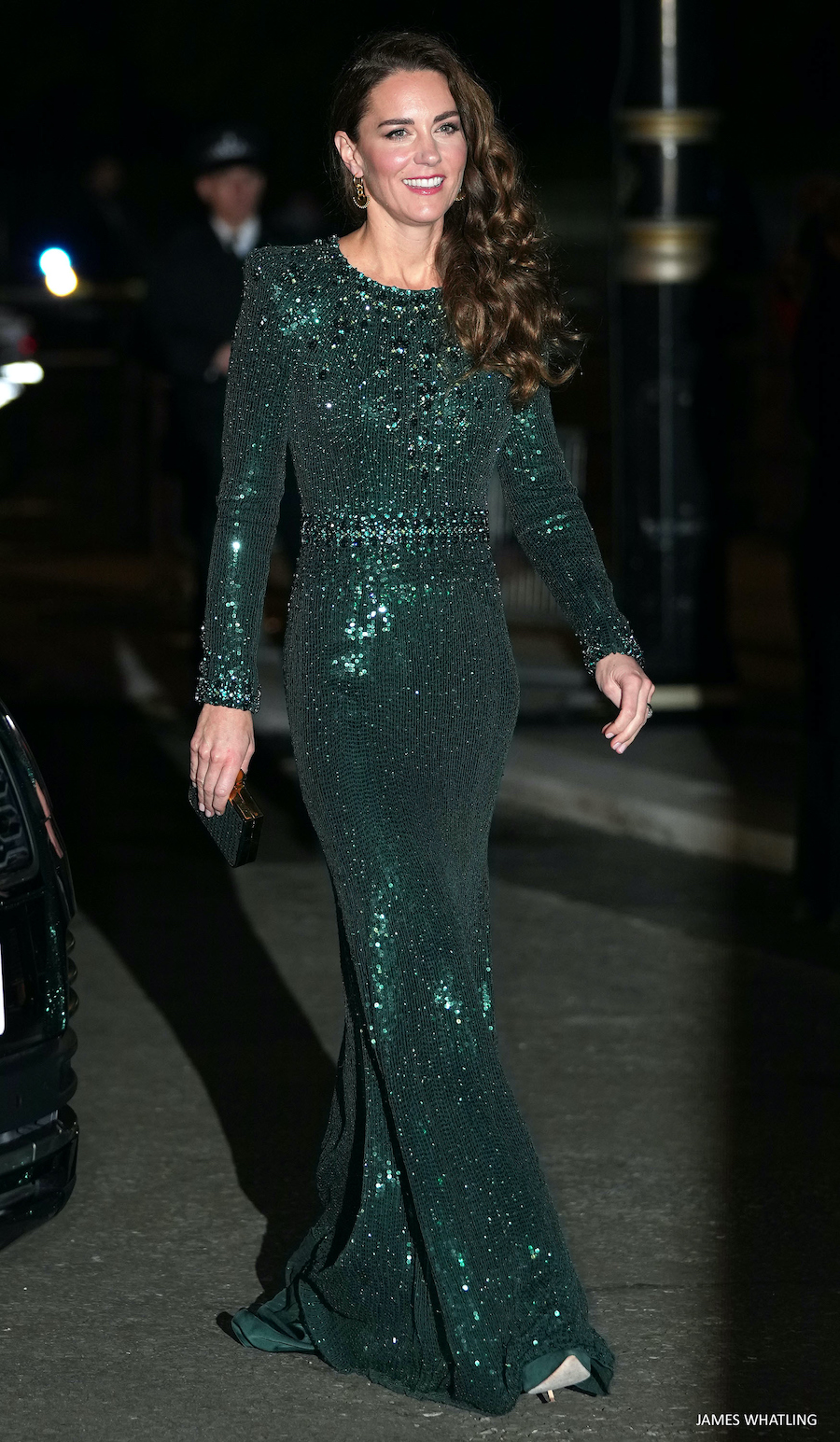 About the Jenny Packham Green Sequin Gown:
Jenny Packham covered the Tenille gown with shimmery sequins and strategically placed crystals on the bodice, waist and cuffs. She used a rich forest green satin to craft the dress, which also has internal shoulder pads for structure and an impressive floor-sweeping train.
Watch other party guests turn green with envy as you make your grand entrance.

With some Jenny Packham creations there is no one standout feature but rather a beautiful amalgamation of thoughtful accents that artfully complement each other. Take this Tenille gown for example; while immediate focus falls on the shimmering sequin profile, a closer look reveals the elegant gown is imagined with subtle padded shoulders and trimmed with eye-catching tonal crystal embellishments.

Harrods
Does Kate Middleton own any other Jenny Packham dresses?
Yes! Jenny Packham is clearly one of Kate's favourite designers when it comes to eveningwear. Since joining the Royal Family in 2012, we've seen the Duchess sport a couple of dazzling Packham gowns each year. We've seen her in bespoke, off-the-rack and even diffusion-line Packham at a number of events, including gala dinners, evening receptions and of course, on tour.
Here's a quick look at three of our favourite evening looks from the archive:
It's not all glittering gowns. Kate's commissioned Jenny Packham to create a number of less formal pieces too.
About Jenny Packham:
Jenny Packham is a British fashion designer. In addition to her ready-to-wear collection, she is known for her exquisite bridal gowns too.