During day four of William and Kate's tour of Pakistan, the Duchess debuted a new pair of shoes in Lahore. They're from J.Crew.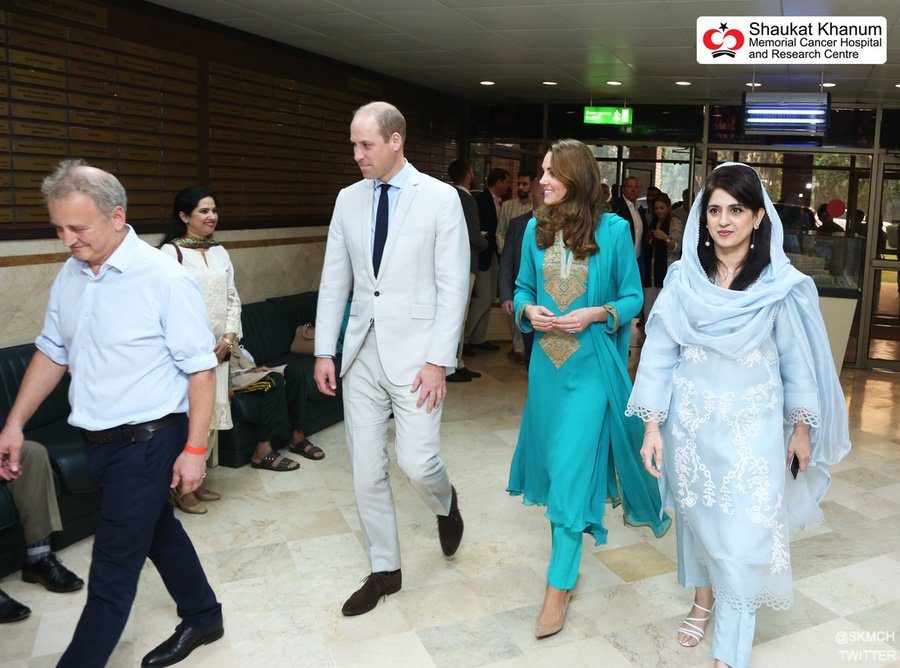 About the pumps:
The brown pumps are D'Orsay style, which means they have a cutout detail on the side. They feature an elegant pointed toe and a 65mm slim heel (quite low compared to her usual shoes).
On their website, J.Crew describes the pumps as a "shoe closet staple" and an "absolute must-have".
They're made in one of Italy's classic shoe factories using high-quality brown suede leather.
The shoes appear to be a staple style for J.Crew. The company stock them in several different colours and prints.
Lucie or Colette?
J.Crew uses both "Lucie" and "Colette" as a style name for this shoe on their website, which is somewhat confusing!
Some of the Lucie shoes have a higher heel than the Colette. Some of the Colette styles have a prominent joining seam on the side of the leather. Some have lighter heel tips, some darker:
Above:
1) Colette with 80mm heel with "seam" detail in Ashen Brown. Kate's shoe does not have this seam/join in the fabric.
2) Lucie with 80mm heel in the same 'Ashen Brown' colour. However, the fabric appears lighter in colour. It features a lighter leather sole and heel tip.
3) Lucie with 65mm heel worn by Kate in Ashen Brown. The shoes feature the correct sized (smaller) heel and the correct darker sole and heel tip detailing. Confusingly, the exact same style is listed as Colette on some websites. The same shoe in a different fabric is listed as Colette on J.Crew's own website!
About Kate and J.Crew:
The Duchess has worn several items of clothing from J.Crew to public engagements over the last few years, including a pair of sailor-style trousers and a pair of tweed pumps (both pictured below).