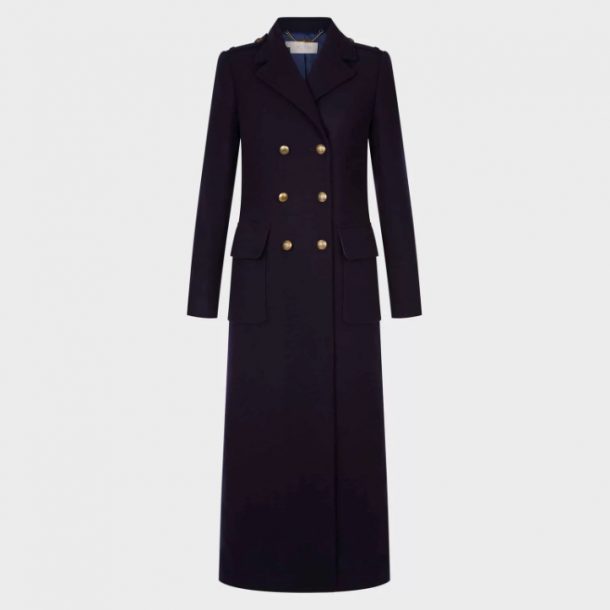 The Duchess of Cambridge (Kate Middleton) owns a long navy blue coat by Hobbs London. It's the British brand's Bianca Maxi style. She first wore the piece in February 2020 during a visit to South Wales. Later in the year, she wore the coat again during the Royal Train Tour.
About the Hobbs Bianca Maxi Coat:
Hobbs crafted this navy blue double-breasted military-style coat from wool-rich fabric for a luxurious feel. With its timeless silhouette and expert tailoring, the Bianca coat is an investment piece that will last for years to come.
The maxi-length coat features burnished gold crested buttons on the front and sleeves. It's finished with stylish shoulder epaulettes and pocket detailing.
'Bianca' is a versatile coat that is perfect for every occasion.  During the week, throw it over workwear for the office. At the weekend, dress it down for that perfect off duty style. The coat retailed at Hobbs.com for £259 (was £349).
Buying the coat:
Sadly, the coat sold out after Kate wore it. However, you can find it on eBay.
UPDATE: Hobbs London has released a black version of the coat on their website and as of the 8th of December 2020, it is REDUCED TO CLEAR! Click to view/buy
Kate Middleton wearing Hobbs:
The Duchess of Cambridge (Kate Middleton) regularly wears clothing from British clothing company Hobbs. She's worn coats, skirt suits, dresses, shoes and accessories from the company over the last 8 or 9 years as a royal. Below, Kate wearing clothing from Hobbs on different occasions:
About Hobbs:
Hobbs create sophisticated, feminine pieces that are tailored to perfection. The brand opened its doors to their Hampstead, London shop in 1981. Nearly thirty years later, you'll find their shops across the world. From the United Kingdom to the United Arab Emirates.