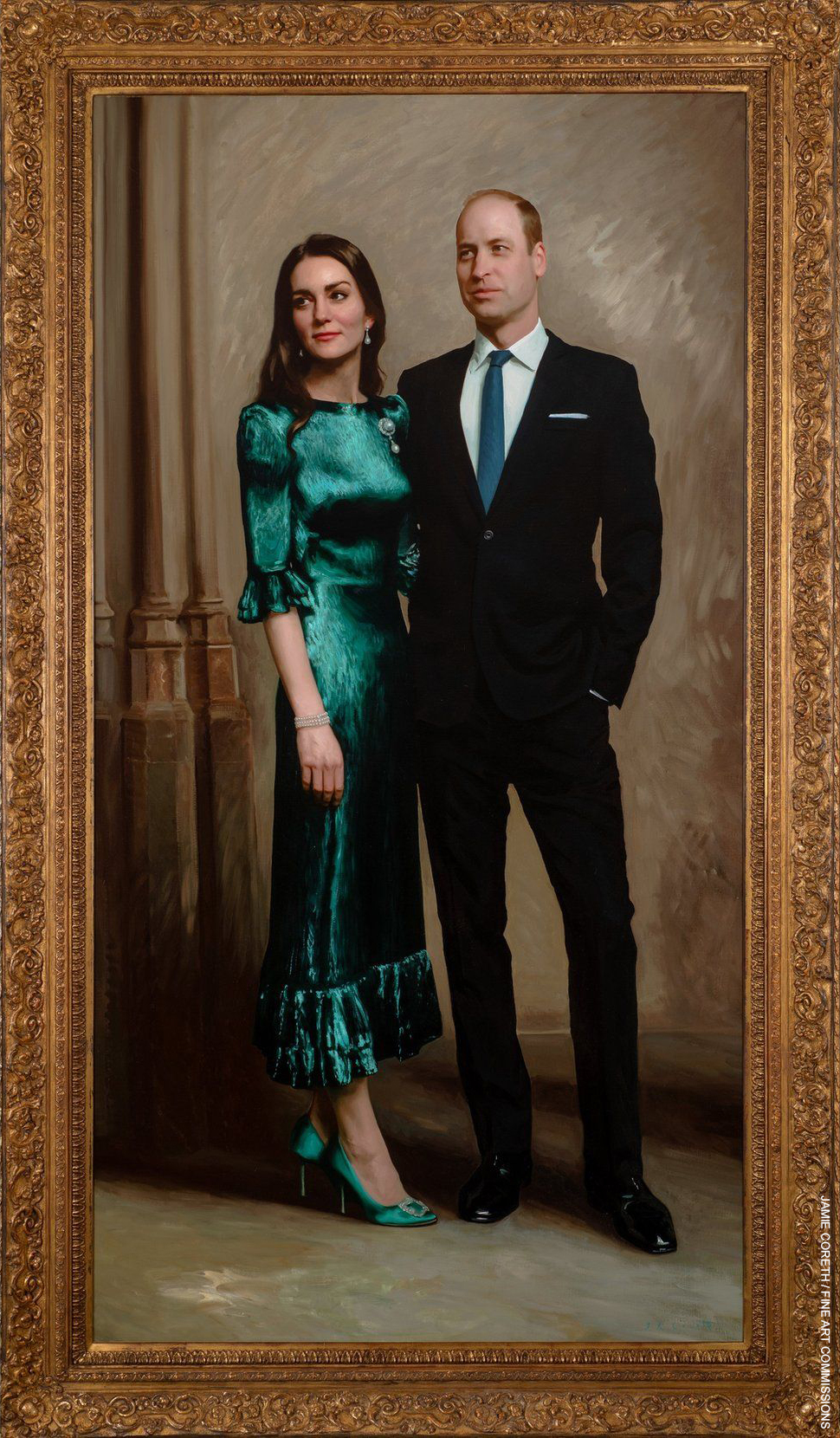 William and Kate visited Cambridgeshire on the 23rd of June 2022. The couple spent the day celebrating the region and championing the work of key charitable organisations in the area.
During the royal visit, William and Kate unveiled a new portrait of themselves to the public for the first time.
The portrait, painted by award-winning artist Jamie Coreth, shows the couple standing close together, looking off to the side. William is dressed in a suit, Kate wears a shimmering green dress.
The piece was commissioned in 2021 by Cambridgeshire Royal Portrait Fund, which is held by the Cambridge Community Foundation, as a gift to Cambridgeshire.
The artist worked to incorporate the City of Cambridge into the portrait by painting the background with the tones and colours of many of the historical stone buildings that are synonymous with the city. The portrait also includes the use of a hexagonal architectural motif which can be seen on buildings across Cambridge.

FitzMuseum.ac.uk
The painting is the first official portrait commissioned of the husband and wife together.
It's currently on display at the Fitzwilliam Museum in Cambridge and will remain there for three years before being exhibited in galleries around Cambridgeshire. It will also be loaned to the National Portrait Gallery to mark its reopening in 2023.
Kate's green dress in the portrait:
The Duchess chose the Falconetti dress by The Vampire's Wife for her official portrait.
She paired the green dress with a pair of satin Manolo Blahnik pumps in green.
In the portrait, Kate is wearing jewellery belonging to both the Queen and Princess Diana.