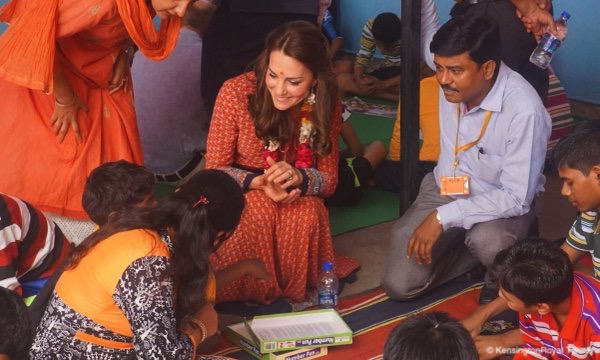 Day three of the Royal Tour begin with a visit to the Salaam Baalak Trust in New Delhi this morning.
"The Duke and Duchess first visited the Trust's Contact Centre near New Delhi Railway Station, where they heard that up to 1200-1500 children arrive into the capital on trains each year and often travelling alone, to escape a range of personal circumstances. As a frontline partner of Childline, Their Royal Highnesses were briefed by the Trust's outreach workers on how they respond to calls for urgent care, and try to identify vulnerable young children as soon as they arrive in the city, to encourage them to get support as early as possible."

Via gov.uk
The Salaam Baalak Trust is a non-profit and non-governmental organization that provides a sensitive and caring environment to street and working children in Delhi, India.
"We help nurture their dreams and make them realize that their fate can be crafted by their own heart, their own hands and a firm resolve."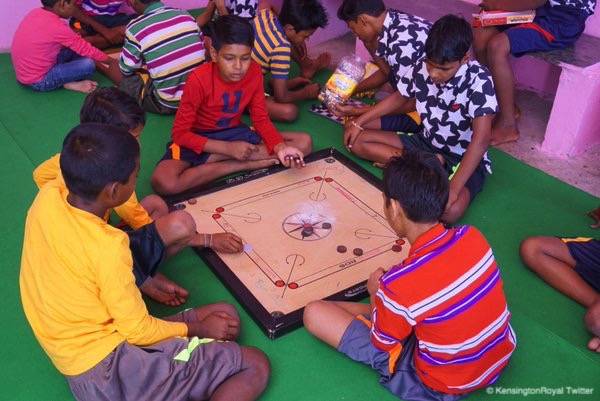 During their visit to the charity, William and Kate played games with the children.  William wanted to know how he can help the charity.  The Trust's director had a simple request:
"Spread the word. People think of them as street kids, beggars, thieves but they are just children.

"They deserve an education, future and a life. They have a right to a childhood."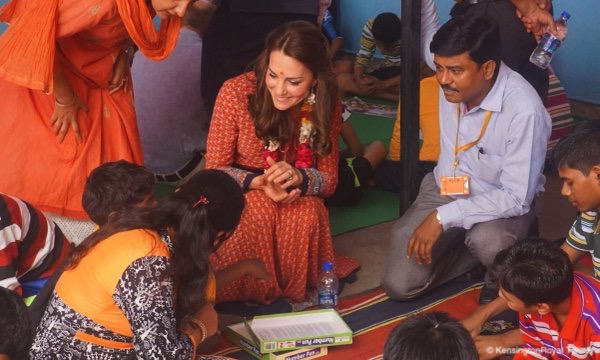 Next, William and Kate travelled the short distance to a boys' home near Delhi station.  Around 50 boys live in the four-storey building.
The Duchess sat on the floor with the children and was asked to draw a picture of her house.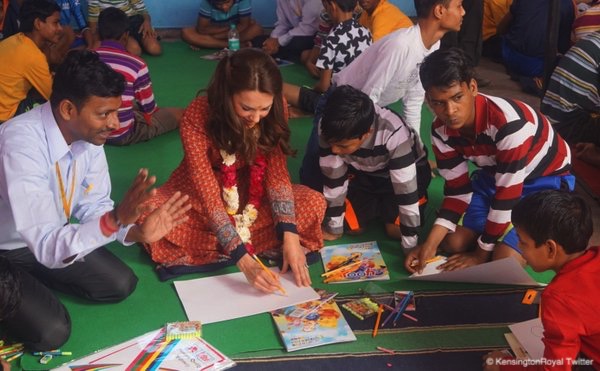 William and Kate also spoke with City Walk Guides from the trust.  They used to live on the streets before being rescued.
The Trust is famous for its city walks, guided tours of the Delhi streets by the children who used to live there before being rescued. The tours provide revenue for the Trust, but more importantly allow the young people to tell their stories of hardship and survival as well as helping them with their English and communication skills.

Via gov.uk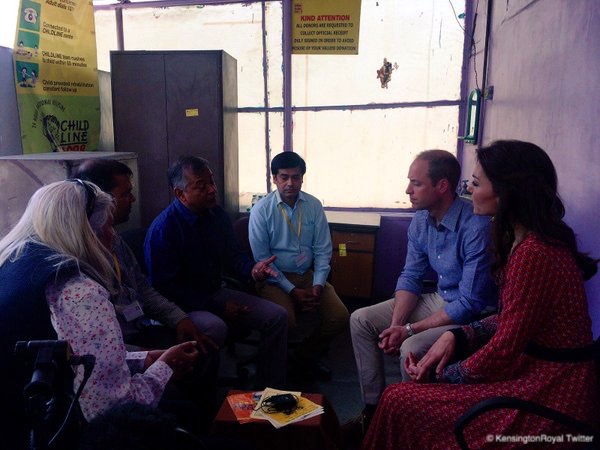 William and Kate took particular interest in the Trust's mental health programme, speaking with their outreach workers and psychiatrists during the visit.  We know from Kate's previous engagements that this is an area she's keen to learn more about.
The Duchess walks through a narrow Delhi street this morning, after visiting Salaam Baalak street children shelter pic.twitter.com/UPTd2X65X8

— The Duke and Duchess of Cambridge (@KensingtonRoyal) April 12, 2016
Kate's outfit:
For the morning's events, Kate wore a beautiful red printed dress by Manchester-based high street brand Glamorous.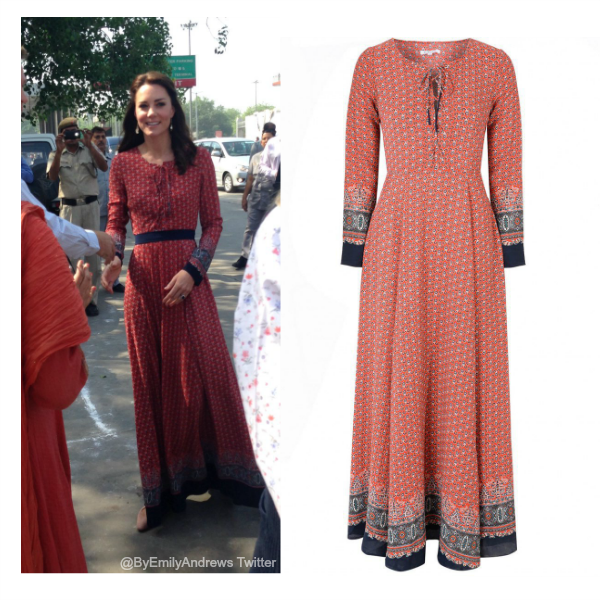 Here's how Glamorous describe the dress:
"Glamorous women's red navy border print lace up maxi dress. Features long sleeves, lace up detail at the chest with flared semi-sheer maxi length skirt."
The dress costs £50 (approximately $70 USD). You CAN preorder the dress from their website. It'll be dispatched in early May. If you're wondering, the company deliver worldwide.
If you like the print but feel like a maxi dress isn't really your style, Glamorous also sell a tunic in the same design.  Again, it is available to preorder, due to demand this piece has also sold out!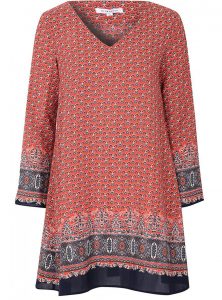 Their clothing can be found in TopShop, ASOS and House of Fraser too.
Here's how TopShop describe the brand:
"Channel bohemian chic with vintage inspired styles by Glamorous. Free-spirited and a little dreamy, we love their billowing maxi skirts and crop tops, while denim and accessories come across innately cool."
Kate paired her maxi dress with a lovely pair of pointed flats from Russell and Bromley.  They're known as the 'Xpresso Crossover Flat'.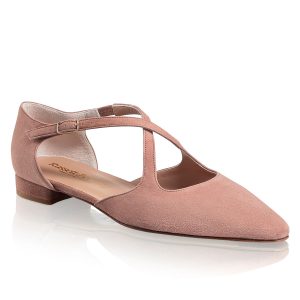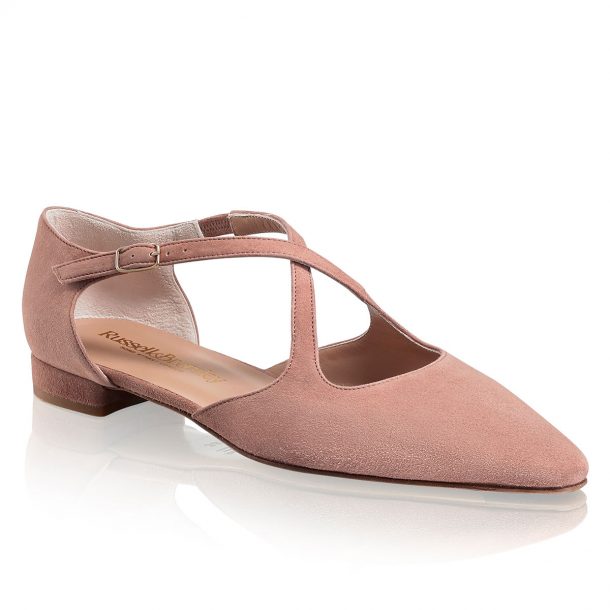 They retail for £175 (approximately $250).  Here's how Russell and Bromley describe the shoes:
"Designed in the softest blush toned suede, these feature a delicately pointed toe and are finished with a chic crossover strap. Brighten up the boardroom and wear to work or pair with floaty summer dresses for a grown up take on off-duty dressing."
Kate's earrings will be familiar if you're following Kate's style through the tour.  She first wore them on Sunday.  They're from Accessorize: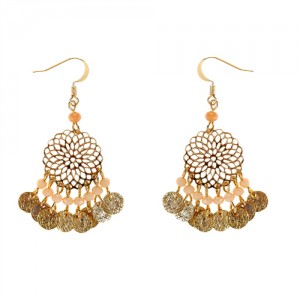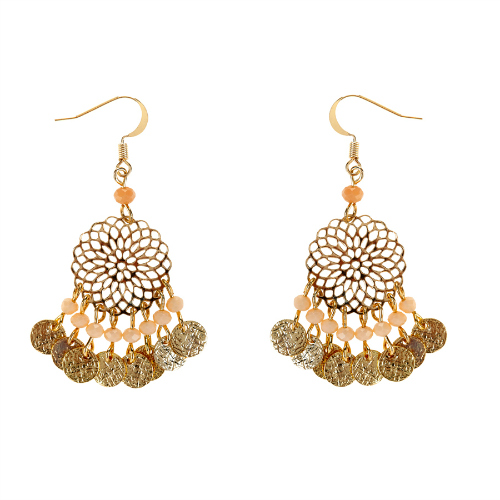 Now sadly sold out, but the brand do have a few similar pairs in stock if you're looking to steal Kate's style!


Thank you to the following ladies for providing IDs on Kate's clothing and accessories today:  What Would Kate Do and What Kate Wore Facebook Fan Eva.