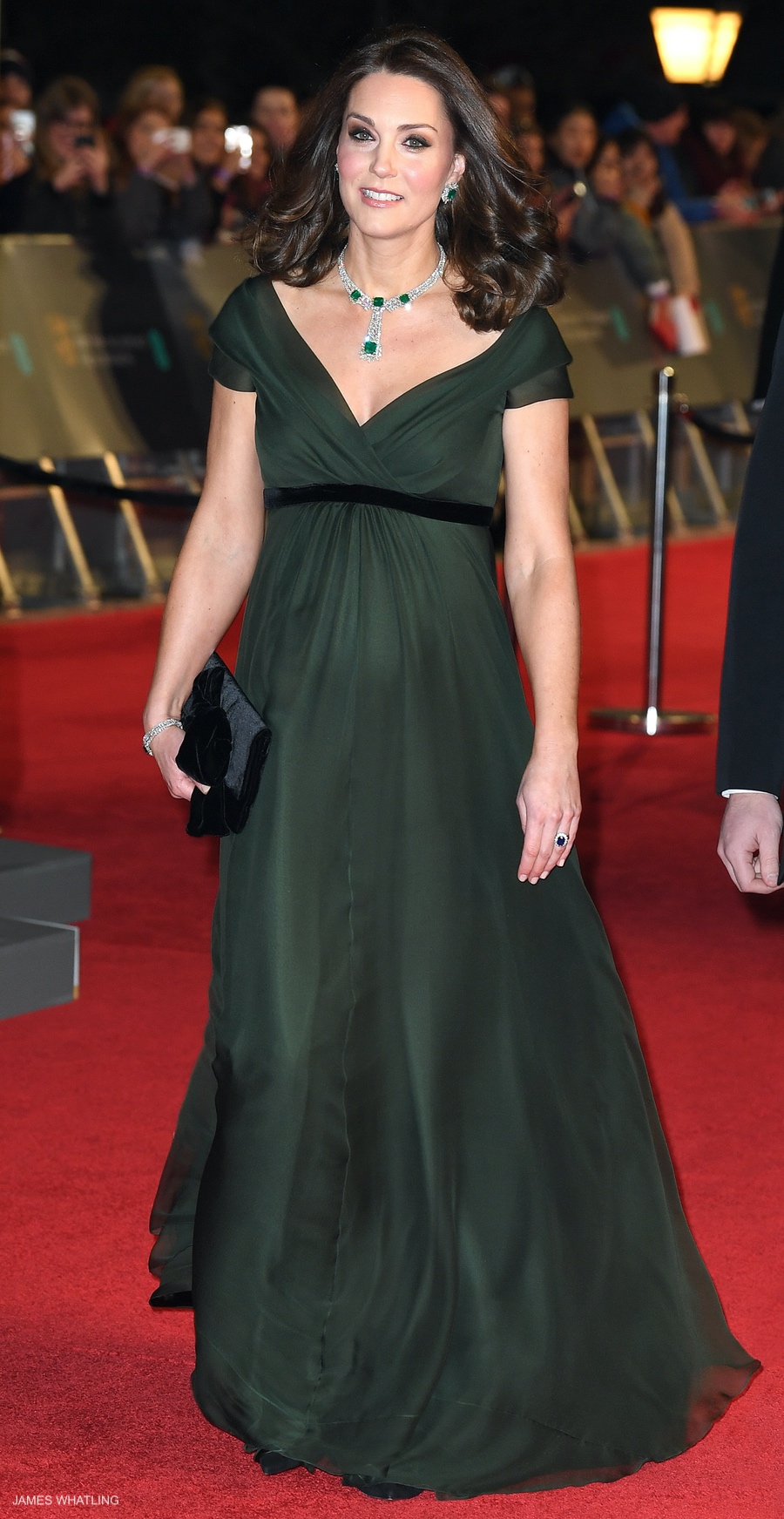 On the 18th February 2018, the Duchess of Cambridge (Kate Middleton) attended the 71st British Academy Film Awards (BAFTAs) at the Royal Academy Film Awards in London. The awards ceremony honours the best national and foreign films of 2017.
Kate accompanied Prince William on the red carpet. The Duke is the President of BAFTA. The Royal Family have a long history of involvement with the Academy. William was appointed President in 2010.
Kate had to balance on a "diplomatic tightrope" at the ceremony. All of the female attendees were encouraged to wear all-black in a show of support for those who have been affected by sexual harassment and assault in Hollywood and beyond.
While nearly every actress wore black, Kate chose a deep, bottle green shade. This is because it's an unwritten rule that members of the Royal Family must avoid making political statements. I believe she chose the closest colour to black and accessorised with black accessories (shoes, clutch, bow belt) to show her allegiance to the movement.
A note about Kate's dress choice in the Telegraph:
On one side, there were the industry's biggest stars, turning the Bafta red carpet black in their visible support of the Time's Up movement; on the other, the traditionalists insisting the Duchess of Cambridge could not be drawn into a global protest about sexual harassment and gender equality.

On Sunday night, the Duchess attempted to walk the diplomatic line, eschewing an unofficial all-black dress code to see the cream of British cinema honoured at the Royal Albert Hall.

Her choice of a dark green Jenny Packham dress with a black ribbon appeared to please and offend in equal measure, apparently designed to avoid the scandal of a future queen making an overt statement that could be perceived as political.

The movement did not, however, go unnoticed; instead of sending a message through clothing, the Duke acknowledged it in writing [his speech].
Kate's outfit:
Here's how Kate's outfit was described on the Telegraph's Fashion website:
The gown, notably similar to a navy blue Jenny Packham design Kate has worn in the past, featured a flowing, empire-waist cut and elegant puddle train