As part of this year's Diamond Jubilee celebrations, Kate attended an event at the plush London department store Fortnum and Mason yesterday.
She accompanied the Queen and Camila, the Duchess of Cornwall; the royal trio spent an hour touring the store, before the Queen unveiled a plaque to commemorate the regeneration of the Piccadilly area.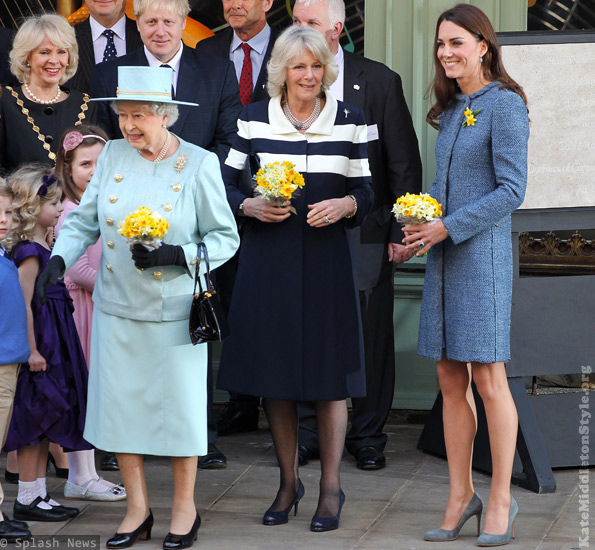 Inside the store, the ladies were presented with wicker hampers filled with a number of luxurious items, including truffles, soaps and macadamias.
Doggy treats:
Apparently, the inclusion of some dog biscuits, named "hearty treats for happy hounds" made Kate giggle inside the store; we think Kate's new pup Lupo will be very pleased with his mistress's loot!  The managing director of Fortnum and Mason spoke about giving the royal ladies dog biscuits saying, ""Of course they all have dogs and we do want to think about what our customers like."
The three generations of royals open their hampers.  Image  © Fortnum and Mason
"All girls like chocolate"
On the shop floor, Kate viewed some of the delectable delights on offer, confessing her "love" of chocolate, adding "I think all girls like chocolate".  However, the royal ladies were not able to try any of the treats during the visit. Camilla said she'd pop back later for a box of violet creams, stating she finds them "addictive".
Jubilee commemorative china tea set at Fortnum and Mason.  Image  © Fortnum and Mason
Fortnum and Mason is respected for its wide range of tea, something they label as their "speciality".  In fact, they go as far as saying tea is "close to their hearts".  In the store, Kate mentioned that she likes tea, but told members of staff it's her brother who is the addict:  "I will tell my brother to come down. He really does love his tea".  The Duchess also confessed that the last time she made a pot of tea with dried leaves she "got it very wrong".  Oh dear!  Hopefully somebody will offer to give her a lesson?
Charitable deeds:
The Prince of Wales website shares that Kate, Camilla and the Queen all met members of the Armed Services, who are involved in a Gifts For Troops scheme:
"The scheme sees packages of tea and biscuits sent to soldiers serving in Afghanistan. More than 15,000 troops will receive a commemorative tin containing the store's Queen Anne tea and clotted cream digestive biscuits to enjoy over the Diamond Jubilee weekend."
Kate's outfit for the Fortnum and Mason visit:
With all the excitement of the visit, I almost forgot to share the details of Kate's outfit with you!  So let's take a closer look at what she chose to wear on this occasion: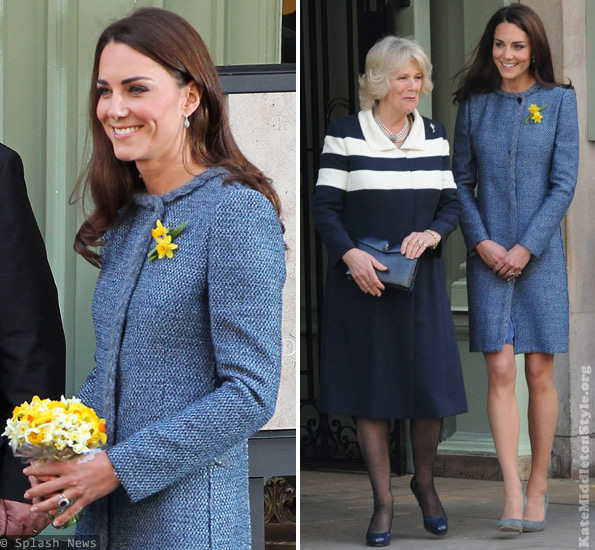 Kate wore a blue (tweed or boucle) Missoni jacket, from the expensive brand's diffusion line "M Missioni".  It featured frayed edges and looked almost unfinished!  The Daily Mail ran a story confirming the designers had intended the jacket to have "shabby chic" look!
With thanks to What Kate Wore, we can share this tweet from Simon Perry of the People magazine, which explains that Kate picked the jacket up for a bargain price:

Over on Facebook, friends Michelle and Thea share this M Missoni jacket (left) that appears to be from the same collection, albeit a shorter version of Kate's coat.  The jacket is no longer for sale. However, Megan also shares the same jacket in red, which *is* for sale on the Yoox website (US6 or UK10).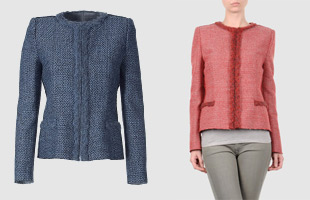 If you have a few thousand dollars spare, there's currently a long M Missoni jacket identical to Kates on eBay
, in red / US4: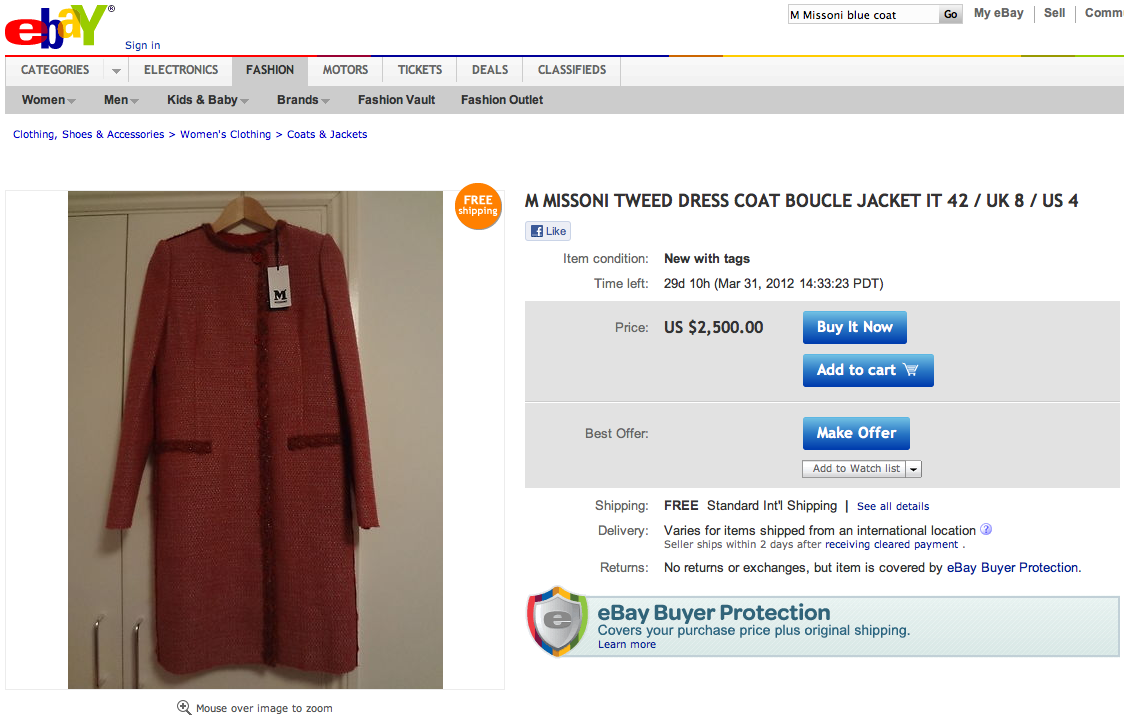 With thanks to Desirree for sharing this.
Back to Kate's: the Duchess pinned daffodils to her coat in celebration of St. David's Day.  St. David is the patron saint of Wales and the daffodil symbol is associated with Welsh heritage.  They also symbolise the Spring and to me, they seem very cheery; a clear sign the winter is over!
On to Kate's feet: you may recognise she's wearing her Rupert Sanderson Malone heels, which are a grey suede colour.  Kate wore these shoes back in June to the Order of the Garter service.  They're still available to buy on the Rupert Sanderson website.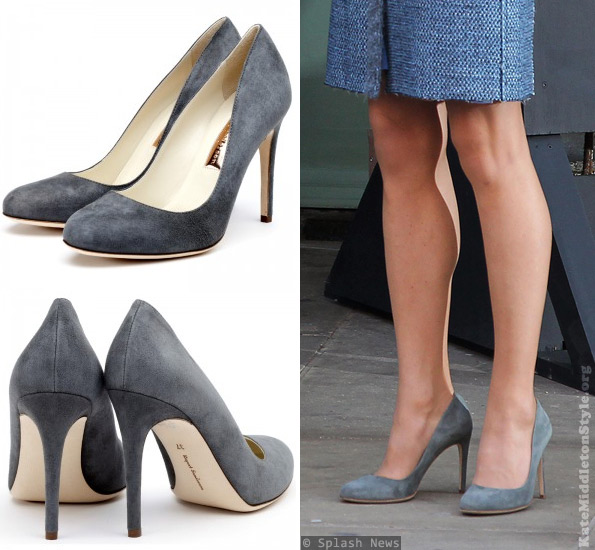 If, like me, you really love the elegant-style of Rupert Sanderson's shoes but can't quite afford the price tag, Yoox has older seasons in stock for around £100 less than the asking price, which I noticed after looking for the Missoni jacket.
Anna from My Small Obsessions shared that Kate chose to wear her Hope Egg earrings from Links of London.  The earrings are still available to buy from Links of London and cost £275.00.  Click here to see them on the Links of London website.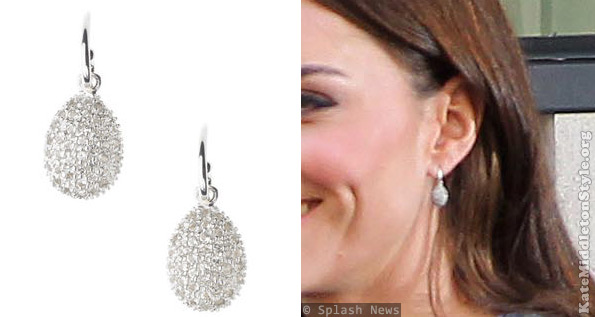 Under the dress, in some photos, you can spot light pleats and a cornflower blue material, signalling that Kate wore her blue Zara dress too.  This is the same blue dress Kate wore the morning after her wedding, and more recently, to Prince Phillip's 90th Birthday service, under her Kane Troughton brocade coat.