· Will and Kate attend inter-faith service
· Kate's wears Canadian Designer Erdem
· Scroll down for similar blue lace dresses
Today Kate and William start the fourth day of the Royal Tour attending an inter-faith prayer service aboard HMCS Montreal.  The day progresses with a youth discussion at Maison Dauphine, a Freedom-of-the-city ceremony at Quebec City Hall and a trip to Citadelle.  The couple attended more events but these are covered in the next post (to keep in sync with Kate's outfit change).
Kate's outfit:
Kate was photographed wearing a blue lace dress by Erdem, which she teamed with her 'usual' nude/beige accessories:
Here's a good snap of Kate's outfit: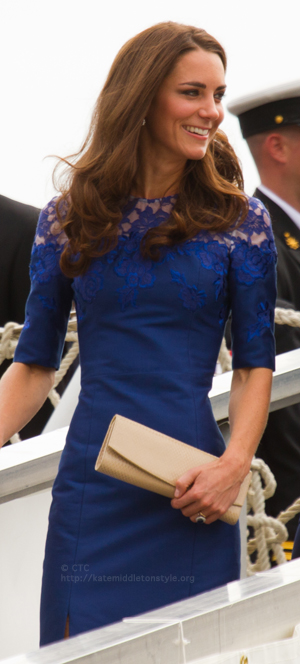 Kate's dress:
Eagle-eyed Anne named Kate's blue lace dress by Canadian designer Erdem straight away, about 9 minutes before it was confirmed by Clarence House: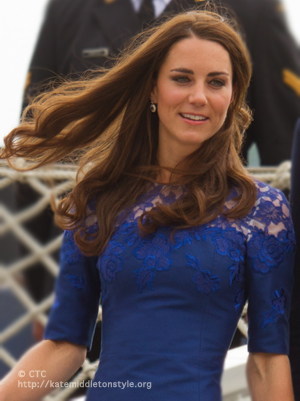 Once Clarence House confirmed the Erdem dress, Twitter was awash with details:

Kate's shoes, pumps & earrings:
Kate appears to have accessorised her blue lace dress with her classic nude L.K. Bennett heels (you know, the ones she's worn about 20 times now!) and the (as yet unknown) beige print handbag worn recently to Wimbledon and on day one of the tour.  Kate also wore the sapphire and diamond earrings that seem to match her engagement ring: