· Kate recycles white Reiss dress
· Kate's red shoes by Hobbs!
· Red Lock&Co hat confirmed
· Anya Hindmarsh clutch IDd
Catherine and William celebrate Canada Day with a full programme of events today, kicking things off with a citizenship ceremony at the Canadian Museum of Civilization.   After the ceremony there was no outfit change for Kate, who attended the official Canada Day show as guests of honour shortly after.
Kate's outfit:
Kate's outfit can certainly be described as festive as she teamed a white Reiss dress, red Lock&Co hat and Anya Hindmarch fan bag with red pumps.  Scroll down for the details:
Left: © CTC & Right: © Jessica, a blog reader who managed to get close to the action today!
Kate's Dress:
She wore the cream Reiss dress from her engagement portraits, known as the Nanette.  The dress is described as the "epitome of modern elegance" by Reiss.
Reiss Nanette dress & Kate wearing the garment for the official portriat of the couple's engagement. © 2010 Mario Testino.
Here's an image of Reiss confirming Kate is re-wearing the item:

Kate's Hat:
Kate accompanied her outfit with a red hat, designed by Sylvia Fletcher for Lock & Co (I'm sorry, I've forgot who first tweeted this).
The red hat was made more festive by the Canadian maple leaf attached to the top!
Gorgeous!
Kate's handbag:
Kate carried a straw fan shaped clutch bag by designer Anya Hindmarch. Kate last opted for a Hindmarch bag with the Reiss bandage dress when she met the Obamas.

Thanks to the eagle-eyed spotters on WhatKateWore's facebook page & Chiara for letting me know!
Kate's red shoes:
UPDATE: The amazing, wonderful and fantastic Brittany found the shoes.  Not only are they on sale, but there are SOME LEFT IN STOCK!!!
Thank you to Brittany who tweeted them to WKW, who in turn alerted me to them!
Yes, that's them see:
The red shoe (described as 'cherry' coloured)  is still available in sizes 36.5, 57.5, 40.5 and 42.     So get your hands on them quick, because at this price they won't be around for very long!
UPDATE: on my quest to find the shoe elsewhere, it appears they used to be on sale in House of Fraser, but they're out of stock too.  So it may be useful to check your local store.
These red Hobbs shoes in John Lewis are not too dissimilar, patent red, pointy and with a low heel.  A good alternative if the Kate shoe has sold out in your size (however, they are all in low stock, so again, you may wish to hurry!)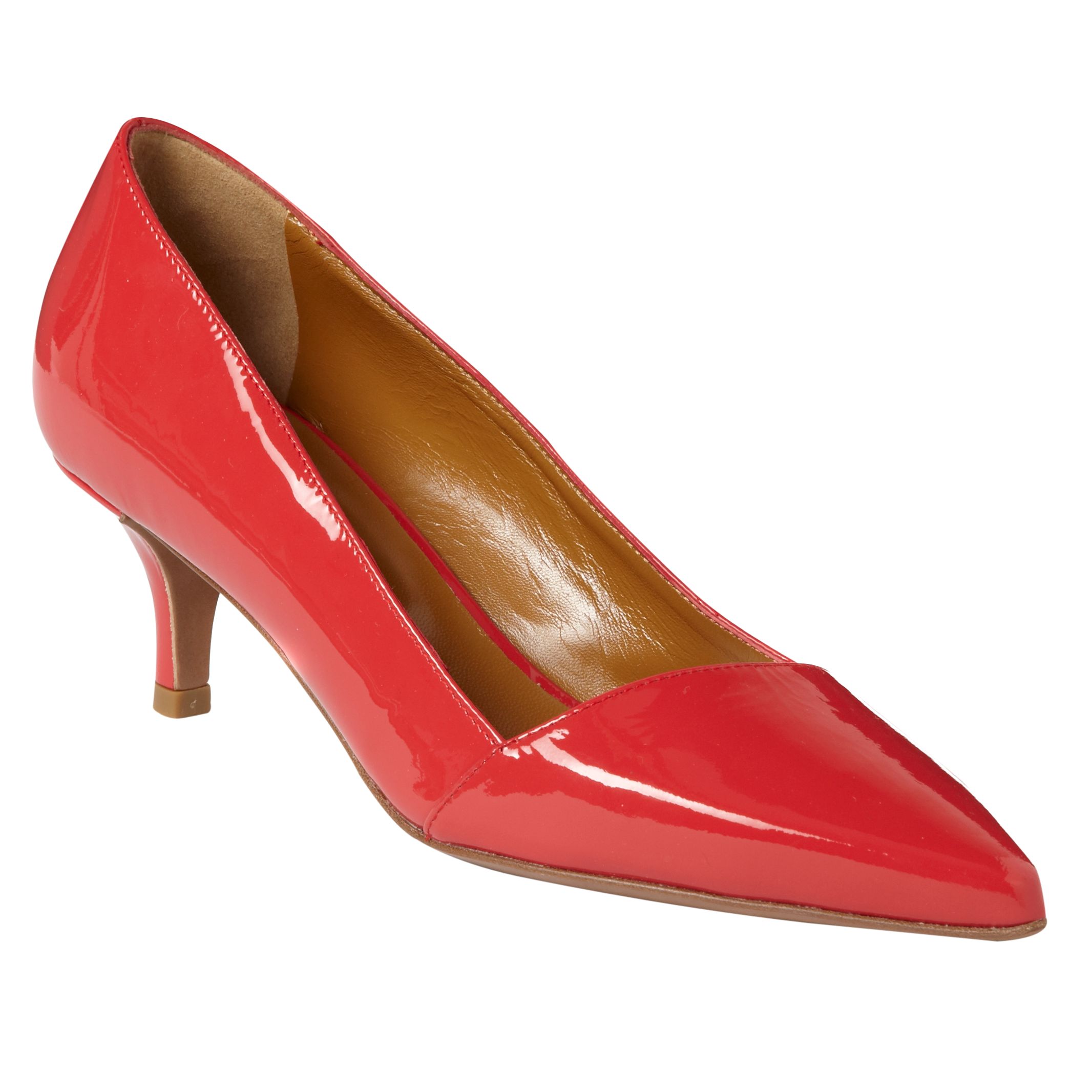 Kate's Jewellery:
Kate appears to be wearing a thin silver bracelet, and – I think – silver necklace with a stone in the middle.
The main piece of jewellery everybody was talking about today was Kate's maple leaf brooch:

As I read on Twitter (again, sorry I've forgot where!) the brooch was worn by the Queen on her first official visit to Canada too, as a Princess!  A lovely tradition starting here!