Yesterday, fans only expected one sighting of Kate, but were treated to two when the Duchess visited Olympic Park earlier in the morning!  This meant style fans were spoilt with two outfits to covet, discuss and identify!  (We covered Kate's earlier trip,where she wore red jeans and a blue blazer, here.)
The afternoon events saw Kate don a grey pleated dress for her official engagement at a picture gallery with Camilla and Prince Charles.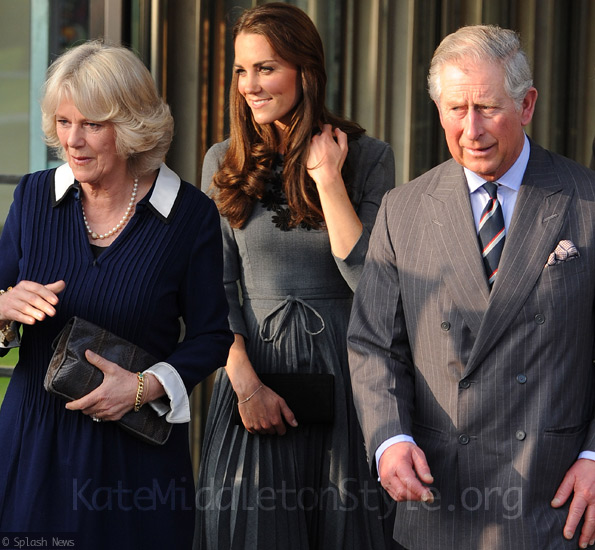 About the visit:
The royal trio visited the Dulwich Picture Gallery to see the work carried about by the Prince's Foundation for Children and the Arts.   During their time at the gallery, Charles, Camilla and Kate all met school children and participated in the activities.  One of my personal highlights from the visit is Kate and Prince Charles ironing participating in an art project, both ironing transfers onto silk.  Here's a picture:
Picture by BBC journalist @LuisaBaldin1 via Yfrog.
The event made quite a few headlines this morning, especially as Prince Charles struggled with his transfer.  Watch this video of the two working on the project and prepare for a giggle.  Charles asks several times whether his iron is "even on" (typical man!) and Kate comments that she feels as if she's back home doing the ironing.  Talk about gender steretypes!  Also, note how Charles leaves the iron face down on the table (fire hazard!) and Kate spots it after a second and picks it up for him as he walks off!
About Kate's outfit:
As this is a style blog, we best discuss Kates outfit in some detail!  I must say, she looked spectacular in this grey pleated dress by Irish designer Orla Kiely, and the black daisy appliqué adds lovely detail to an otherwise plain dress:
Yes, it is another grey dress and fans are becoming tired of the drab colours Kate's wearing at the moment.  We're also noticing she's wearing pieces from previous collections, which are then harder for us fans to buy  (my guess is she's buying older items from places such as Bicester Village, an outlet we know she often frequents.)  You may also note that this is the second time Kate has worn Orla Kiely recently, she wore the label on her visit to Oxford last month too.  (Also to a children and art-related charity – I'm seeing a theme here!)
She accessorised her dress with a pair of Links of London earrings, her black bow clutch bag and her Episode shoes, which were originally IDd from the Leicester trip last week.
Get Kate's Style:
If you're sad because the Orla Kiely dress is nowhere to be found online,  never fear!  I have two options for you to try.  Again, they're not 'exact matches', but more of an inspiration from her outfit yesterday.
I think these looks are great if you're off out for a nice dinner, going to a semi-formal event or something similar.  The jersey effect of the materials keep the look casual, but the heels and bag will dress them up nicely.  Prices and links after the image:
Left:  Hobbs NW3 grey pleated dress – reduced to £66.
Right:  Dorothy Perkins grey pleated dress – £35
Necklace: East antique silver style bib – £16
Clutch: Barratts from Debenhams – £18
Belt: ASOS bow belt – £8
Shoes: Dune from John Lewis – £35
(Please note, as I've not tried any of these on I can't possibly say for sure that the necklace will fit over the dress like that, but you can see the effect I was trying to achieve!  Alternatively, you could buy some daisy applique material from a local haberdashery and sew it on for a DIY job!)