On 16th November 2010 William and Kate announced their engagement.  Kate wore a blue Issa dress for the photo call to officially announce the news to the media.  Here's a reminder of the then Kate Middleton wearing the blue wrap dress: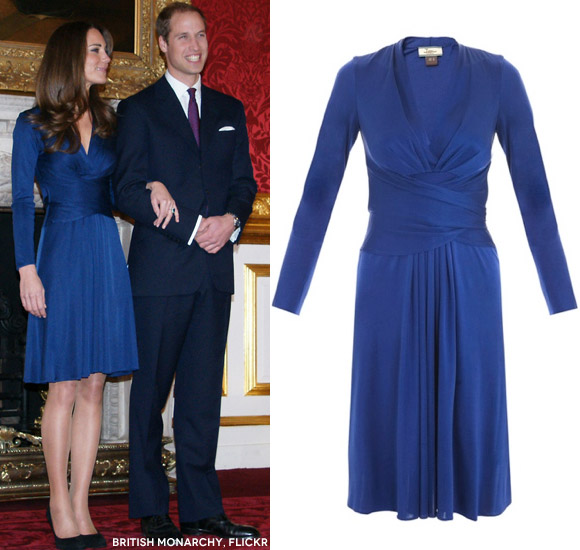 Kate Middleton, in the now famous blue Issa wrap dress.
Her engagement to Prince William was just announced.
Issa's reaction to Kate wearing their dress:
Back in 2010, Daniella Helayel was still the owner of the Issa brand, and designer of the dress Kate wore.  She told PEOPLE magazine she was thrilled Kate chose the blue wrap dress to wear on the momentous occasion:
"We are thrilled with the engagement news and I'm very happy that she has chosen to wear Issa today.  She is a very pretty and lovely girl."
The "engagement" dress remains VERY popular today – it will remembered fondly by royal fans for years to come.
Buying the Issa "engagement" dress  today:
Issa reissue the silk wrap dress from time to time, sometimes in the same blue fabric, and sometimes a shade lighter or darker to complement the coming season trends.  They also reissue it in beautiful printed patterns too (see bottom of this page).
As of 2015, Issa have been referring to the Issa engagement dress as the "Phylis" dress. At the time of writing (September 2015), the Phylis dress is available at Harvey Nichols –
Here's the Phylis dress at Net-A-Porter.com – I believe this is a shade darker than Kate wore –
The same dress is also available at FarFetch –
How demand for Kate's engagement dress almost shut down Issa:
Camilla Al Fayed, Issa chairwomen told EntertainmentWise.com in early 2013 that demand for Kate's engagement dress almost crippled the company back in 2010/ The London-based label struggled to cope with the influx of orders that followed:
"It absolutely sky-rocketed the brand on a global scale, but it was too much. Demand was so huge the business couldn't cope. If Kate wears a Zara dress, these huge companies have the backing to follow through. Issa was basically run by interns, students and Daniella [Helayel, the label's founder and designer]. There was no business model."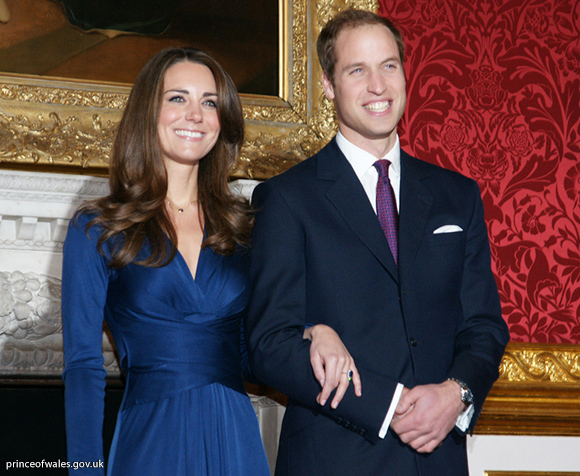 Prince William and Miss Catherine Middleton announce their engagement.
This is an image from a photo call at St. James's Palace.
Shop Issa wrap dresses:
The wrap dress is a signature look for Issa London, who continue to sell the style today.  It's continually updated with new prints each season. Here's a selection of the dresses I found using ShopStyle Collective –
Re-live Kate & William's engagement announcement:
Relive the nostalgia with this 17 minute long video of Will and Kate discussing their engagement, plus you get to hear Kate speak!