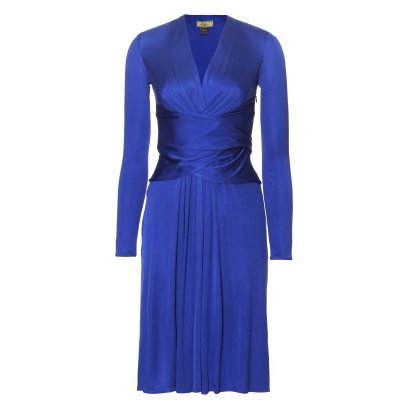 Shop this dress in a different print:
William and Kate announced their engagement to the media on November 16th, 2010.  Kate wore a blue Issa dress to a photo call at St James's Palace.  Here's a reminder of the then Kate Middleton wearing the blue wrap dress:
About the Issa wrap dress:
The blue Issa wrap dress is knee-length, a v-neckline and bracelet length sleeves.  The dress is wrapped at the waist with a belt and the skirt falls in soft pleats.
This is how Issa described the 2015 version of the dress on their website –
The classic Issa wrap dress in royal blue is the ultimate wardrobe staple, taking you from day to evening with ease. This ultra flattering shape with V cross front neckline and long sleeves is belted at the waist and sits just above the knee. Fabricated in the brands' signature silk jersey.
Issa's reaction to Kate wearing their dress:
Back in 2010, Daniella Helayel owned the Issa label and designed the dress Kate wore.  She told PEOPLE magazine she was thrilled Kate chose the blue wrap dress to wear on the momentous occasion:
"We are thrilled with the engagement news and I'm very happy that she has chosen to wear Issa today.  She is a very pretty and lovely girl."
The "engagement" dress remains VERY popular today – it will be remembered fondly by royal fans for years to come.
Buying the Issa "engagement" dress  today:
Sadly, Issa closed its doors in 2015.  The dress is no longer available to buy.
Several outlets like Yoox and The Outnet still sell some of Issa's older pieces though:
Re-live Kate & William's engagement announcement:
Relive the nostalgia with this 17-minute long video of William and Kate discussing their engagement, plus you get to hear Kate speak!