NOVEMBER:
WEDS 22nd November – Birmingham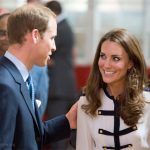 William and Kate will undertake three different engagements in Birmingham.  They'll visit the Jaguar Land Rover Solihull Manufacturing Plant, a Coach Core programme at Aston Villa Football Club and Acme Whistles, the world's largest and most famous producer of whistles.
This isn't the first time the Cambridges have visited Birmingham together.  They last visited in 2011 after rioting took place in the area.
---
FRI 24th November – Royal Variety
The Royal Couple will attend the Royal Variety Performance at the Palladium Theatre on 24th November.
This isn't the first time they've attended the performance.  They also attended in 2014.
---
TUE 28th –  Foundling Museum
Kate will visit the Foundling Museum in London, which explores the history of the Foundling Hospital, the UK's first children's charity and first public art gallery.
Kate will see how the Museum uses art and creativity to support and engage children and vulnerable families.
2018:
William and Kate will visit Sweden and Norway in "early 2018."  I'd hazard a guess that this will take place in either January or February, as Kate's due date is speculated to be around April.