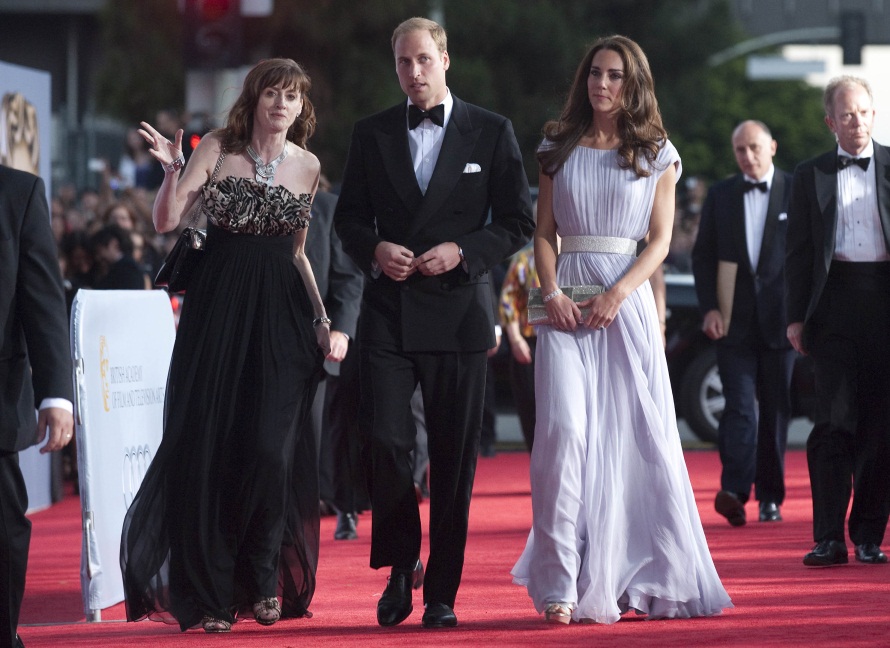 In 2011, The Duke and Duchess of Cambridge spent several days in the USA, as part of their North American Tour.  On the third day, the royal couple attended a black-tie event held by BAFTA (the British Academy of Film and Television Arts) at the Belasco Theater in Los Angeles.
This was BAFTA's first annual "Brits to Watch event".  The Duke and Duchess' attendance showed support to British creative talent and BAFTA's year-round work.
Here's a photograph BAFTA CEO Amanda Berry chaperoning William and Kate down the red carpet.
BAFTA have a long history with the royal family, in fact, all but one of BAFTA's presidents in its history have been members of the Royal Family.  HRH Prince Philip, The Duke of Edinburgh, was the organisation's first president in 1959.  Today, Prince William is BAFTA's president.
Kate's outfit:
Kate wore a bespoke lilac gown designed by Alexander McQueen.  It is pretty similar to this off-the-peg grecian-style dress by the same designer:
Here's how the off-the-peg dress was described on Net-A-Porter.com:
Alexander McQueen's gorgeous Grecian floor length gown will leave you feeling like a modern day Aphrodite. Cinch in the cascading layers with McQueen's signature fuchsia belt and adorn yourself in gilded extras for a show stopping finish.
Kate's shoes and handbag at the were both by designer Jimmy Choo.
Kate's wearing the Jimmy Choo Vamp sandals in a "silver glitter finish."  Today, the company no longer sell this colour – however, they do stock the Vamps in a silver-gold colour called "Champagne."
Jimmy Choo's Vamp is a staple piece in their collection, they are always updating the style in new colourways:
Kate carried a coordinating Jimmy Choo handbag, the style name is the "Ubai."
Net-A-Porter used to stock this clutch bag in a different colour – they say that the Ubai's compartments are perfect for holding cards and cash, making it the ideal perfect party companion.
As you may have noticed, Kate wore a sparkling diamond bracelet to the event.  According to RoyalInsight.net, the bracelet was a gift:
"The diamond bracelet and matching earrings worn by Her Royal Highness to the reception was a gift from The Prince of Wales following her marriage to Prince William in April 2011."
Currently, we know very little about the piece, and sadly, we do not know who designed it.
Finally, Kate wore a pair of stunning chandelier drop earrings. As Anna from My Small Obsessions confirms (below) the earrings were loaned to Kate from The Queen's collection.