Things are all quiet on the Cambridge front after last week, when Kate took George to watch his Daddy play polo.  Yesterday (June 21st 2015) was both Father's Day AND Prince William's 33rd birthday, so we expect the family celebrated the special day in private, as a family.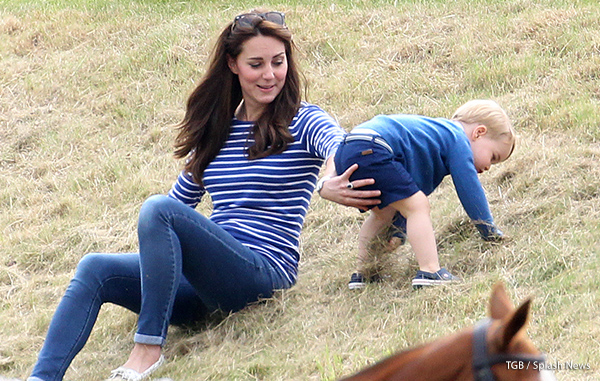 We'll probably hear very little about the Cambridges for the next two weeks, before Princess Charlotte's christening on July 5th.  To tide us over until then, I have plenty of news tidbits and fashion-related updates for you!
– – – – –
News & Gossip:
This weekend, The Telegraph published an interview with ME+EM's founder Clare Hornby.  Hornby tells the newspaper that along with the two Breton tops, the Duchess purchased a pair of the label's "High Rise" skinny jeans too.  The jeans come in dark ink, faded ink and black. It is not known which colour Kate bought.
In the article, Hornby also revealed that there's a waiting list of over 5,000 people for the striped top Kate wore to the polo. (Add your name to list by preordering here.)

PS) Did you see that Kate's ME+EM's Breton top has been dubbed the "miracle top", apparently the fabric and cut are designed to fit in all the right places and show off the most slimming parts of the body?
If you're thinking of ordering, I'm told that sizing up is a good idea if you're on the cusp of two sizes.  A couple of ladies over on our Facebook page say the top is "form fitting", and were pleased they ordered up a size.
On to the next bit of news now:  Michelle Obama visited London last week and met Prince Harry at Kensington Palace to discuss her "Let Girls Learn" initiative.  She didn't arrive empty handed.  She bought a number of gifts for Prince George and Princess Charlotte along with her, including an Amish rocking chair and an alpaca blanket for the princess and a red Berlin Flyer P-Wee Wagon (see below) for the little prince.  I'm kind of hoping we'll see pictures of George being pulled along in the wagon by William!
The Royal Mint announced they will celebrate Princess Charlotte's christening on July 5th by releasing a new commemorative coin.  The coin's design needs to be approved by the Duke and Duchess of Cambridge, the Queen and Chancellor George Osborne, then it will be announced to the public.  Read the story on the BBC here.
Finally, some of you may have seen a tweet announcing that Kate will visit a "Grow a London Garmet" project at a school soon?  Sadly, this is a mistake.  It's the Countess of Wessex that will be visiting the school – not Kate.
– – – – –
Sale season is here, Yay!
We have plenty of exciting sale round-ups for you this week…. First, Kate's Mint Velvet Bibi plimsolls are on sale.  You may recall the Duchess wore these shoes frequently during her pregnancy with Prince George, and then again in Australia during the 2014 tour. At the time of writing, the grey/taupe style is only available in size UK3/EU36.  However the brand's new "mint" colour Bibi plimsolls are also reduced and available in a number of sizes.  Shop them here.
Next up, Kate's Stuart Wetizman Corkswoon wedges.  Kate has worn the blue suede version of these wedges on multiple occasions (see example below).  They're quite the staple in her closet!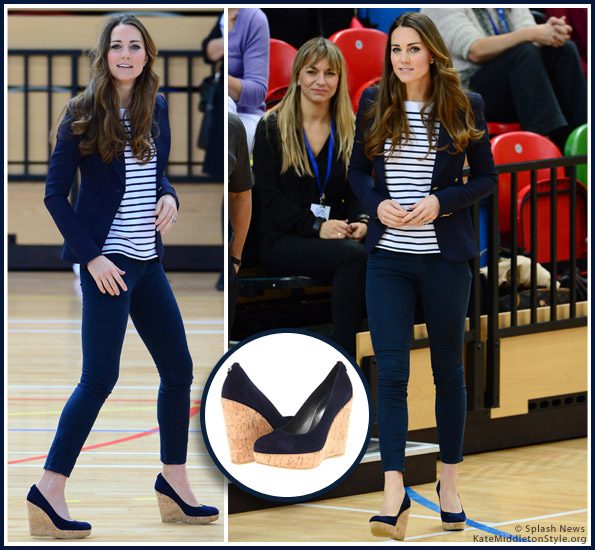 I've found two places where the Duchess's blue Corkswoons are on sale (at the time of writing), which is very rare because of their popularity with fans.  First up, BlueFly.  The shoes are $288 down from $398, but only available in very limited sizes.  The wedges are further reduced at Footnotesonline, currently on sale at $278.60.  Again, only limited sizes remain.
In addition, the Corkswoon wedges in "pyrite" metallic are now reduced on StuartWeitzman.com's USA website.  They now cost $259 and come in a full range of sizes.  Click here to shop.
Remember when Kate visited Uluru wearing the Hobbs Wessex dress? The brand rereleased the dress in a blue check print this summer.  It's now on sale.  Shop it here.
During her first few years in the royal spotlight, Kate wore her nude coloured L.K. Bennett Sledge pumps to nearly every public event and with good reason too.  They're elegant, fashionable and above all – comfortable.
Sadly, the nude colour rarely go on sale because they're so popular.  But plenty of other colours go on sale. If you know where to look, there are some fantastic deals available:
Finally, Beulah London are giving Kate fans an exclusive treat with FREE international shipping when you spend over £150 with code: BeulahLondonTreat (all one word).  It's the perfect excuse to buy if you're in need of some occasion-wear this summer.   Kate's silk "Sabitri" dress is still available on the site in navy blue.
– – – – –
Kate's shoes – new colours for the new season!
It's no secret that Kate's L.K. Bennett Sledges are probably my favourite thing in her closet.  I am lucky enough to own a pair in grey, which I bought for a friend's wedding a couple of years ago.  I'm always interested when the brand releases new colours.
Over on the UK/International website, the brand have released two new colours:  Ballerina pink and Metallic Chameleon.  The pink colour has been popular on Twitter, garnering a few replies, retweets and favourites!


On L.K. Bennett's USA/Canada site, the Sledge shoe is now available in Saffiano Bronze Metallic.  I'm thinking this would work for both summer (paired with a white dress and a killer tan) and winter (worn with a black dress and a black sequin clutch.)

If that wasn't enough to tempt you, Neiman Marcus now stock the Corkswoon wedges in a couple of cute new styles now too.  I've not seen any of these colours on the Stuart Weitzman website, or anywhere else this summer.
The Corkswoons now come in "Pink Jacquard" and "Gold Cava", along with "Jaguar", "Adobe", "White" and Lipstick".   See them all on the Neiman Marcus website here.
– – – – –
Come and say hi on Instagram:
Finally, just a quick note to say that I joined Instagram a couple of weeks ago.  If you want to see daily updates and photos, follow me on the platform, my username is KateMiddStyle.