Firstly: Happy Valentine's Day, Kate fans!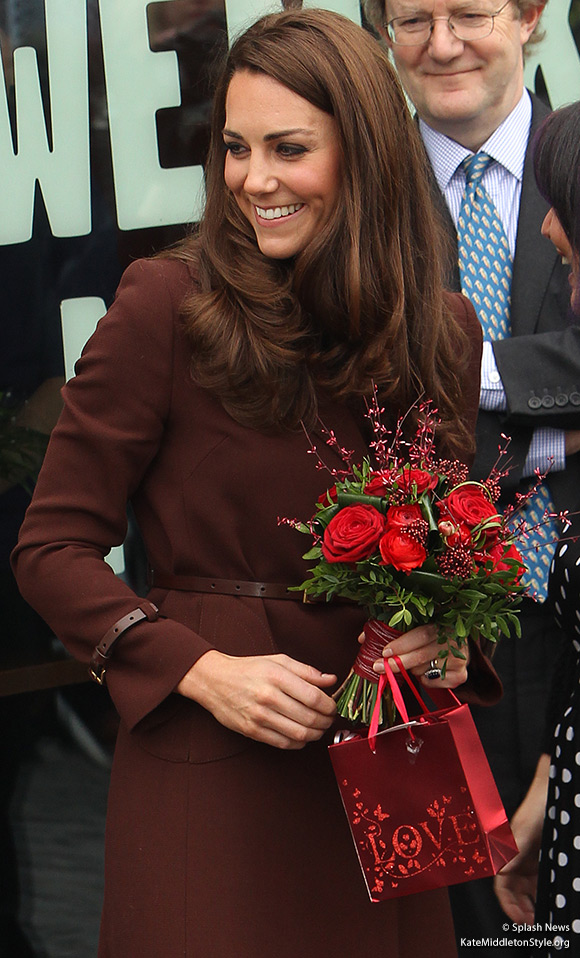 It's only the 14th of February, but we have lots of loose ends to tie up this month, I thought I'd quickly put together this royal round-up post for you.
Mustique & a new bag ID:
As most of you will already know, William and Kate flew back to the UK from the island of Mustique on Monday 9th February. The family were seen boarding a British Airways flight at St. Lucia airport. The photographs were far too blurry to ascertain details about Kate's outfit, other than she looked casual and comfortable, plus she had a scrunchie in her hair!
Will and Kate carry their own bags (and baby) on their way home from Caribbean http://t.co/hUKx0D2kf6 pic.twitter.com/5WQESAw2hV

— Daily Mail U.K. (@DailyMailUK) February 9, 2015
You can view the images larger on The Daily Mail.
As you can see, Prince William was holding one of Kate's bags – a blue floral overnight bag by Joules. Many people thought the bag was from Cath Kidston, due to the floral print – this is not the case.  Joules confirmed it was their piece on their social media channels.
The "women's overnight bag" comes in "bluposy", a print Joules used on many of their pieces. It dates back to at least 2011 (according to a blog we've found).
Joules no longer sell the "Bluposy" print bag, but they do have a couple of overnight and weekend hold alls in some beautiful floral prints if you're looking for something similar:

Private engagements:
Shortly after returning home from Mustique, Kate undertook two private engagements. The first was a visit to Bethlem and Maudsley Hospital School in Beckenham, Kent on the 10th February. The Duchess's visit was arranged through Place2Be, of which Kate is Royal Patron.
Update:  Kate's visit to Maudsley Hospital School was private and not publicised in advance.
A Kensington Palace spokeswoman said: "This visit was arranged through Place2Be, of which Her Royal Highness is Royal Patron, after learning about their work during the Place 2 Reflect conference last year to further develop her knowledge of the sector."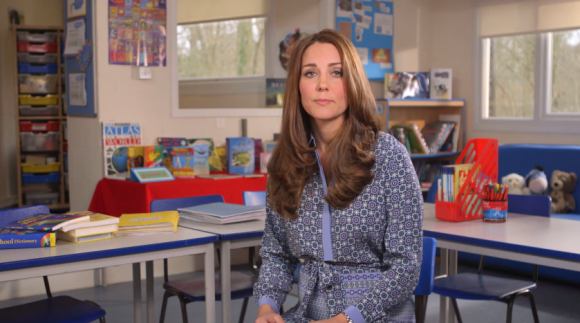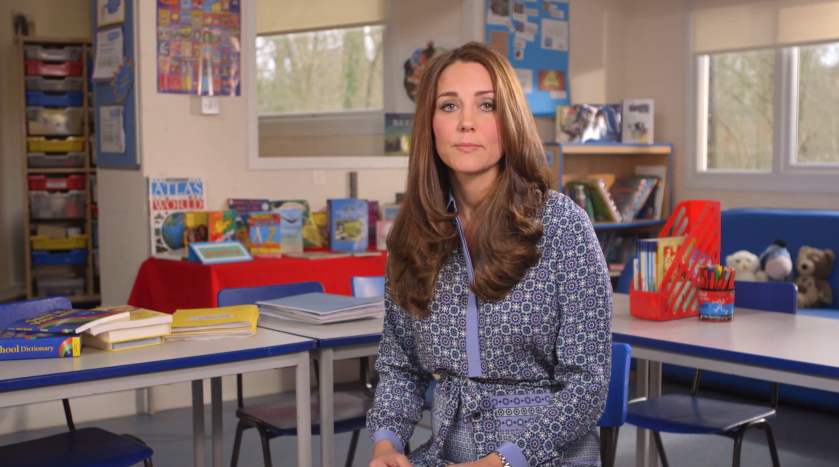 Kate met with students from three different units at the Hospital School. Students either met with The Duchess in person, or they spoke via video conferencing.
Kate, who visited the Hospital School for three hours in total, took part in a science experiment with children – also through video conferencing software.
During her visit to the Hospital School, Kate also filmed a video for Place2Be, showing her support for the UK's first Children's Mental Health Awareness Week, an initiative launched by the charity.
It is now known that Kate wore a silk shirt dress by Jaeger for the visit.  You can read more details about the dress here in the wardrobe section of this site.
~
Kate's second private engagement of the week was a reception with The Royal Foundation on February 12th.  The Foundation met to discuss palliative care hospices for children.  According to The Press Association, The Royal Foundation are looking at ways for support hospices for children with life threatening illnesses. You may recall Kate is Patron of EACH hospices and was involved with National Hospice Week back in 2013.
Fashion focus:  The Lasa dress is reissued for spring; 35% off Aquatalia Rhumba boots & more:
For ladies who love Kate's style, you might be pleased to read there's currently 35% off Kate's Aquatalia Rhumba boots at Nordstrom at the moment. You'll save quite a substantial amount – $275 off the retail price! I'm not sure when this deal ends, but at the time of publishing Kate's boots are stocked in most, if not all, sizes.
During the 2014 tour of Australia and New Zealand, Kate wore a white dress decorated with a turquoise blue poppy print design.  Here's a reminder: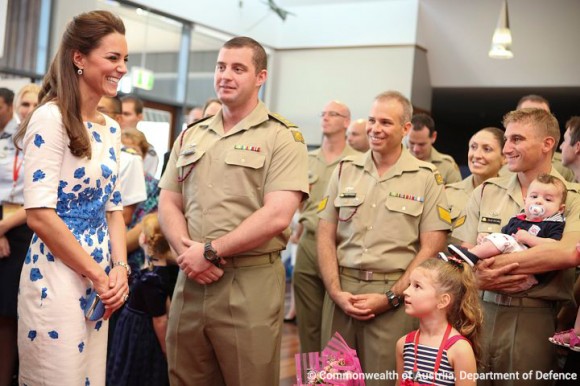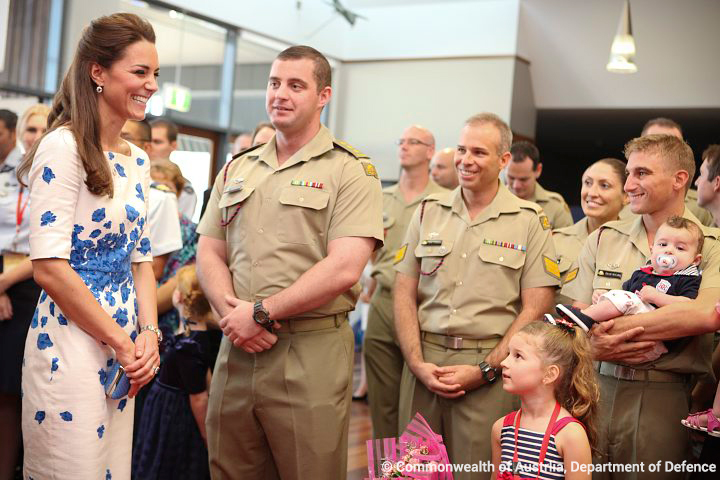 The dress was from L.K. Bennett, and it was known as the "Lasa".  It was an instant hit, selling out immediately and is still a highly sought after piece today, which is why it's unsurprising L.K. Bennett have released an updated version of dress for the new season.  The "Lasana" is strikingly similar to the "Lasa", both feature the bold coloured "exploding" floral design on a crisp white fabric.
The yellow version of the Lasana is available on L.K. Bennett's UK/International site, but not the USA/Canadian site. Currently the pink version is sold out on both sites.
If you closely followed Kate's visit to New York, you'll be pleased to read that Kate's Beulah London 'Amara' dress is now back in stock.
Here's a reminder of Kate wearing the dress during her visit to New York last December: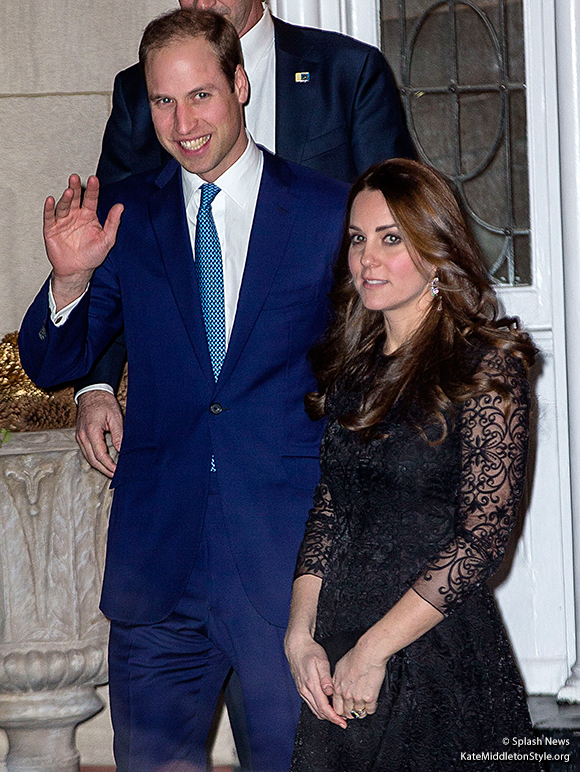 Beulah have also re-released Kate's Sabitri dress in a new 'red rose' print for spring.
Finally, I spotted these the other day.  I thought they were pretty awesome:
They're Kate's Stuart Weitzman Corkswoon wedges in a fab animal print.  They're $375 (at the time of writing).  They also come in the navy blue suede colour Kate wore and a metallic colour called "Pyrite."
Stuart Weitzman aren't the only brand jazzing up Kate's shoes in leopard print.  Sebago have been at it too:
We'll be back next week with a post about Kate's visit to Staffordshire on the 18th!  See you then!