There's plenty for you to enjoy in today's royal round-up.  From unseen video footage of Kate to a job listing at the royal couple's home;  from baby cambridge's due date to THE repliKate everyone's been asking for!  And so… much… more….! Grab a pot of tea and some cake.  You're going to need it!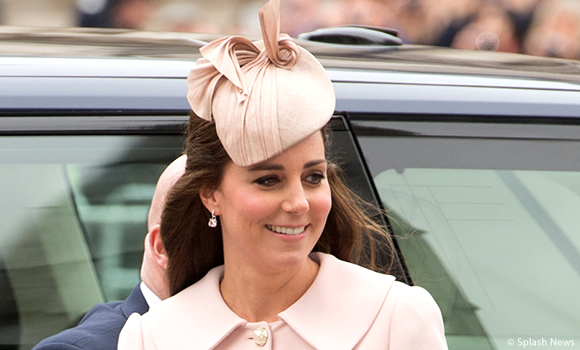 First things first, Kate took part in a number of public engagements of the last two weeks.  Here's what you might have missed:   Last week was her busiest one yet.  She looked pretty in pink for the Commonwealth Observance service at Westminster Abbey on Monday; she wore a spotty coat for an arty day out in Margate on Wednesday; she visited the set of Downton Abbey on Thursday and she looked regal and resplendent in blue for the Afghanistan service of commemoration on Friday.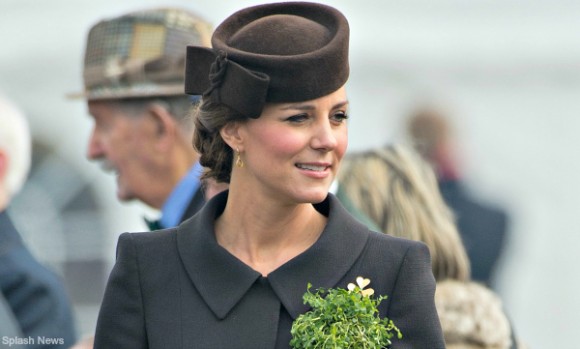 This week, she showed everybody brown is not bland at the St. Patrick's Day celebrations at Mons Barracks on Tuesday and she wore a £35 dress by ASOS in Woolwich on Wednesday.
Kate and George's day out:
A good friend contacted me earlier this week, to tell me her friend spotted Kate in London.  According to our mutual friend, the Duchess was with prince George at The Science Museum.  Our friend wasn't sure whether Kate was at the museum on a private engagement, or in a personal capacity.  Apparently, the Duchess was "friendly, down to earth, extremely beautiful and elegant."  There were loads of protection officers and staff at the scene too.
People magazine decided to follow up this lead.  They found that Kate had taken George to visit the Pattern Pod, a "multi-sensory" gallery that is targeted at the youngest children.
They added, a quote from an anonymous source at the museum:
"They seemed to enjoy themselves. It's lovely that she feels she can bring George here."
A museum spokesman could not comment further on George and Kate's outing, stressing it was a private visit
Of course, The Queen sent her first tweet at opening of a Science Museum exhibition last October!
This is the RepliKate you've been waiting for!
Earlier this week, fellow blogger Kate's Closet tweeted this wonderful repliKate for the Zimmermann Roamer Day Dress.  It is from Dillards:
The white eyelet dress is a very close match to the Zimmermann piece worn by Kate.  It even features the same stripes across the hem of the dress and on the sleeve cuffs!  It costs $169, view it here.
Dillards clearly know Kate fans are good for business, as they have another dress in stock UPDATE: this has since sold out. that's the spitting image of Kate's Temperley London Emblem Flare dress too. It's massively reduced at the moment ($34.65 at the time of writing), so snag yourself a bargain, click here to shop.
Would you like to work for Will & Kate?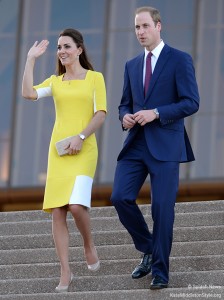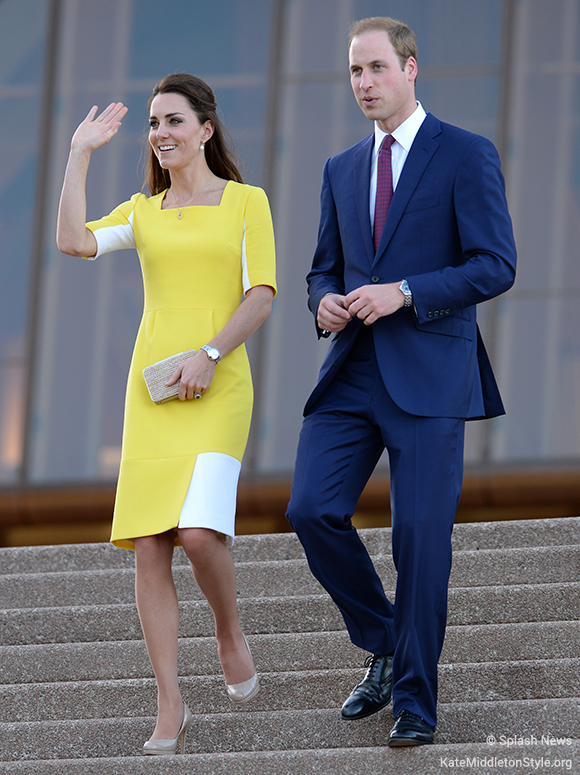 At the start of this week, Rebecca English from the Daily Mail tweeted that the Duke and Duchess are looking for a housekeeper to work for them at Anmer Hall, their home in Norfolk.  They're advertising in The Lady Magazine.
The job is full time, and requires "the preparation of meals, assisting with childcare and caring for dogs." Self-contained accommodation will be provided, and "discretion and loyalty is paramount."
The job closes on Sunday 5th of April. You can apply here!
Baby due date narrowed down:
There has been plenty of speculation over Kate's baby due date. The media and royal watchers had long assumed that baby Cambridge #2 will be born in late April 2015. Then The Sunday Times published an interview with artist Paul Cummins, who said Kate nearly missed the Tower of London engagement in August 2014, because her pregnancy was making her feel ill. This pegged the baby's arrival for early April 2015. (Read all about this in an earlier blog post I wrote, here).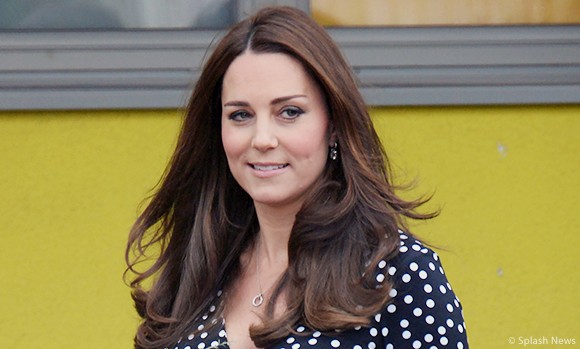 Alas, the mystery has been solved this week.  Well, sort of.  During the Home-Start visit on Wednesday, Kate mentioned that her baby was indeed due "mid to late April."  So still not an exact date, but we can relax for now:  no need to start Royal Baby Watch, The Sequel quite yet. We've got a few weeks to wait!
A new-but-old video of Kate surfaces:
Remember when Duchess Kate wore that gorgeous teal Jenny Packham dress to the 2012 Olympic Games reception? A video from inside the reception has emerged today, ITN (British news provider) uploaded it to YouTube earlier this week.  Sadly, they have disabled embedding, so you'll need to click through to YouTube to watch it.  Go on, we'll wait for you to come back…
Did you see how Kate's dress and jewels glitter and glisten! Oh, to be a Princess!  Hat tip to: Patricia Aveiro (@PatriciaAveiroS on Twitter) for finding and sharing this with us, thanks!
Kate's boat print dress back in stock now (in several sizes)
Although the large red lettering on their page clearly states BACK IN STOCK IN MAY, John Lewis must have had an early shipment of the exclusive Somerset by Temperley boat print dress and not told their web developers!  Oops!  The dress is available in UK 8, 10, 12, 14 & 18 (US 4, 6, 8, 10, 14) at the time of writing.

In the name of testing, I was able to add the dress to my basket, check-out and choose next day delivery at a John Lewis store of my choice.  (I didn't actually complete the sale though, because I cannot afford pretty boat print dresses! *cries*)
A reminder of Kate in the dress: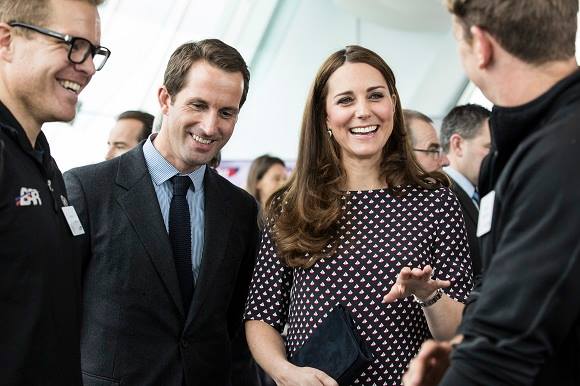 Asos CONFIRM they WILL restock Kate's polka dot dress:
If you missed out on the £35 / $53 dress that Kate wore to Home-Start earlier this week, never fear. The maternity piece will be restocked according to ASOS. The brand confirm they have new stock coming in next week.

And just incase you have a short memory, here's a look at Kate in the spotty ASOS dress: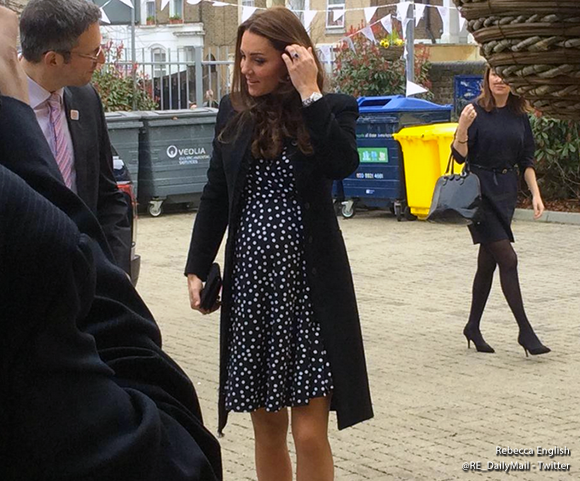 Three new engagements for Kate next week:
Did you hear, Kate will undertake three new engagements on Friday 27th March? Each engagement will support development opportunities for young people in South London. It's thought these will be the last public engagements before Kate goes on maternity leave.  Read all about them by clicking here.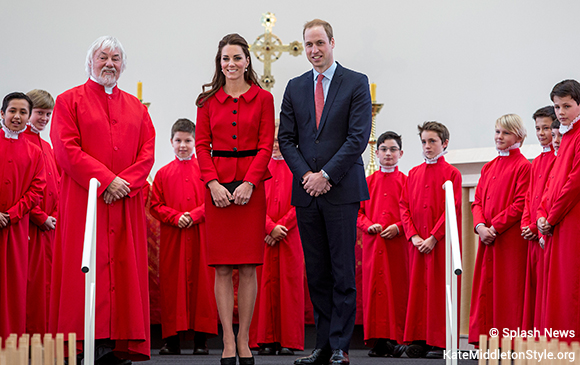 Fantastic sales:
It's that time of year, when all the shops want us to come in and look at their pretty new spring stock! Some of our favourite Kate-related brands are on sale this week.  Woo!
First, Jaeger have reduced some of their current season stock by 30%.  Kate's silk tile print shirt dress (below) is just one piece in the sale.  I have my eye on some lovely tops too, they're reduced to £29 ($43 USD).
Hobbs London are offering up to 50% off selected pieces in their sale, including skirts, blazers, dresses and coats.  Here are some of my favourite bargains: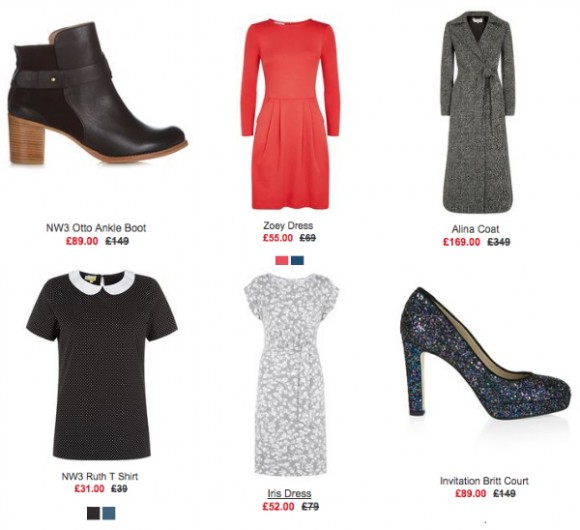 If your budget stretches to the Kiki McDonough price range, you may be pleased to read the brand are having a very rare sale. There are literally thousands of pounds knocked of some pieces.  Go stock up your jewellery box!
L.K. Bennett have a 'spring reductions' section on their website too.  Several colours of their famous "Sledge" shoe are discounted  (see details below)  Click any picture to shop!

How glam is this L.K. Bennett clutch?
Over in my wardrobe section of the site, I explain that the "Nina" is L.K. Bennett's updated Natalie clutch. (Kate carries the Natalie frequently.) This season, L.K. Bennett have covered the Nina in gold glitter. What's not to love?

Psst… they also sell a pretty polka dot version of the Nina, and the company re-launched the "Natalie" in sand coloured raffia just a couple of months ago.  (Availability varies between the UK/International & USA/CA sites.)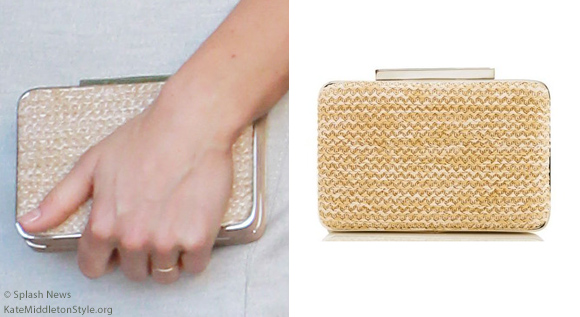 Above: Kate clutching the L.K. Bennett Natalie bag.
I'm just in LOVE with Monica Vinader's new "Diva" collection:
Before Kate wore Monica Vinader jewellery back in October 2014, I had never heard of the brand. A few of my friends and family members were shocked by this because MV's jewellery is very well known and completely my style: elegant, sleek, minimalist and contemporary.
Now Monica Vinader has become a firm favourite – I have a dozen pieces on my wish list (mostly everything on the site in rose gold! Hint: it's my 30th birthday later this year!)  This week the brand launched their new "Diva" collection, which features "distinctive shapes in open diamond loops and gemstones."
I'd describe the pieces as easy to wear and effortlessly chic.  I love them.
As an aside, Kate's sister Pippa wore Monica Vinader jewellery to the ParaSnowBall earlier this week too.
Kate's Corkswoons now come in lace too!
If you swoon over Kate's Stuart Weitzman wedges, you may be pleased to read that the designer has just re-released them in lace for the spring/summer season (UK and Europe markets only at the moment!)
The shoe also comes in Pyrite metallic (top left), blue suede (as seen on Kate, below left) and leopard print (bottom right).
And a quick look at Kate in Corkswoons: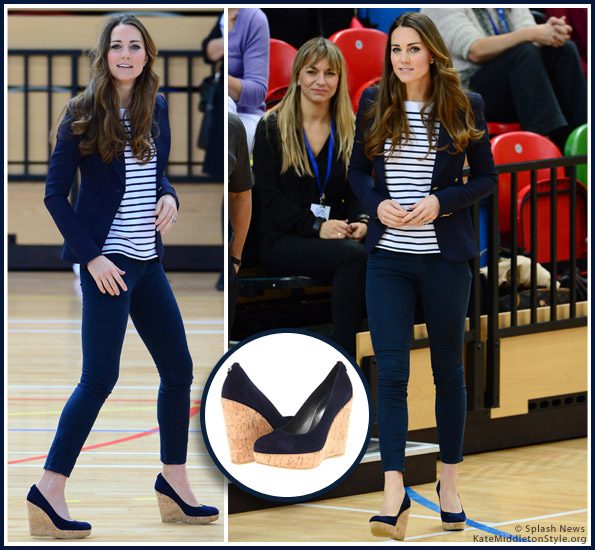 ++++
We'll be back next week with coverage on what's thought to be Kate's final engagements before her maternity leave!