No, Kate hasn't been snapped taking her empties to the local bottle bank: we're taking about her outfits!  This weekend Kate was spotted out at three different events, and at two of them she recycled some older outfits from years gone by.
Here we run through her styles from this weekend:
Trooping of the Colour:
Kate attended the event wearing a white double breasted Alexander McQueen coat, which had a tiered skirt at the sides and padded shoulders.
Here's a photograph of William and Kate on the balcony, which photographer Paul Marriott has very kindly given me permission to use: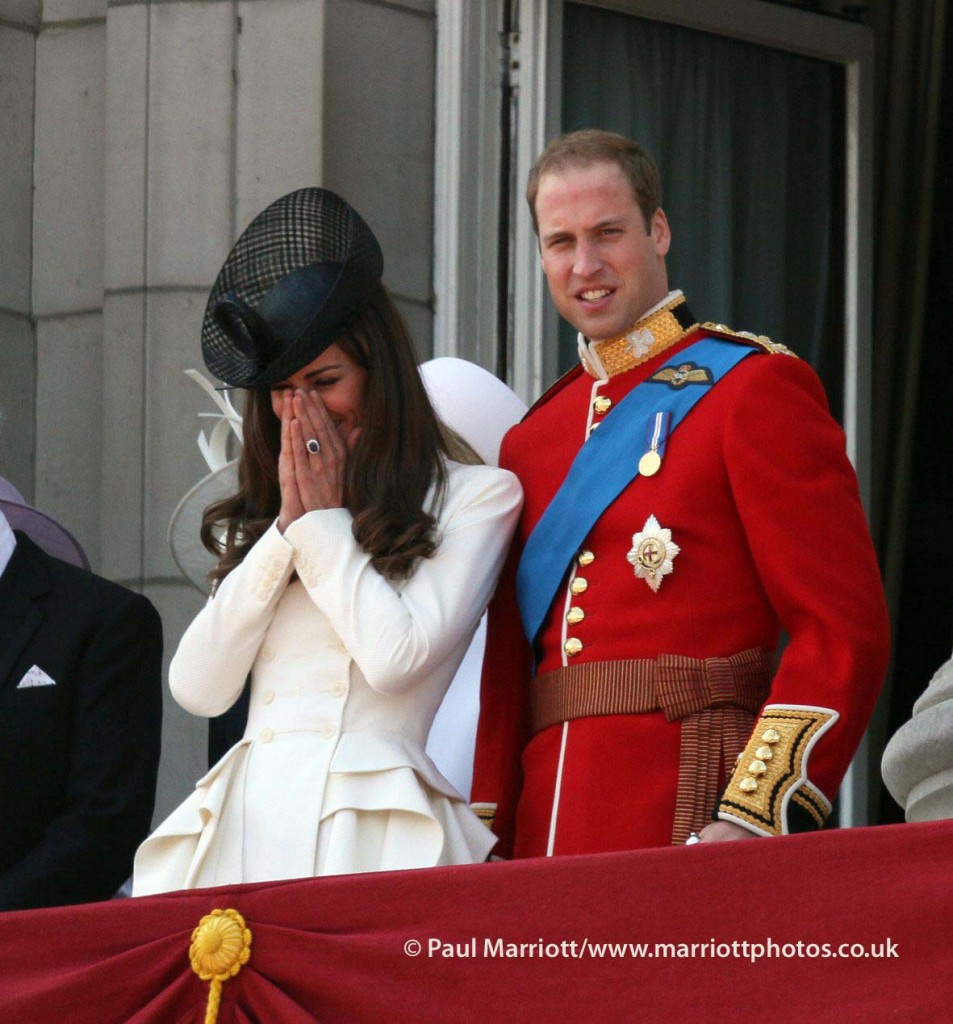 Kate at Trooping the Colour © Paul Marriott
Kate'a hat is by well known designer Philip Treacy, and it is the same style (but different colour) to the hat worn by Queen Sonja of Norway when she attended Kate's wedding in April.
>> Click here to shop Philip Treacy at Harrods
Kate's white coat, which has now sold out on the Net-a-Porter website, retailed at £2,290.
The website describes it as an "exquisite choice for a modern bride".
The Wedding of Sam Waley-Cohen and Bella Ballin:
Later in the day Kate attended her friend's wedding with sister Pippa, opting to wear the same hat but a different dress.
Kate dusted off a satin monochrome dress after last being spotted wearing it to the Boujis nightclub (again, with Pippa) in 2007.  Kate did team the dress with a different belt this time round.
Prince Philip's 90th Birthday Service:
Kate recycled several pieces today for Prince Phillip's birthday service.  First, there was her nude LK Bennett heels, which kate last wore to the Epsom races just over a week ago.  (Click here to find out where they're on sale & what sizes/colours are left in stock.)   Kate also wore her blue coat to the van Custsem wedding in 2009.  Underneath the coat, Kate recycled her cornflower blue Zara dress, last seen worn by Kate the day after the Royal Wedding.
Here are some pictures from journalists outside the event:
Credit: @SkyNewsHack
See the guests arrive at today's event:
Click here to see lots of pictures on the Daily Mail website.
A lot of the credit for this entry goes to What Kate Wore, my Twitter stream and Facebook fans.  I can't remember exactly where I got what from (often two or more sources would uncover something at the same time) But as ever, a big thank you to you all!